Both teams have faced each other on 22 occasions and ended up 11 each, although DC has a slight edge over RR with two out of two wins in last year's UAE IPL.
The Indian Premier League could not have expected a better kick-off week than the one which is happening currently. Almost all of the seven matches played have gone down to the wire, with the final delivery deciding the victor or loser.
This is the backdrop in which RR takes on Punjab XI today. One should also note that DC has won on all the four encounters played in 2019 and 2020.
Kheltalk.com analyze the strength and weakness of the two teams and an overview of RR VS DC Head to Head Record in the history of the Indian Premier League.
Rajasthan Royals (RR):
Rajasthan Royals were the first champions in the first edition way back in 2008. Shane Warne leads an inexperienced side to an incredible victory. Such Australian success was never repeated by Steve Smith, neither by captaincy nor personal performance. Hence, RR has appointed Sanju Samson as their captain, hoping that he would take RR to new heights. The first move was to, however, axe Steve Smith, which they did. The co-incidence was that Delhi Capitals bought his services, and now Smith would face RR on the other side after having played five years for them.
RR almost succeeded in chasing a tall score a few days back and, to their dismay, fell short by just four runs. Sanju Samson scored a majestic century, with Jos Butler, Shivam Dube, and Parag supporting him in the batting department. RR is also delighted to have discovered a good medium pacer in Chetan Sakariya, who grabbed three wickets.
Their only issue is Ben Stokes, who may not recover from the injury he sustained in that match with all these assets. Rahul Tewatia should shine anyway for them to beat the powerful DC team.
Delhi Capitals (DC):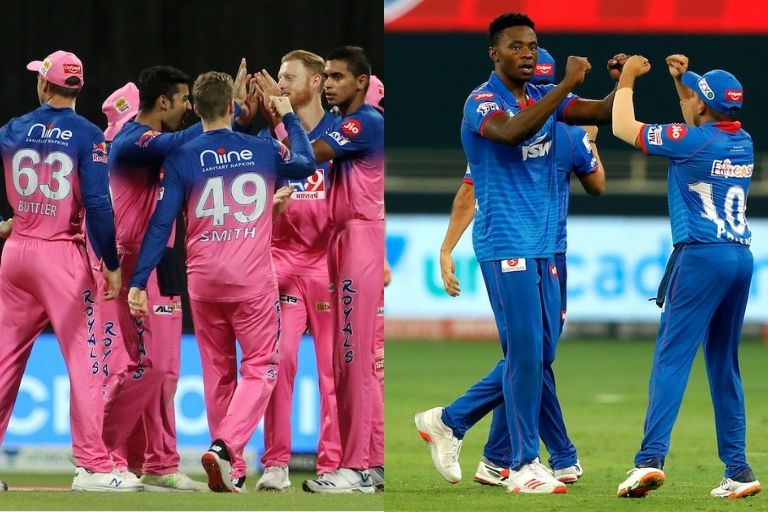 Delhi Capitals did express a sigh of relief after defeating CSK on the other day, even though the victory came with eight balls to spare. Rishab Pant led the team in place of the Injured Shreyas Iyer. It was Prithvi Shaw and Shikar Dhawan who played magnificently and allowed Pant to score the winning run.
DC would be more pleased with Woakes and Avesh Khan's bowling performances which restricted CSK to 188 as Suresh Raina, Moeen Ali, and Sam Curran bludgeoned the DC bowling.
DC is yet to utilize many good players, including Steve Smith, which they probably would today against RR. DC can chase tall scores but whether they can set up one playing the first innings is yet to be witnessed. They are well aware of RR's batting prowess and aim to continue winning against them as they did in the past two editions.
Head To Head IPL 2020 Record Of DC Vs. RR
Date
Winner
Won by
Venue
14-Oct-2020
Delhi Capitals
13 Runs
Dubai
9-Oct-2020
Delhi Capitals
46 Runs
Sharjah
4-May-2019
Delhi Capitals
5 Wickets
Delhi
22-Apr-2019
Delhi Capitals
6 Wickets
Jaipur
2-May-2018
Delhi Daredevils
50 Runs
Delhi
11-Apr-2018
Rajasthan Royals
10 Runs (D/L)
Jaipur
3-May-2015
Rajasthan Royals
14 Runs
Mumbai (BS)
12-Apr-2015
Rajasthan Royals
3 Wickets
Delhi
15-May-2014
Rajasthan Royals
62 Runs
Ahmedabad
3-May-2014
Rajasthan Royals
7 Wickets
Delhi
7-May-2013
Rajasthan Royals
9 Wickets
Jaipur
6-Apr-2013
Rajasthan Royals
5 Runs
Delhi
1-May-2012
Delhi Daredevils
6 Wickets
Jaipur
29-Apr-2012
Delhi Daredevils
1 Run
Delhi
12-Apr-2011
Rajasthan Royals
6 Wickets
Jaipur
31-Mar-2010
Delhi Daredevils
67 Runs
Delhi
15-Mar-2010
Delhi Daredevils
6 Wickets
Ahmedabad
17-May-2009
Delhi Daredevils
14 Runs
Bloemfontein
28-Apr-2009
Rajasthan Royals
5 Wickets
Centurion
30-May-2008
Rajasthan Royals
109 Runs
Mumbai
11-May-2008
Rajasthan Royals
3 Wickets
Jaipur
19-Apr-2008
Delhi Daredevils
9 Wickets
Delhi
Top Batsman With Most Runs in DC vs. RR matches.
From the batsman's current crop in both teams, the top-performing four batsmen are headed by Rishab Pant himself, the DC captain. He has 225 runs against RR, followed by the captain who has been rested, Shreyas Iyer, who has 193 runs. Shikar Dhawan takes the third position with 192, thus completing a DC sweep. Sanju Samson is the distant fourth with 160 runs. All these batsmen are expected to continue performing, with Prithvi Shaw also entering the race.
Top Bowler With Most Wickets overall games between DC and RR
Amit Mishra finds himself in the top spot, scalping 20 wickets in DC vs. RR encounters. Jofra Archer with seven wickets and Rabada with Six are the distant second and third.