It is certainly embarrassing to find your franchise at the bottom of the table as the IPL 2021 completes its first two weeks in Pandemic times.
Both teams have faced each other on 23 occasions, and KKR has won 12 against RR, winning 10, with one abandoned.
KKR and RR clash today for the first time in this edition of IPL with a certain amount of mixed feelings. As KKR is placed ahead of RR in the 7th position with RR obviously in the last, the reason is apparent. Both teams would be playing their fifth match respectively and would look for a win as this match may serve as a launchpad, and they may go back to their winning ways.
The current edition of the IPL, the 14th, has reached its 18th day. Almost all the matches have been decided in the final over, if not the last ball.
Kheltalk.com analyze the strength and weakness of the two teams and an overview of KKR VS RR Head to Head Record in the history of the Indian Premier League.
Rajasthan Royals (RR):
Sanju Samson came in with a lot of promise as a player, and this confidence was transferred back by the RR owners in the form of captaincy. It did start brightly against the Punjab XI in the first encounter but lost it by a whisker. Sanju scored a century, and the confidence seemed to pay- off.
But alas! Apart from a victory against the DC's, RR ended up with two more losses after the first nail-biter.
RR is performing in patches as the whole unit is not clicking together. Sanju is falling to paltry scores with Ben Stokes ruled out of the tournament. Jos Butler performs with some support from Chris Morris on whom RR spent a ransom. RR has become highly dependent on Rahul Tewatia to deliver, which has happened only on one occasion and took on a losing cause.
RR faces KKR today, who would have had a sudden boost to their confidence levels. Andre Russell, Dinesh Karthik, and PAT Cummins batted like champions against CSK the other night. It is this might that RR must squash and look to win.
Kolkata Knight Riders (KKR):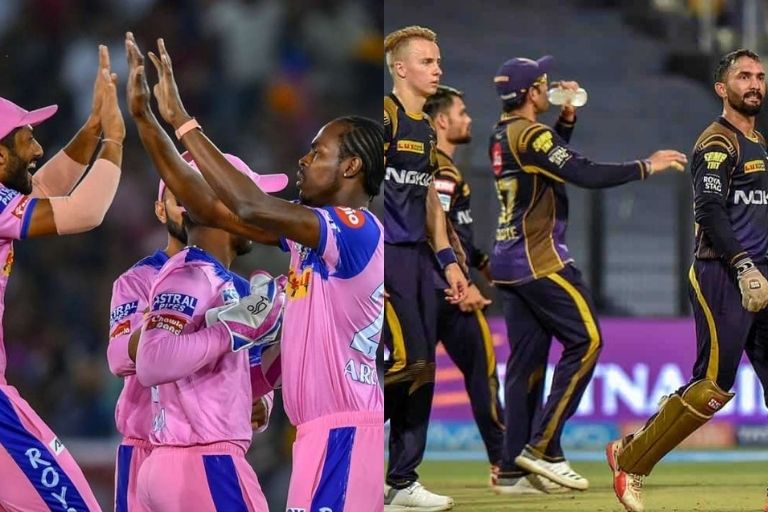 Two times champion, KKR is that sort of team who can hit the highs quickly as they hit the lows. KKR did not have a good 2018 and 2019 and have carried it into 2020 only. They have lost 3 of 4 as they take on RR today. Morgan, their skipper, would feel that the timing is perfect as they have triumphed over RR in both encounters last season and the eliminator in 2018.
KKR would be happy with Russel finding his form along with Dinesh Karthik and Pat Cummins too. They almost came within touching distance of winning the tall scoring game against CSK two nights back.
With the tale of the tape favoring them, KKR would try and match forward today. On the other hand, losing to RR would have its adverse effects too.
Head to Head IPL 2021 Record of RR vs. KKR
Date
Winner
Won by
Venue
1-Nov-2020
Kolkata Knight Riders
60 Runs
Dubai
30-Apr-2019
Kolkata Knight Riders
37 Runs
Dubai
25-Apr-2019
Rajasthan Royals
3 Wickets
Kolkata
7-Apr-2019
Kolkata Knight Riders
8 Wickets
Jaipur
23-May-2018
Kolkata Knight Riders
25 Runs
Kolkata
15-May-2018
Kolkata Knight Riders
6 Wickets
Kolkata
18-Apr-2018
Kolkata Knight Riders
7 Wickets
Jaipur
16-May-2015
Rajasthan Royals
9 Runs
Mumbai (BS)
26-Apr-2015
Match Abandoned
Kolkata
5-May-2014
Rajasthan Royals
10 Runs
Ahmedabad
29-Apr-2014
Rajasthan Royals
Super Over
Abu Dhabi
3-May-2013
Kolkata Knight Riders
8 Wickets
Kolkata
8-Apr-2013
Rajasthan Royals
19 Runs
Jaipur
13-Apr-2012
Kolkata Knight Riders
5 Wickets
Kolkata
8-Apr-2012
Rajasthan Royals
22 Runs
Jaipur
17-Apr-2011
Kolkata Knight Riders
8 Wickets
Kolkata
15-Apr-2011
Kolkata Knight Riders
9 Wickets
Jaipur
17-Apr-2010
Kolkata Knight Riders
8 Wickets
Kolkata
20-Mar-2010
Rajasthan Royals
34 Runs
Ahmedabad
20-May-2009
Kolkata Knight Riders
4 Wickets
Durban
23-Apr-2009
Rajasthan Royals
Super Over
Cape Town
20-May-2008
Rajasthan Royals
6 Wickets
Kolkata
1-May-2008
Rajasthan Royals
45 Runs
Jaipur
Top Batsman with Most Runs in KKR vs. RR matches.
The best batting performances from either team are a matter of records only. Ajinkya Rahane tops it for RR with 338 but is now with the DC team. Similarly, Shane Watson has scored 304 runs for RR but later played for CSK and now retired. Gautam Gambir has scored most runs for KKR, 255, and is also retired.
Top Bowler with Most Wickets overall games between KKR and RR
Sunil Narine heads the table with ten wickets in the bowling department, followed by Siddharth Trivedi with nine for RR. Shakib Al Hassan also has nine for KKR. He is back in the team and would take more.