Both teams have faced each other on 18 occasions, and SRH has won 11 of those, with DC only seven.
With the Pandemic breathing illness and death all across the country, the IPl has been one of the few delights for most Indians to forget the looming dark future.
In its 14th year, the tournament has already witnessed many hard-fought matches under sweltering conditions in Chennai and Mumbai. The see-saw battles would become more gripping as the IPL marches towards its second week and a complete change of venues with no home advantage whatsoever.
Against this backdrop, SRH takes on DC in the second match of two scheduled this Sunday.
Both the teams have had four outings each, but DC has emerged victorious in three of them and is placed third in the points table.
On the other hand, SRH could not overcome specific, close encounters and lost the first three on a trot. The smiles are back anyway with a victory over Punjab XI and a nine-wicket win too.
Kheltalk.com analyze the strength and weakness of the two teams and an overview of SRH VS DC Head to Head Record in the history of the Indian Premier League.
SRH: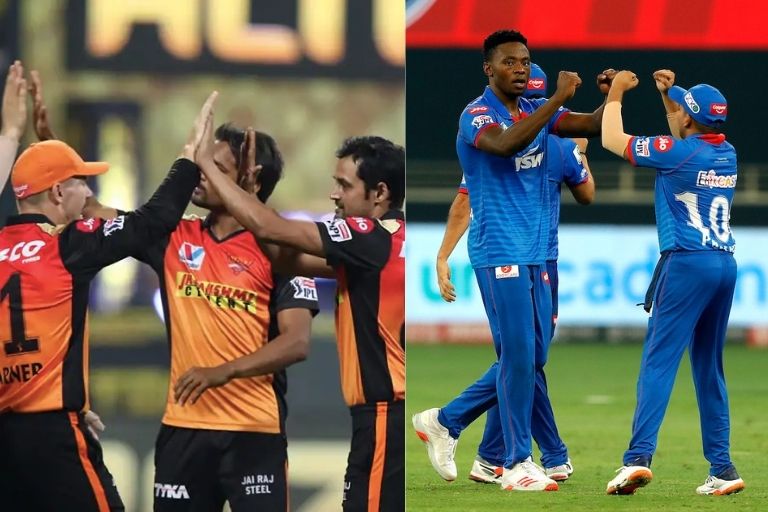 SRH is no doubt a champion team. With David Warner leading them and posting some good scores personally, SRH seems to lose encounters that they could have won easily. The situation is good till the 15th over, and then they collapse in a heap!
Vijay Shankar is one consistent player, but others have not so. Dropped catches add to their woe. The three matches they lost chasing were just 29 runs all combined.
SRH has to maintain their form they discovered in their previous encounter to win against the powerful DC. Bowlers like Rashid Khan are yet to cast their magical spells, and Bhuvneshwar Kumar has to provide the early breakthroughs. The fielding, too, has to sharpen.
On record, SRH does have the odds on their side, but they did suffer a defeat in the playoffs last season against DC after winning the league matches.
DC:
DC has begun their campaign well despite the setback of a Shreyas Iyer injury. Rishab Pant has once again proven he is capable of delivering victories. His contribution has been outstanding both in batting and wicket-keeping. His captaincy has been second to none, and the only dark area came in with their solo defeat against RCB.
All their matches have been thrillers, and Shikar Dhawan has stepped up a notch or two. He is the orange cap holder as of the date and has been magnificent in the field, catching everything. Steve Smith is settling down, and DC would be relieved to see the old fox Amit Mishra scalping wickets. Their X factor continues to be Avesh Khan, who provides the early breakthroughs.
It is best to view the head-to-head situation between both after Delhi Daredevils became Delhi Capitals. If one compares it, both teams are three each in six encounters.
DC is well aware of SRH returning to its winning ways and would not allow it to become a juggernaut. Instead, they would love to be called so.
Head to Head IPL 2021 Record of SRH Vs. DC.
Date
Winner
Won By
Venue
8-Nov-2020
Delhi Capitals
17 runs
Abu Dhabi
29-Sep-2020
Sunrisers Hyderabad
15 Runs
Abu Dhabi
27-Sep-2020
Sunrisers Hyderabad
88 Runs
Dubai
8-May-2019
Delhi Capitals
2 Wickets
Vizag
14-Apr-2019
Delhi Capitals
39 runs
Hyderabad
5-Apr-2019
Sunrisers Hyderabad
5 Wickets
Delhi
10-May-2018
Sunrisers Hyderabad
9 Wickets
Delhi
5-May-2018
Sunrisers Hyderabad
7 Wickets
Hyderabad
2-May-2017
Delhi Daredevils
6 Wickets
Delhi
19-Apr-2017
Sunrisers Hyderabad
15 Runs
Hyderabad
20-May-2016
Delhi Daredevils
6 Wickets
Raipur
12-May-2016
Delhi Daredevils
7 Wickets
Hyderabad
9-May-2015
Sunrisers Hyderabad
6 Runs
Raipur
18-Apr-2015
Delhi Daredevils
4 Runs
Visakhapatnam
10-May-2014
Sunrisers Hyderabad
8 Wickets
Delhi
25-Apr-2014
Sunrisers Hyderabad
4 Runs
Dubai
4-May-2013
Sunrisers Hyderabad
6 Wickets
Hyderabad
12-Apr-2013
Sunrisers Hyderabad
3 Wickets
Delhi
Top Batsman with Most Runs in SRH vs. DC matches.
Shikar Dhawan has amassed 505 runs against DC in all the encounters put together. Dave Warner is a close second with 450 runs and the talented Kiwi at 405 ruins for SRH.
Top Bowler with Most Wickets overall games between SRH and DC
Shikar Dhawan has amassed 505 runs against DC in all the encounters put together. Dave Warner is a close second with 450 runs and the talented Kiwi at 405 ruins for SRH.