SRH has won 10 of the 17 games against RCB, with one match abandoned. SRH is all set to renew their clash tonight at Chennai against RCB. SRH has more than a nose at the front if one considers the previous 13 editions, but the question is, ' Can they beat RCB tonight '?
In any other circumstance, the odds would have been in favor of SRH, but two factors that could go against them are ;
• RCB has formed a stronger side, lending it a balance like never before.
• They beat the Champions MI in their first encounter even though it can be termed as a last-ball victory.
Kheltalk.com analyses both the teams ahead of their clash tonight to lend a logical perspective in a tournament that has already been termed as ' high Adrenaline.'
SRH: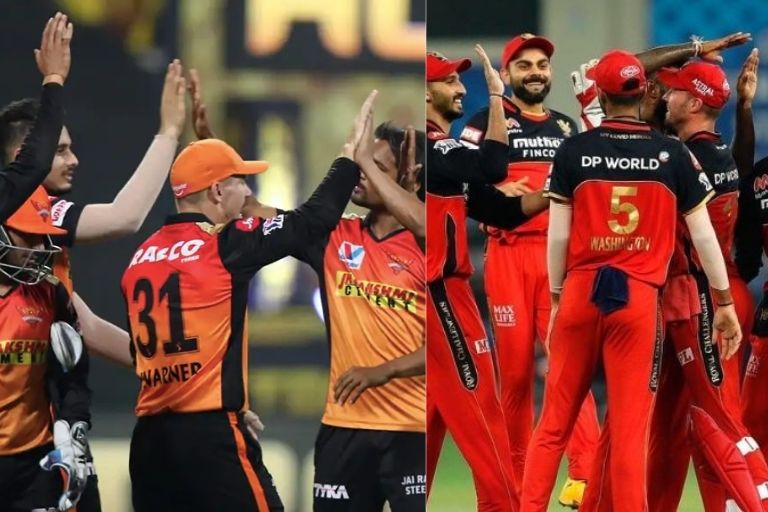 The champion team, which emerged from the Deccan Chargers, has steadily built a formidable team over the years and were crowned champions in 2016. They were also the runner- ups in 2018 and always a play-off contender to be beaten. SRH has the policy of retaining their best men and grooms others into stronger players.
David Warner remains at the helm of affairs, and the other notables like Saha, Bairstow, Sandeep Sharma, and Bhuvneshwar Kumar, along with Rashid Khan and Nabi, stay in the team. New talents like T. Natrajan, Priyam Garg also co-exist well.
Mayank Agarwal, Vijay Shankar is experienced enough to take the team to victory. Given this side, SRH would be too tricky for the RCB to overhaul.
RCB:
King Kohli has been unlucky, one should say! In 2009, 2011, and 2016, they were the runners-up and often in the play-off. The RCB think tank has brought in a few players who would push them over the line this time. With Devdutt Padikkal recovering from the virus, he would be all set to go against SRH with his opening partner Kohli. Glenn Maxwell seems to have improved overnight, playing a superb inning for RCB that night. The team still revolves around AB DE Villiers, who proved his might on that night against MI. Spinners and new pacemen have strengthened the bowling with Chahal heading and guiding them. All rounder's like Washington Sunder, Glen Maxwell comes alive with their spin, while Kyle Jamieson, Mohd Siraj firm up the pace section along with the old fox Daniel Christian.
Therefore, RCB seems to have an answer to whatever is thrown at them this time around.
It is a matter of a few hours to see this turn into reality, and RCB would become the most feared team in the tournament if they were to beat SRH.
Head to Head IPL 2021 Record of SRH vs RCB.
| | | | |
| --- | --- | --- | --- |
| Date | Winner | Won by | Venue |
| 6-Nov-2020 | SRH | 6 Wickets | Abu Dubai |
| 31-Oct-2020 | SRH | 5 Wickets | Sharjah |
| 21-Sep-2020 | RCB | Ten runs | Dubai |
| 4-May-2019 | RCB | 4 Wickets | Bengaluru |
| 31-Mar-2019 | SRH | 118 Runs | Hyderabad |
| 17-May-2018 | RCB | 14 Runs | Bengaluru |
| 7-May-2018 | SRH | 5 Runs | Hyderabad |
| 25-Apr-2017 | Abandoned | Abandoned | Bengaluru |
| 5-Apr-2017 | SRH | 35 Runs | Hyderabad |
| 29-May-2016 | SRH | 8 Runs | Bengaluru |
| 30-Apr-2016 | SRH | 15 Runs | Hyderabad |
| 12-Apr-2016 | RCB | 45 Runs | Bengaluru |
| 15-May-2015 | RCB | 6 Wickets | Hyderabad |
| 13-Apr-2015 | SRH | 8 Wickets | Bengaluru |
| 20-May-2014 | SRH | 7 Wickets | Hyderabad |
| 4-May-2014 | RCB | 4 Wickets | Bengaluru |
| 9-Apr-2013 | RCB | 7 Wickets | Bengaluru |
| 7-Apr-2013 | SRH | Super Over | Hyderabad |
Head to head: (17 matches: SRH 10 / RCB 7)
RCB in the 2016 Final to clinch the championship, thus creating an edge.
Top Batsman with Most Runs in SRH vs. RCB
Three batsmen have performed exceptionally well in SRH Vs. RCB encounters.
• David Warner started his campaign against RCB in 2014 and has scored 593 runs till the last encounter in 2020.
• Virat Kohli, who has always been with RCB since 2008, has amassed 531 runs against SRH.
• AB De Villers has accumulated 520 runs for RCB against SRH.
These three-star batsmen, including two captains, lick their lips when they face the opponents' bowling. AB de has always been the X factor for his batting is always in full swing, whoever the opponent may be.
Top Bowlers with Most Wickets Overall games between SRH and RCB.
• Top-ranked among the three in Yuzvendra Chahal, who has scalped a total of 16 wickets against SRH.
• Second in the running is dependable Bhuvneshwar Kumar, who has bagged 14 RCB batsmen
• The most impressive of them all could be Rashid Khan, who has started his campaign against RCB only in 2017. He has 8 of them and would be looking to increase it further starting tonight.