Pat Cummins, the star Aussie pacer has cleared his intentions that their main target will be to restrict Virat Kohli. The Indian batsman has a brilliant record as a batsman in Australia and always comes out with flying colors. And, the hosts will not want him to play in his peach form against them in any of the series.
The Indian skipper holds brilliant stats batting in Australia. He has notched 629 runs at an average of around 45 in ODIs. In T20Is, Kohli has amassed 317 runs at an average of 79.25. Coming into the red-ball cricket, the 32-year-old has managed 1274 runs averaging around 56. This shows that Kohli turns his beast mode whenever steps in Australia.
Pat Cummins Has Cleared Team Intentions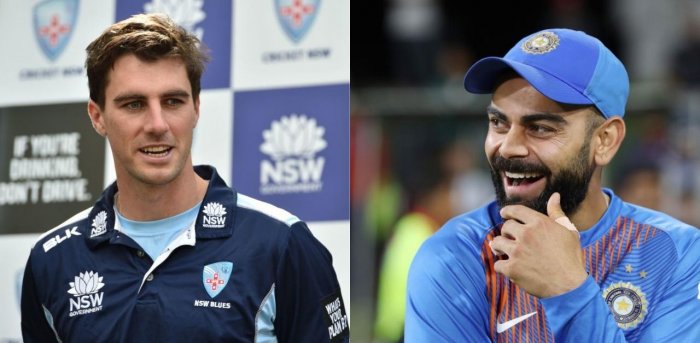 However, this time the hosts will once again try to stop the best batsmen in modern-day cricket. Pat Cummins said that every team has a couple of batsmen that can single-handedly win games for their side like Joe Root for England, Kane Williamson for New Zealand, and others. The same goes for Team India and Virat Kohli's wicket will be quite important from the team's perspective.
"I think every side has that one or two batters and they are the big wickets. Most teams have their captain — Joe Root for England, Kane Williamson for New Zealand. You feel like if you get their wickets that goes a long way in winning the game," Pat Cummins told "Fox Cricket".
The Aussie vice-Captain also added that commentators talk a lot about Indian skipper Virat Kohli. And, they will try their level best to keep him quiet.
"He (Kohli) is always a big one. You commentators talk about him non-stop, so hopefully, we can keep him quiet," Pat Cummins added.
Recently Virat Kohli himself shared a clip from practice. He looked in full flow and was smashing the bowlers across the park to get back into his grooves before the tour gets off the mark with the ODI series. The right-handed batsman is coming with some convincing performance in IPL 2020. And, he will try to live up to the expectations of Indian fans on such an important India vs Australia Tour.
Here is the clip: