India and Australia will come face to face in the Border-Gavaskar Series starting from December 17. Before that both the teams will play ODI and T20I series. However, all eyes are set upon the four-match Test series. Unlike 2018-19, this time Steve Smith is part of the Australian side. And, he will be a tough task for the Indian bowlers to dismiss. So, Sachin Tendulkar, the former legendary batsman has come out with a suggestion for the bowlers that can prove vital in order to get Smith's wicket.
It is known that Steve Smith likes to bat against Indian bowlers. And, the ICC's number one ranked Test batsman will look to put visitors at backfoot with his batting. He has amassed 1429 runs in 10 Tests with an amazing average of 84.05. His best against Team India in red-ball cricket is 192 that he managed in 2014-15. In 2018-19, he was serving a year-long ban for being involved in the 2018 South Africa ball-tampering scandal. But, this time the 31-year-old looks all set to rock the field with his batting.
India vs Australia: Sachin Tendulkar Gives Has A Suggestion For Indian Bowlers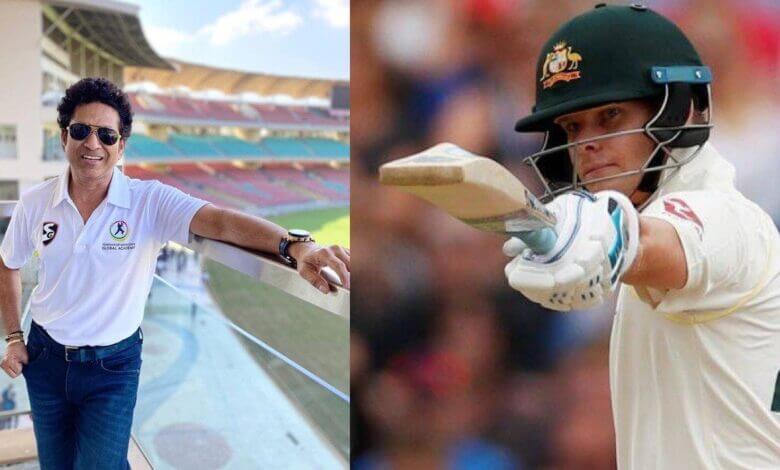 Ahead of such an important Test series, Sachin Tendulkar himself has come out in support of Team Indian. He said that Steve Smith is an unconventional batsman. And, taking his wicket will not be a cakewalk. He opined that in order to dismiss 31-year-old, the Indian bowlers should bowl on the fifth wicket.
"Smith's technique is unconventional…Normally, we tell a bowler in Test matches to bowl on and around off-stump or maybe fourth stump line. But for Smith, because he shuffles, maybe that line (of delivery) moves further away by four to five inches," Tendulkar said as quoted by The Hindu.
"One has to aim between (imaginary) fourth and fifth stump for Steve to nick one. It's just a mental adjustment of line, more than anything else," he added.
The God of cricket was quizzed over the fact that whether bowling in-swinger against Steve Smith will be a good option or not. To which Sachin said that it depends on the fact that whether bowlers are getting some swing or not.
"For that to happen, you have to see how much the ball is swinging. All those things matter. You can't use saliva, so it's a different case if wickets have a lot more life. In England during the Test matches, on occasions, the Dukes (ball) wouldn't be swinging much. I don't know if they will have greenish wickets for the ball to do a little bit. If the ball doesn't swing. That swinging yorker, you might not even see," Tendulkar concluded.
India vs Australia: India Suffers Big Blow, Rohit Sharma And Ishant Sharma Ruled Out Of First Two Tests Against Australia