The Men in Blue are all set to lock horns with Australia in series across all the formats. Team India's tour will get kicked off with three-match ODI series followed by the T20I series and Tests. And, today Shikhar Dhawan has unveiled the retro jersey that Team India will wear in the ODI series starting from November 27.
The trend to wear retro jerseys was started by Australia back in 2018-19. And, sported jersey from 1985 World Cup. Earlier this year, New Zealand and Australia wore their respective historical jersey's from the 1999 World Cup.
India vs Australia: Shikhar Dhawan Shares Post With New Indian Jersey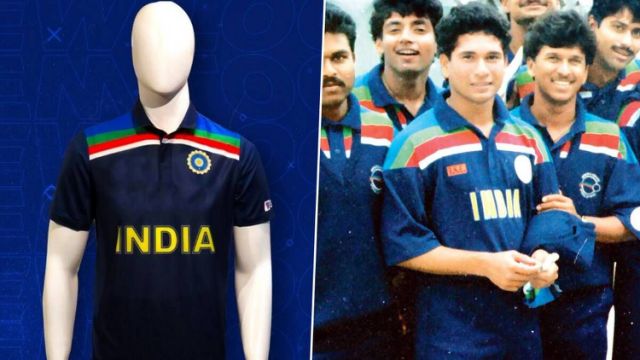 Shikhar Dhawan took to his Twitter handle and shared a picture donning the new retro jersey of Team India. He also gave a caption to his post that read," New Jersey, renewed motivation, ready to go," tweeted Dhawan. The jersey had a navy blue color with colored stripes on the shoulder. The name of principle sponsor Byju's and kit sponsors MPL. The jersey look quite similar to the one that Team India wore during the 1992 ODI World Cup played in Australia and New Zealand.
Team India will lock horns in ODI, T20I, and Test series with Australia. The first couple of ODIs will be played in Sydney followed by the final affair in Canberra. Team India has outclassed Australia in the series played in the recent past. Earlier, this year Men in Blue defeated Kangaroos in the ODI series by 2-1. Also, they defeated Australia in the last Test series by 2-1. It was a historic win for Team India as they defeated the Aussies on their own soil.
After the ODI series, both teams will come face to face in a shorter format. The series opener of the T20I series will be played in Canberra followed by the next two games in Sydney. In the end, the much-awaited Test series will begin on December 17 with a day-night Test in Adelaide. And, the final three games will take place in Melbourne, Syndey, and Brisbane respectively.
Here is the post:
India vs Australia: India Suffers Big Blow, Rohit Sharma And Ishant Sharma Ruled Out Of First Two Tests Against Australia