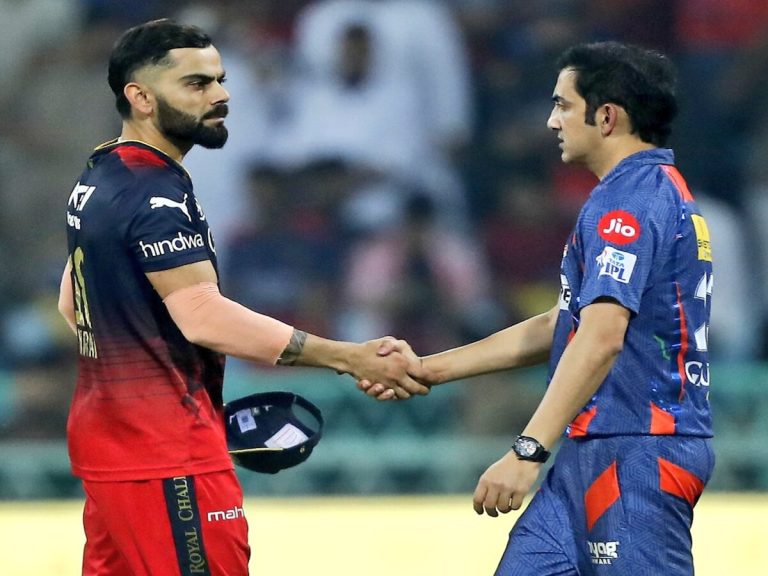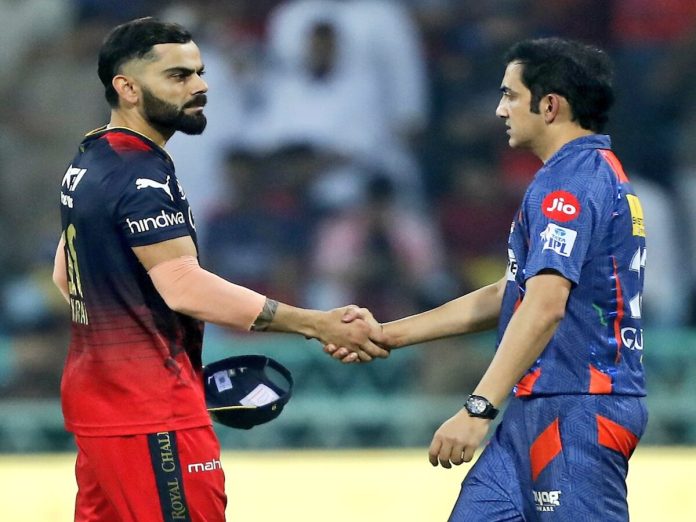 Virat Kohli, Gautam Gambhir, and Naveen-ul-Haq were found guilty of breaching the code of conduct during and after the Lucknow Super Giants (LSG) and Royal Challengers Bangalore (RCB) match on Monday.
Both Kohli and Gambhir were fined 100% of their match fee, while Naveen was fined 50% for his involvement in a heated exchange post-match. The incident that led to the fines started during the match when Kohli and Naveen had a confrontation, and things escalated after the game.
The altercation between Kohli and Naveen started in the 17th over when Kohli appeared to be unhappy with something that Naveen had done. Kohli was seen having an animated discussion with the umpire and Amit Mishra, who was batting at the other end.
Kohli also exchanged words with Naveen during the handshake at the end of the game, leading to Gambhir getting involved.
Gambhir, the mentor of the LSG team, also got into a heated exchange with Kohli, and the situation quickly became ugly. Players from both camps had to intervene to separate them. As a result of the incident, action was taken against all three players for breaching the IPL code of conduct.
When did Virat vs Gambhir's argument start?
Tensions boiled over during the match between the LSG and the RCB when two former India teammates, Virat Kohli and Gautam Gambhir, had a heated exchange.
The altercation occurred while the players were shaking hands at the end of the match, and it was initially triggered by some words exchanged between Kohli and LSG player Naveen-ul-Haq.
Gambhir attempted to defuse the situation, but the argument quickly escalated into a Kohli vs Gambhir showdown. The LSG players intervened, trying to pull Gambhir away from the situation, but it was not enough to prevent the clash from getting physical.
Kohli tried to calm things down, but Gambhir remained agitated, leading to LSG leg-spinner Amit Mishra stepping in to control the situation.
It is worth noting that Kohli and Gambhir were part of the Indian team that won the 2011 World Cup, and their altercation is a reminder that intense rivalries can spill over into personal conflicts.
The incident also highlights the importance of discipline and respect on the field, as any breach of conduct can result in serious repercussions. The IPL code of conduct is in place to ensure that players conduct themselves in a professional manner, and any violation of these guidelines will not be taken lightly.
Watch the full feud here:
IPL Releases Official Statements and Fines for Players' Breach of Code of Conduct
The incident serves as a reminder that sportsmanship and respect for opponents and officials are of utmost importance in cricket and any behaviour that goes against this will not be tolerated. IPL issued official statements regarding the fines imposed on each of the three players.
"Lucknow Super Giants' Mentor Gautam Gambhir has been fined 100 per cent of his match fee for breaching the IPL Code of Conduct during the TATA Indian Premier League (IPL) 2023 match against Royal Challengers Bangalore at the Bharat Ratna Shri Atal Bihari Vajpayee Ekana Cricket Stadium, Lucknow. Mr Gambhir admitted to the Level 2 offence under Article 2.21 of the IPL Code of Conduct."
"Royal Challengers Bangalore batter Virat Kohli has been fined 100 per cent of his match fee for breaching the IPL Code of Conduct during the TATA Indian Premier League (IPL) 2023 match against Lucknow Super Giants at the Bharat Ratna Shri Atal Bihari Vajpayee Ekana Cricket Stadium, Lucknow. Mr Kohli admitted to the Level 2 offence under Article 2.21 of the IPL Code of Conduct."
"Lucknow Super Giants' Bowler Naveen-ul-Haq has been fined 50 per cent of his match fees for breaching the IPL Code of Conduct during the TATA Indian Premier League (IPL) 2023 match against Royal Challengers Bangalore at the Bharat Ratna Shri Atal Bihari Vajpayee Ekana Cricket Stadium, Lucknow. Mr Naveen-ul-Haq admitted to the Level 1 offence under Article 2.21 of the IPL Code of Conduct."
Also Read: IPL 2023: RCB Makes An 'Aggressive' Comeback With In 18-run Victory In Low-score Thriller Against LSG