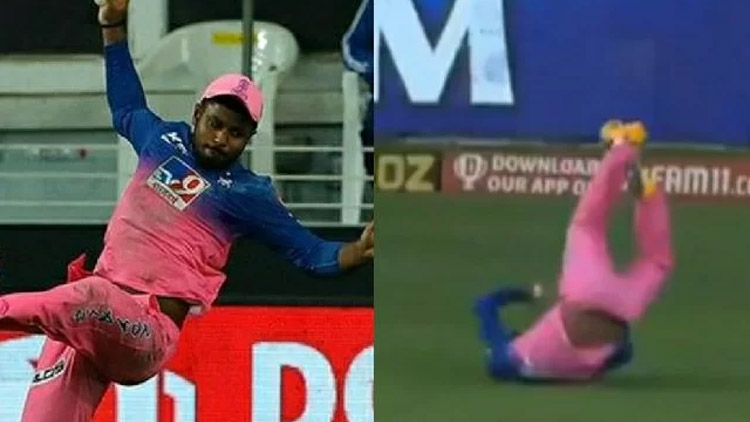 Sanju Samson is in the limelight for his batting in IPL 2020. He is making the life of bowlers quite difficult on the back of his submissive hitting skills. Samson has also received praise from every and corner of the world. This season is turning out to be a breakthrough for him as a player. And, in the match against KKR, he took a blinder that left everyone in awe. He took such a brilliant catch that Sachin Tendulkar was also forced to give him applauds on social media.
The youngster has done a great job with the bat. So far, he has muscled more than 150 runs in 3 games for Rajasthan Royals. He is grabbing every single opportunity to impress the national selectors, who have a close eye in this ongoing T20 tournament. It is known that he is an exciting batsman on the back of which he has reaped out success. At the same time, he is also an athletic fielder and Samson gave a brilliant example of the same in the game against Kolkata Knight Riders.
Sachin Tendulkar comes out in praise of Sanju Samson
Pat Cummins tried to smack a six off Tom Curran. But, he failed to get his timing right. Sanju Samson in a brilliant effort pounced towards his right and took an impossible-looking catch. Even the commentators present in the commentary box couldn't believe that Samson managed to grab that one.
Sachin Tendulkar also had an edge-eye over that game. He soon took to his official Twitter handle and praised Sanju Samson for taking such a brilliant catch. He wrote, "Brilliant catch by @IamSanjuSamson! I know how much it hurts when you bang your head like this on the ground. I experienced it in the 1992 World Cup in our match against the WI when I took a catch. #IPL2020 #RRvKKR,"
Coming onto the game, Kolkata Knight Riders registered an amazing victory over Rajasthan Royals by a big margin of 37 runs. Now, RR will take the field against Royal Challengers Bangalore on October 3.
Here is the reaction from Sachin Tendulkar: