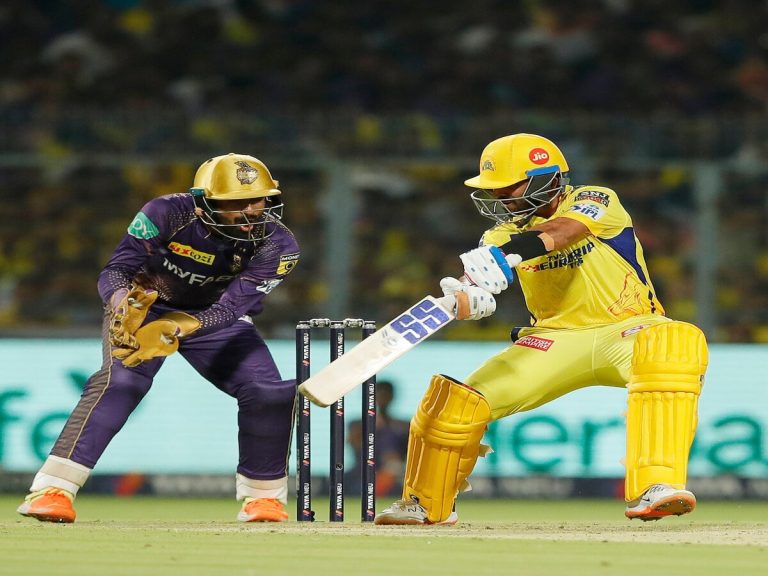 Ajinkya Rahane, the star batter of Chennai Super Kings (CSK), expressed satisfaction with his IPL 2023 performances and believed that his best was still to come. Ajinkya Rahane stated that this season, he will rely on his correct cricketing skills rather than imitating other batters to score rapidly.
At Eden Gardens, Ajinkya Rahane played a fantastic knock against Kolkata Knight Rider to help his club finish first in the 10-team points standings. Rahane led the team to a massive total of 235 runs with an unbeaten 71 runs in just 29 balls. The Knight Riders were held to 186 runs by the Chennai bowlers.
Rahane's innings featured six boundaries and five sixes as the right-hander demonstrated what has been successful for him at CSK.
Ajinkya Rahane stated during the post-match conference that he is enjoying his batting and hopes to carry this form into the tournament's following rounds.
"I really enjoyed my knock, but I feel my best is (yet) to come. I really want to continue this form," Rahane said in the post-match press conference.
Great learning to play under MS
Rahane, who only scored 133 runs for KKR last year, has improved as a batsman, and he did not hesitate to give Dhoni the credit for his success at CSK this year. Rahane also mentioned how much he enjoys the freedom he has at CSK.
"I am finally getting a chance to play. If you see one or two years back, I was not getting a chance to play. If I can't play consistently then how will I show how I can play and what shots I have in my arsenal," said Rahane.
"Great learning to play under MS. Played under him at India and playing under him at CSK for the first time. Whatever he says, you listen. I want to be in the moment, live in the present and take it one match at a time.
I want to let my bat do the talking: Ajinkya Rahane
While playing cricket, Ajinkya Rahane has emphasised the value of supporting his own style over imitating others.
"I want to let my bat do the talking. For me it is all about timing the ball and playing proper cricketing shots. It is about backing my game rather than trying to copy someone else. It is important to back one's own method."
The next time Ajinkya Rahane will be seen playing will be on Thursday, April 27, when the Chennai Super Kings play the Rajasthan Royals (RR) at Sawai Mansingh Stadium in Jaipur. In IPL 2023, the former RR captain had a remarkable average of 52.25 and an exceptional strike rate of 199.05. He scored 209 runs.
Also Read: IPL 2023: Top 5 Must-Have Fantasy Picks For SRH vs DC Game