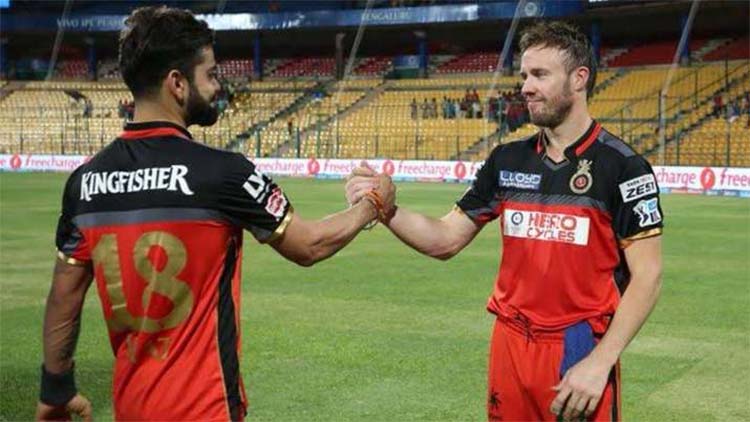 Virat Kohli and AB de Villiers are reckoned as the heartbeat of Royal Challengers Bangalore. The duo itself shares a strong bond and fans are also well aware of the same. They both are playing for RCB in the ongoing IPL 2020. He was recorded calling the former Proteas player as "biscuit" during an Instagram session. And, he has revealed the reason why he took such a name.
Virat Kohli is playing for RCB since the inaugural season of IPL. And, ABD joined the Bangalore-based franchise after spending three-years with Delhi Daredevils now known as Delhi Capitals. In IPL 2020, fans have got to watch the exciting batting of the former player. But, Virat Kohli is yet to fire some good runs in this edition.
IPL 2020: Virat Kohli reveals why he calls AB de Villiers as biscuit
In a clip shared by RCB, the Indian skipper said revealed the reason behind calling AB de Villiers as a biscuit. He said it is just a slang used in South Africa. As per him, it is used for the people you are close to.
"I picked it from South African slang, so people that you like, you are close to, you call them a biscuit, biscotti. Because everyone loves biscuits, right?" Kohli was quoted as saying in one of the videos posted by RCB.
Virat Kohli also threw light on his first meeting with AB de Villiers. The Indian batsman said that he first met former Proteas batsman back in 2011. And, also briefed on his first exchange of words with the exciting cricketer.
"In 2011, Johannesburg is when we said hello to each other properly. It was at the stadium where there is a tunnel where we come out. They had already practiced and we arrived for practice and I said – hello, I am really looking forward to playing with you (at RCB). He responded by saying he was also excited to play for RCB," he added.
Coming onto the tournament, RCB has won two games out of three in IPL 2020. They have performed exceedingly well in this season. Now, Royal Challengers Bangalore is all set to take the field against Rajasthan Royals on October 3.