Sunrisers Hyderabad suffered their 2nd defeat of IPL 2021 by 6 runs against Royal Challengers Bangalore. And, Glenn Maxwell was awarded Man of The Match for playing a resilient knock of 59 runs. Meanwhile, the match attracted an unwanted controversy as Harshal Patel bowled two above the waist no-balls. But, the umpire didn't rule him out of the game.
RCB managed a total of 149 runs in stipulated 20 overs. Virat Kohli scored 33 runs and Glenn Maxwell amassed 59 runs. Unlike the previous game, AB de Villiers failed to click a glittery knock fo RCB against SRH. Coming to the chase, David Warner was the only shining star in SRH's batting line-up. He mustered 54 runs for his side. And, the orange army was left short of 6 runs in their chase.
Trevor Bayliss Backs Umpire Decision Over Harshal Patel's No-Ball Instance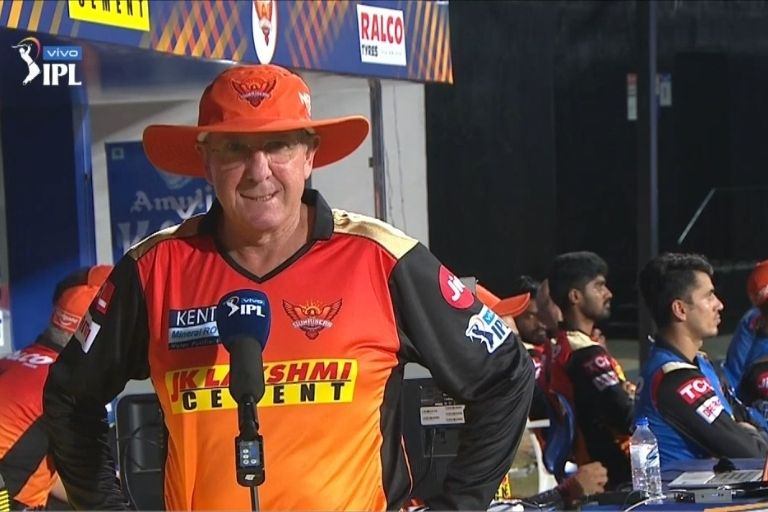 The instance happened in the final over when Harshal Patel bowled a no-ball. This was the second time in the match that Patel bowled an above the waist no-ball. But, he was not sidelined from the attack. David Warner, who was sitting in the dugout showed his disagreement with the umpires. However, now Trevor Bayliss has come up saying that the umpire was right. As per him, David Warner was animated because the team is not playing good cricket.
"He was a little animated because we weren't playing very good cricket and we lost. I think the umpires got it right. There was a bit of conjecture over obviously the second high no-ball, but the first one was not directed at the batter's body, so that wasn't a warning. So I think the umpires got that one right," Bayliss said while replying to an ESPNcricinfo during the virtual post-match press conference.