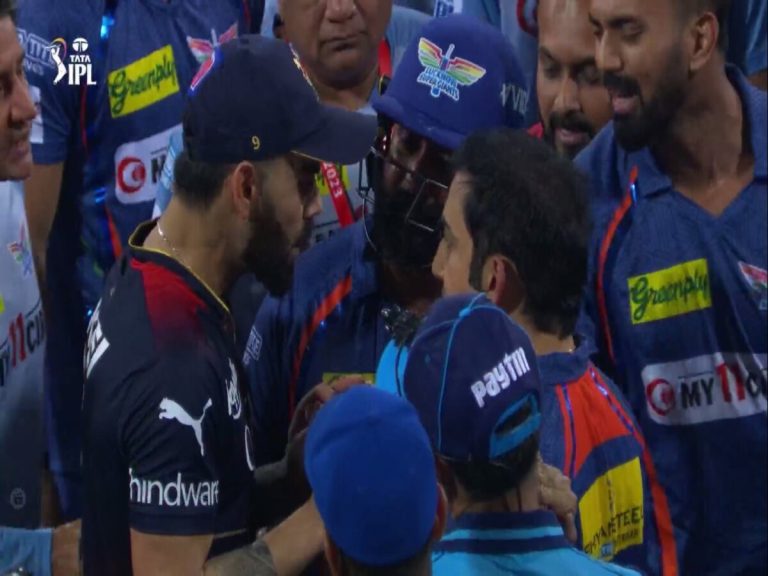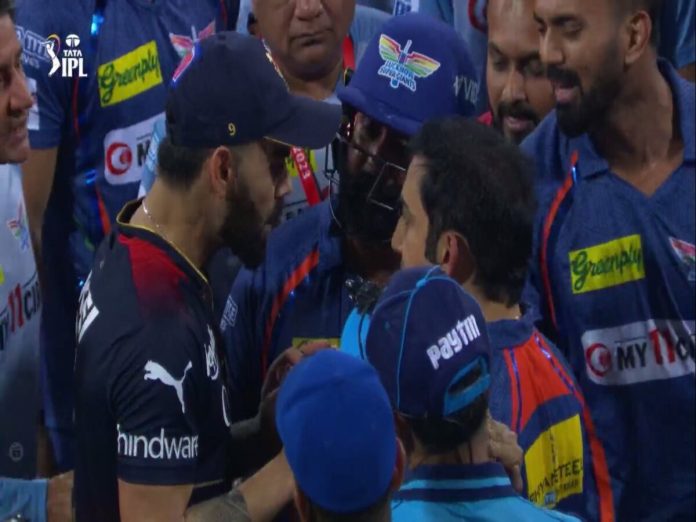 The IPL 2023 match between Royal Challengers Bangalore and Lucknow Super Giants on Monday witnessed an intense exchange between Gautam Gambhir and Virat Kohli, which came as no surprise given their history of animosity towards each other. Both players are known for speaking their minds without hesitation, and this recent altercation only added to their ongoing feud.
The Virat-Gambhir incident has sparked a mixed reaction from fans, with some finding it entertaining while others believe it goes against the spirit of cricket. An eyewitness present in one of the team dugouts shared details of the heated exchange between Kohli and Gambhir with PTI, shedding light on what really happened after the match.
The eyewitness revealed that after LSG's defeat, Gambhir intervened when Kohli and Kyle Mayers got into an argument. Mayers had asked Kohli why he was constantly abusing their team, to which Kohli responded by questioning why Mayers was staring at him. Gambhir then stepped in and pulled Mayers away from Kohli, resulting in a confrontation between the two players.
A video of the incident that depicts Kohli and Gambhir arguing during the post-match has also gone viral on social media. The occurrence brings to light the players' fierce rivalry and tendency to let their emotions run wild on the pitch.
LSG vs RCB: Conversation between Virat Kohli and Gautam Gambhir
Gautam Gambhir: Kya bol raha hain bol? (What were you saying?)
Virat Kohli: Maine aapko kuch bola hi naahin, aap kyon ghus rahein ho. (Why are you coming in between when I haven't told you anything).
Gautam Gambhir: Tune agar mere player ko bola hai, matlab tune meri family ko gaali diya hai. (You abused my player and that's like abusing my family).
Virat Kohli: Toh aap apne family ko sambhal ke rakhiye. (Then you take care of your family).
Gautam Gambhir: Toh ab tu mujhe sikhayega. (So now you will teach me).
The IPL 2023 match between RCB and SG was a highly anticipated game, especially after LSG's victory over RCB in their previous encounter. However, this time around, RCB emerged victorious, defeating LSG by 18 runs on their own turf.
After the game, things got heated as Virat Kohli and Naveen-ul-Haq, the Afghan pacer, got into a heated exchange. This was not the first time the two players had a confrontation on the field, as they had exchanged words during LSG's batting innings earlier in the match.
Gambhir, who was present on the field, intervened to calm down the situation, but in the process, ended up in an altercation of his own.
The incident highlighted the intense emotions and rivalries that exist in the IPL, with players often getting into heated arguments on the field. Gambhir, in particular, is known for being a fiery character and has had his fair share of on-field confrontations with other players.
Earlier in the season, Gambhir was seen shushing the Bangalore crowd after LSG's victory over RCB at the M Chinnaswamy Stadium, adding fuel to the fire of the already-existing rivalry between the two teams. These incidents only go to show that the IPL is not just a game of cricket but a highly competitive and emotionally charged battle between teams and players.
Also Read: IPL 2023: Delhi Capitals Defend Modest Total To Secure Thrilling Victory Against Gujarat Titans