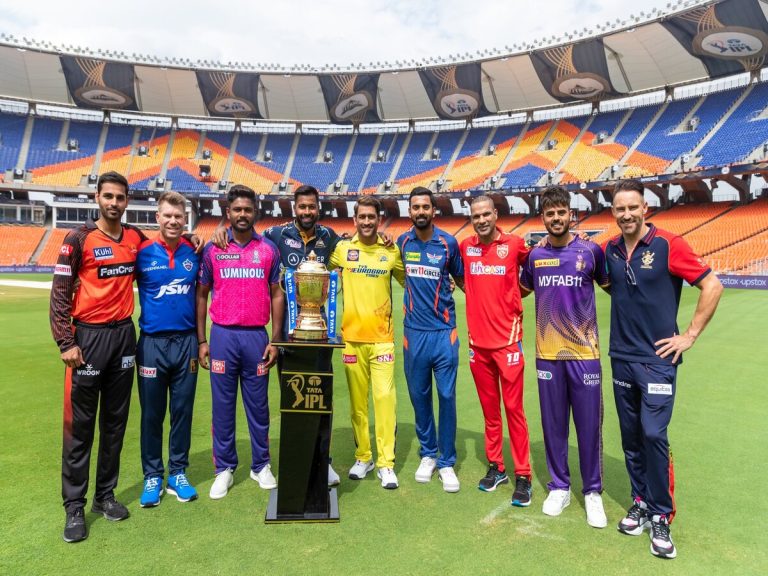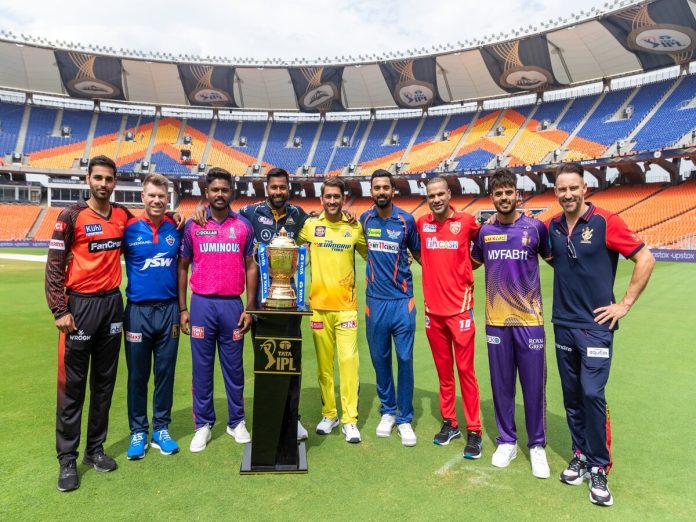 The Indian Premier League (IPL) has always been known for its fierce competition and nail-biting encounters. However, the 2023 edition has taken this intensity to unprecedented levels.
In its 16-year history, never before has there been a season as fiercely contested as IPL 2023. With only a few matchdays remaining in the league stage, seven teams are still in the hunt for the final three coveted play-off spots. 
The stage is set for a thrilling climax, where every match becomes a make-or-break battle for these teams. The fight for a place in the IPL 2023 Playoffs promises to deliver high-stakes drama and thrilling encounters that will keep fans on the edge of their seats until the last ball is bowled.
Defending Champions Secure Their Spot
The Gujarat Titans (GT), the defending champions, have already stamped their authority by becoming the first team to qualify for the IPL 2023 Playoffs. Their consistent performances and strategic brilliance have secured their place in the final four, setting the benchmark for the remaining teams.
Chennai Super Kings' Battle
The ever-consistent Chennai Super Kings (CSK), under the leadership of MS Dhoni, are engaged in a fierce battle to secure their playoff berth. With 15 points from 13 games, CSK faces a crucial encounter against the Delhi Capitals.
They will be guaranteed a spot in the playoffs if they win this game. Even if they falter, though, a loss might not be disastrous if RCB or MI struggle in their final fixtures.
Lucknow Super Giants in Prime Position
The Krunal Pandya-led Lucknow Super Giants (LSG) find themselves in a prime position compared to other teams. With 15 points from 13 matches, LSG's destiny lies in their own hands. A victory against Kolkata Knight Riders (KKR) will guarantee their spot in the IPL 2023 Playoffs. Even if they face a defeat, their chances remain alive, depending on other teams' results.
Royal Challengers Bangalore's comeback
The Royal Challengers Bangalore (RCB) team has made a comeback in the competition's latter stages. The flamboyant Virat Kohli helped RCB defeat Sunrisers Hyderabad recently, moving them up to fourth place in the IPL 2023 Points Table.
Their progress was significantly aided by Kohli's record-breaking sixth IPL century. RCB is on the verge of securing a spot in the IPL 2023 Playoffs with 14 points after 13 games. They will strengthen their position if they win in their key next match against GT.
Mumbai Indians' Hurdles
Mumbai Indians (MI), a dominant team in the IPL, are in a critical situation. Even though they have the same number of points as RCB, their ability to advance to the playoffs depends on the performance of other teams.
MI must defeat Sunrisers Hyderabad and hope that CSK, LSG, and RCB lose in their next matches. For MI, the situation is tense as they wait for a string of fortunate events to guarantee their place in the final four.
Rajasthan Royals, Kolkata Knight Riders, and Punjab Kings' Hopes
RR, KKR, and PBKS find themselves in a tight spot as they aim to snatch a place in the playoffs. RR, with 12 points from 13 matches, needs a resounding victory against PBKS and will hope for other results to fall in their favour. 
Similarly, KKR needs a massive win over LSG and is reliant on multiple outcomes in other matches. PBKS, although barely alive, must secure a convincing victory against RR and pray for a series of results to go their way.
Also Read: IPL 2023: Kohli's Centurion Chase Leads RCB To Thrilling Victory Over SRH