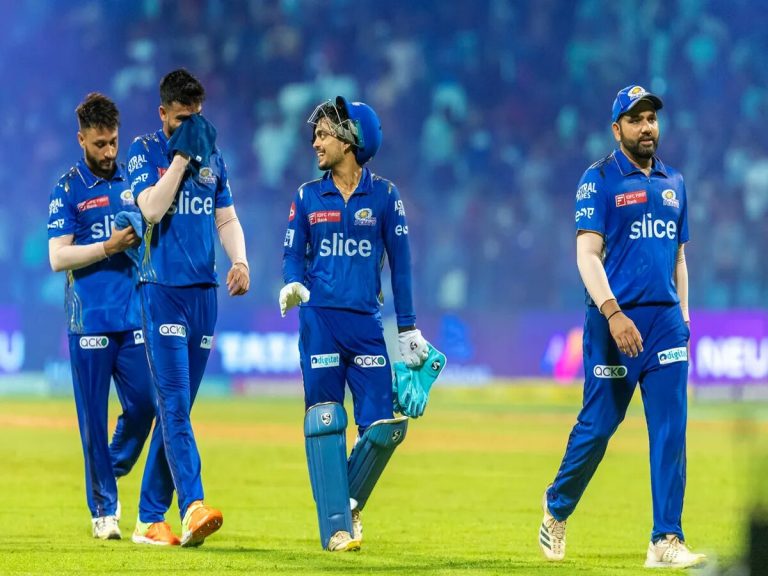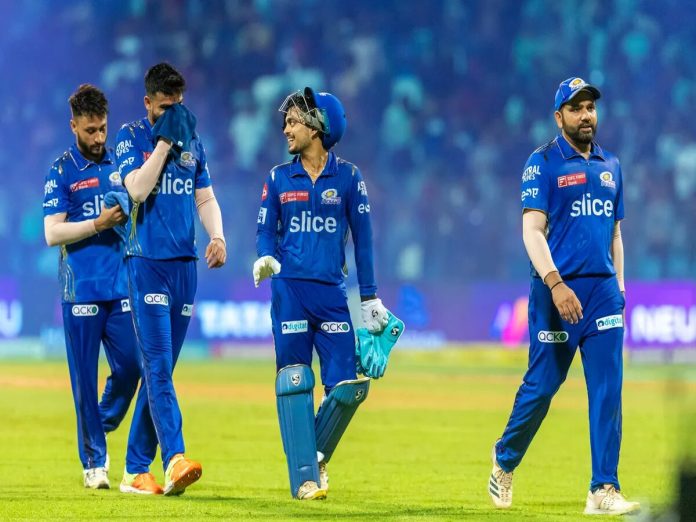 The Indian Premier League (IPL) 2023 season has reached a crucial stage, with teams battling it out for a spot in the playoffs.
In the highly competitive IPL, no team has achieved greater success than the Mumbai Indians. Currently, the five-time IPL champions find themselves in the fourth position on the IPL 2023 points table after completing 13 matches.
Following back-to-back victories against GT and RCB, the Mumbai Indians faced a setback in their recent match against the Lucknow Super Giants, losing in the final over while chasing a modest target of 11 runs. Mohsin Khan was the match's hero because his superb bowling kept Mumbai from winning.
Mumbai Indians are currently in fourth place on the points table with 14 points after winning seven of their 13 total games. They are conscious of the fact that their current situation is unstable, though.
They must win their final match against Sunrisers Hyderabad (SRH) in order to increase their chances of finishing in the top four and earning a spot in the playoffs.
Mumbai Indians' confidence will increase and their chances of making the playoffs would increase greatly with a victory in their upcoming encounter against SRH. The team will stop at nothing to get the victory because they are fully aware of how important this match is.
MI still has a chance to make the playoffs despite a few losses. In this article, we'll look at various scenarios and strategies that would enable MI to reach the playoffs.
Current Position and Challenges:
After completing 13 matches, Mumbai Indians find themselves in fourth place on the IPL 2023 points table. With seven wins and 14 points, they have shown their resilience throughout the season. However, their recent loss to the Lucknow Super Giants highlighted some weaknesses that need to be addressed.
MI's Net Run Rate:
Apart from winning matches, MI needs to focus on improving its net run rate. A strong victory against SRH can significantly boost their net run rate, which might prove vital in case of a tiebreaker situation.
Other Teams' Results:
MI will keep a close eye on the results of other teams in contention for the playoffs. Teams like Rajasthan Royals (RR) and Punjab Kings (PBKS) are also vying for a top-four finish. MI's qualification will depend on these teams' performances and how the points table shapes up.
Key Matches and Scenarios:
MI's final match of the league stage is against Sunrisers Hyderabad (SRH). A victory in this crucial encounter will significantly boost their chances of qualifying for the playoffs. Let's explore the different scenarios that can unfold for MI:
How MI can qualify for the IPL 2023 playoffs?
In Scenario 1: If MI Win against SRH
Mumbai Indians (MI) currently hold the fourth spot on the IPL 2023 table with 14 points. A victory in their upcoming match against Sunrisers Hyderabad (SRH) would take their total to 16 points. However, securing a playoff spot would still depend on the outcomes of other matches and the net run rate (NRR), which has often played a crucial role in IPL qualification.
a) To secure the second spot and qualify for Qualifier 1:
Delhi Capitals (DC) should defeat Chennai Super Kings (CSK).
Kolkata Knight Riders (KKR) should defeat Lucknow Super Giants (LSG).
Royal Challengers Bangalore (RCB) and Punjab Kings (PBKS) need to win at least one of their remaining two matches.
b) To secure third or fourth place:
KKR should defeat LSG.
RCB and PBKS should win at least one of their remaining two matches.
c) If RCB and PBKS win both their matches, and CSK and LSG win their last match, the qualification will be determined by the net run rate, which MI currently has in the negative. Avoiding such a situation would be ideal.
In Scenario 2: If MI Doesn't Defeat SRH
While the chances of qualifying diminish significantly if MI loses to SRH, there is still a slim possibility of making it to the playoffs. However, the following scenarios need to occur:
a) To secure the fourth-place qualification:
RCB needs to lose both their matches against SRH and Gujarat Titans (GT).
DC should win against PBKS.
PBKS should win against Rajasthan Royals (RR), even if they lose to DC.
Also Read: IPL 2023: Sourav Ganguly's Security Changed To Z Category In Kolkata