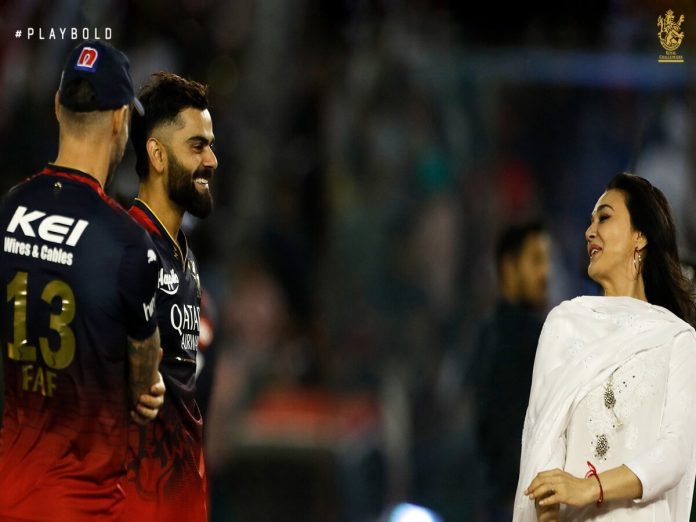 For the second time against Rajasthan Royals in the IPL 2023, Royal Challengers Bangalore kept a slow over rate. The entire squad, including stand-in captain Virat Kohli, was fined for the violation of the IPL's Code of Conduct. If the squad keeps acting in this way for even one more game, there will be serious consequences.
For maintaining a sluggish over rate for a second time in the game against RR, which RCB won by seven runs, Kohli was fined Rs 24 lakh, and each member of the playing XI, including the impact substitute, was fined Rs 6 lakh or 25% of the match money, whichever is less.  Earlier, in the match against Lucknow Super Giants, the usual skipper Faf du Plessis was also fined Rs. 12 lakhs for the same violation.
Fans of the Royal Challengers Bangalore (RCB) received some unwelcome news recently. In the ongoing IPL 2023 tournament, the team has been penalized twice already for failing to deliver 20 overs within the allotted time. If they are found guilty of this violation for a third time, either the captain, Virat Kohli, or Faf du Plessis, could receive a match ban.
In the IPL 2023 match on Wednesday at the Chinnaswamy Stadium, Royal Challengers Bangalore (RCB) and Kolkata Knight Riders (KKR) will try to maintain their winning streak. After losing to Chennai Super Kings in a high-scoring match by an eight-wicket margin, RCB has now won back-to-back games and will now try to complete a hat trick.
The team will aim to finish bowling in the allotted 90 minutes, which includes the five minutes required for two strategic time-outs.
IPL 2023: What are the rules of slow-over rate?
When it comes to slow-over rate regulations, a bowling team is in violation if it is unable to finish its 20 overs within the allotted time. Teams in the IPL have 90 minutes for the 20 over. This contains two strategic time-outs of 150 seconds each with five-minute intervals, two periods of play of 85 minutes, and two periods of strategic time-outs. However, the DRS and injury periods are excluded.
In an IPL match, a team's captain faces an Rs. 12 lakh fine if they take longer than 90 minutes to bowl 20 overs. The skipper is required to pay a punishment of Rs. 24 lakh for violating this guideline a second time. 
The remaining 10 members of the complete team are likewise subject to a fine at this time. 25% of their match fee, or Rs 6 lakh, must be paid. Any captain who makes this error a third time faces a 30-lakh-rupee fine in addition to a one-match suspension. The penalties for the remaining 10 players are equal to the lowest of Rs. 12 lakh or 50% of the match money.
Also Read: IPL 2023 Stats: From Orange, Purple Cap Holder To Most Sixes & Runs, Details Here