Team India is tipped to play the World Test Championship final against New Zealand after the conclusion of the Indian Premier League in England. And, NZC has announced that their players will travel to England directly from India. It is going to be an enthralling game for the prestigious trophy. With IPL in full swing, Kiwi players don't want to disclose all their cards in front of Indian players. However, Virat Kohli has tried his best to practice with duke balls against Kyle Jamieson. But, the 32-year-old has so far failed in getting a breakthrough.
Kyle Jamieson and Daniel Christian are playing together for RCB led by Virat Kohli. The duo were involved in a freewheeling conversation and Aussie cricketer revealed an instance that showed Kohli's eagerness of finding on how to play with duke balls against Jamieson.
Kyle Jamieson Denied Bowling Virat Kohli With Duke Balls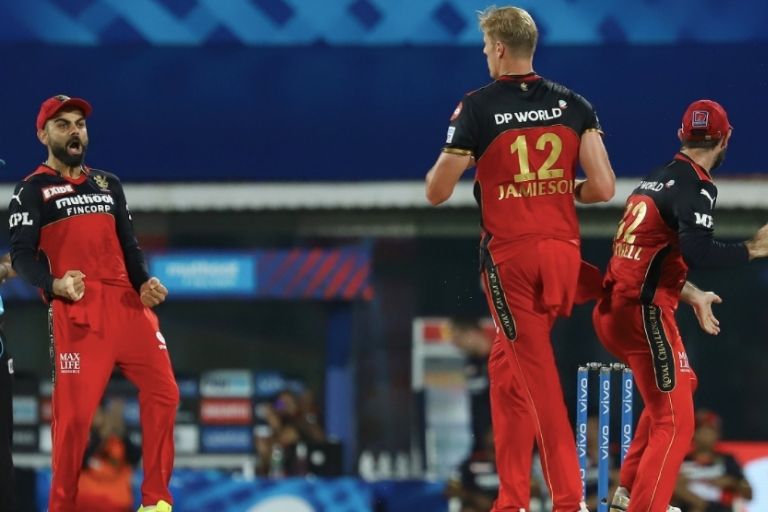 Christian said that in the first week Kohli was in conversation with Kyle Jamieson about Test cricket. The Indian skipper even asked the Kiwi pacer if he had bowled a lot with duke balls in the past or not. To which Jamieson replied that he has bowled well in the past. Even he is carrying few duke balls with him as well.
Kohli continued to question Jamieson if the latter wants to bowl him with them. However, the Kiwi pacer quickly replied that he won't want to bowl him. Christian added that it was one of Kohli's ways of getting an idea of Jamieson's releasing point while bowling with the duke balls.
"Pretty cagey from Virat actually, right in the first week we were here. The three of us were sitting down after the nets and these two were talking about Test cricket. Virat said: 'So Jamie (Kyle Jamieson) have you bowled much with the Dukes ball?' and they are talking about that stuff," Christian said.
"Jamie says: 'Yeah, I have a couple of them here, I will have a bowl leading in before I go over there' and Virat says 'Oh, if you want to have a bowl against me in the nets, I am more than happy to face'."
"Jamie was like, 'No chance I am going to ball at you!' He would have looked at his release point and everything that he does with the Dukes ball!" Christian noted as the two cricketers laughed.