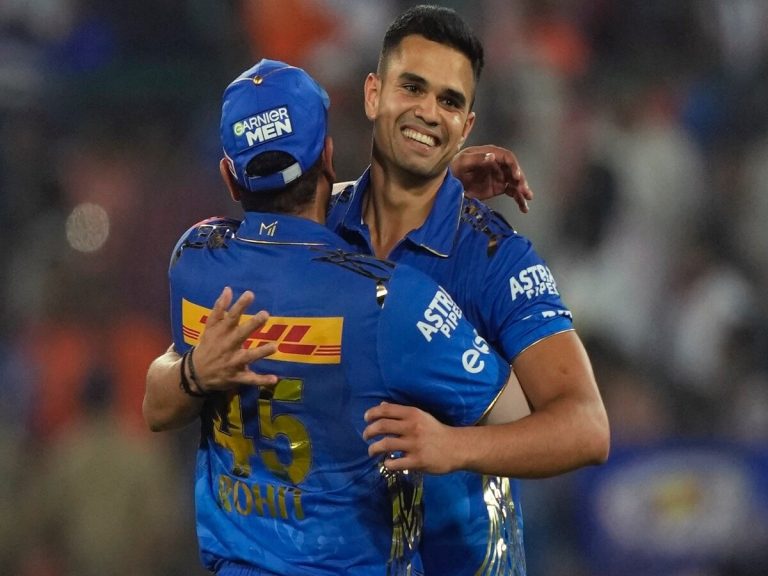 Since making his IPL debut this season, Arjun Tendulkar has appeared to be a key member of the Mumbai Indians squad. The bowling all-rounder hasn't really made an impact with the ball yet, but his bowling has shown signs of intelligence. In two overs against Gujarat Titans, he allowed just nine runs while also getting rid of Wriddhiman Saha.
His bowling speed has come under fire after Arjun Tendulkar was destroyed for 31 runs in one over during the most recent encounter against Punjab Kings. 
Arjun Tendulkar's pace, which now stays around 130 kph, will be increased, according to Mumbai Indians bowling coach Shane Bond.
"He did well today, obviously after what happened in the last game. It's never easy to step out onto the ground that is a Colosseum with a big crowd. We will work on increasing his pace, but he did all that was asked of him today," Shane Bond said at the post-match conference after MI lost by 55 runs.
It's disappointing when we can't distinguish plans
Arjun, a left-arm seamer, finally made his IPL debut on April 16 at the same stadium where his father played his final international encounter. Apart from the match against Punjab Kings, Arjun has managed to impress with his bowling.
Arjun bowled the first and third overs in his maiden game of his career against the Kolkata Knight Riders at the Wankhede Stadium. He came back with a figure of 2-0-17-0. He then bowled the final over, allowing just four runs for one wicket as Sunrisers Hyderabad needed 20 runs to win.
"It's a combination of things. We're not executing what we need to. We've got pretty simple plans. Watch how we bowled in an area. We got hit and immediately resorted to some changes. It's disappointing when we can't distinguish plans when we are on the back foot during difficult run chases," Bond said.
"Like in the last game, I think it was 100/4, and then we just dished up freebies. We gave (David) Miller and (Abhinav) Manohar free hits, and once we gave players to get in runs, they took the game away from us. And that's the disappointing thing from our point of view. So we just have to be better in our decision-making and our execution. In short, it was a tough day for us," he added.
We had to try to manufacture something
Bond claimed that when bowling, Hardik Pandya, Mohammed Shami, and Rashid Khan took advantage of the Narendra Modi Stadium's conditions to create pressure on the MI batsmen.
"When you chase 208, the only plan is to keep going. We tried to ride the storm as the ball swung differently. Look at the way Hardik and Mohammed Shami bowled, not giving us free balls to hit. We had to try to manufacture something. Thus, the score at the end of the powerplay reflected how they bowled on a wicket, which they did the same to RR," Shane Bond said.
"The first six overs were tough for both teams, as it would get difficult for the bowling team because of the dew factor. We were trying to stop the damage to our run rate, which has taken another big hit tonight," the pacer added.
Also Read: IPL 2023: 3 Reasons Why Arjun Tendulkar Can Be A Long Term Prospect For Mumbai Indians