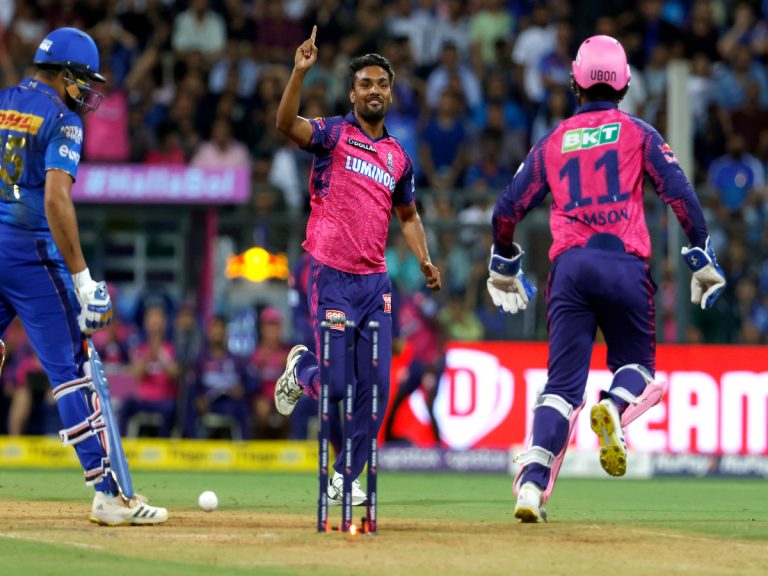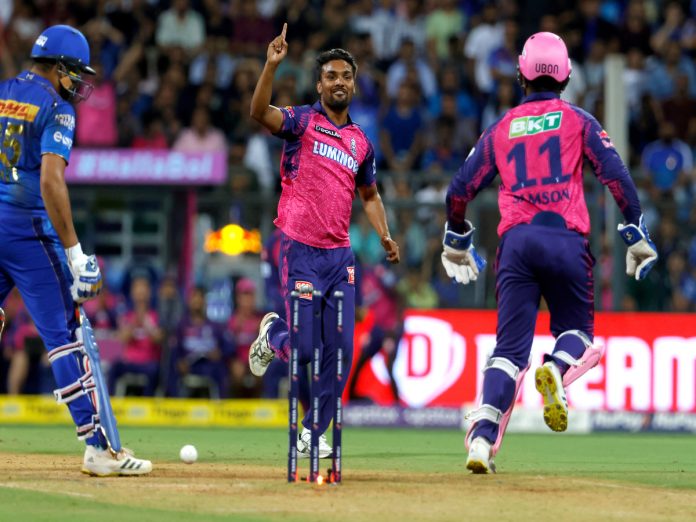 Mumbai Indians returned to winning ways with a sensational 6-wicket win over Rajasthan Royals in the Indian Premier League match on Sunday.
Tim David smashed a hat-trick of sixes in the first three balls of the final over to seal the victory for the five-time champions at Wankhede Stadium. It was the 1000th Indian Premier League and the match was packed with non-stop action, making it an unforgettable occasion.
However, the social media world was set ablaze during Mumbai's innings, with RR captain Sanju Samson's suspicious act being brought to light on Twitter. The umpires also came under fire for Rohit Sharma's dismissal, as the Mumbai skipper departed early in the innings on his 36th birthday.
Rohit Sharma turns 36 now
Rohit Sharma, the Mumbai Indians captain, was hoping to celebrate his 36th birthday with a remarkable performance as his team began their pursuit of 213 runs at the Wankhede Stadium. Unfortunately for Sharma, his stay at the crease was short-lived, as he was dismissed in the second over of the innings by Sandeep Sharma.
Sandeep's delivery was a knuckleball that deceived Sharma, who had gone on the back foot to defend it towards the off-side. The deceptive pace of the delivery caused Sharma to miss the ball, resulting in it kissing the top of the off stump. Sharma was left in disbelief as he stood there staring at the stumps for a moment before reluctantly making his way back to the pavilion.
The early dismissal of Sharma was a significant blow to Mumbai's hopes of chasing down a massive target, and the pressure was now on the rest of the batting line-up to step up and deliver.
Social Media Buzzes with Controversy During Mumbai's Innings
Soon after Rohit Sharma's controversial dismissal in the second over of Mumbai Indian's chase, social media was buzzing with fans pointing out a potential error by the on-field umpires. In a video posted on Twitter, a close-up of the stumps showed that the ball had hit the bail on top of the off stump, causing it to turn red. However, it appeared that the bail had not completely fallen off the stumps.
Moments later, when Sanju Samson, the Rajasthan Royals wicketkeeper, collected the ball after it had hit the stumps, the bails appeared to have been dislodged by the faintest touch of his gloves. This raised questions about whether the wicket was valid, and if the umpires should have referred the decision to the third umpire for a review.
Eagle-eyed fans on social media were quick to point out the discrepancy, and the incident sparked a heated debate among cricket enthusiasts. The controversy added to the drama of the match and left fans wondering whether the outcome would have been different if the decision had gone in favor of the Mumbai Indians.
Check fans reaction –
Also Read: Lalit Modi: IPL Is "Growing from Strength to Strength" And Will Soon Overtake The NFL