T Natarajan, the new bowling sensation and yorker king has revealed his conversation with former Indian skipper MS Dhoni in the previous edition. The left-arm pacer recently made his international debut on the Australia tour from the ODI series followed by his participation in the T20I and Test series as well.
The Salem-born cricketer came into the spotlight after his promising bowling for Sunrisers Hyderabad in the 13th edition of the Indian Premier League. He led the pace attack of his franchise in the absence of experienced bowlers like Bhuvneshwar Kumar and Mitchell Marsh. By the end, he became the bowler, who bowled most Yorkers in a season. He took 16 wickets at a good economy rate of 8.02 keeping the fact in mind that he used to bowl in death overs for SRH.
T Natarajan Reveals His Conversation With MS Dhoni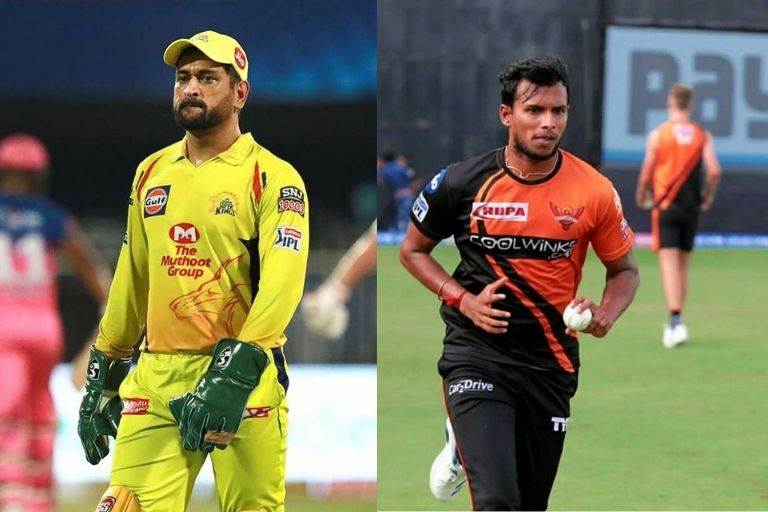 In an interview, T Natarajan spoke about his very first experience talking with the former Indian skipper MS Dhoni. He said that it is always great speaking to such a great personality. He revealed that Dhoni told that he is going to improve with every passing game. The 30-year-old asserted that he had a conversation with MS Dhoni after the game.
"Speaking to somebody like Dhoni itself is a big thing. He spoke to me about fitness and encouraged me, saying that I will keep getting better with experience. He said, use slow bouncers, cutters, and variations like that. It has been useful for me," Natarajan was quoted as saying by 'ESPNcricinfo'.
"After coming back to the dressing room, though, I was happy. After finishing the match, I also had a chat with him."
T Natarajan said that he was quite happy after taking wicket of MS Dhoni for his team. He also revealed that his daughter was also born on the same day.
"On one side there was my girl and on the other side, I got that wicket in an important knockout game. Romba santhosham (I was extremely happy), but I didn't really tell the others (about the baby).
"I thought I will tell everyone else after we win the game, but my captain (David) Warner spoke about it, I think, at the post-match (presentation)," Natarajan said.