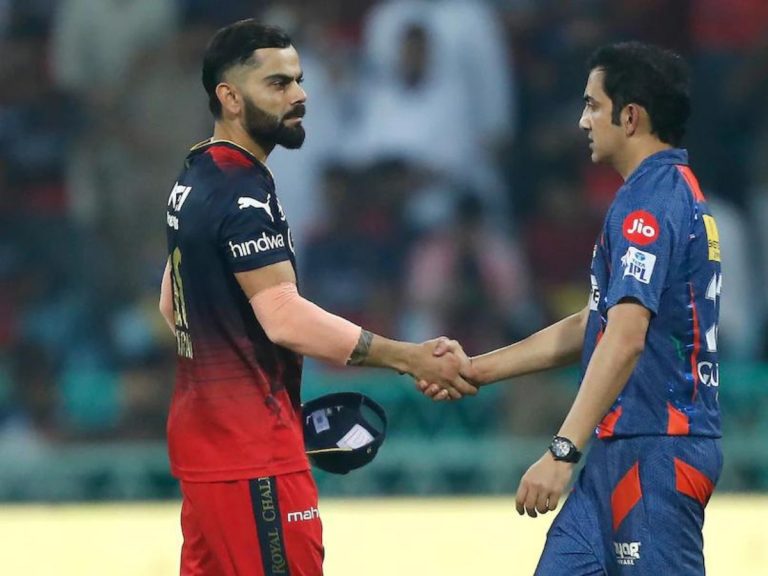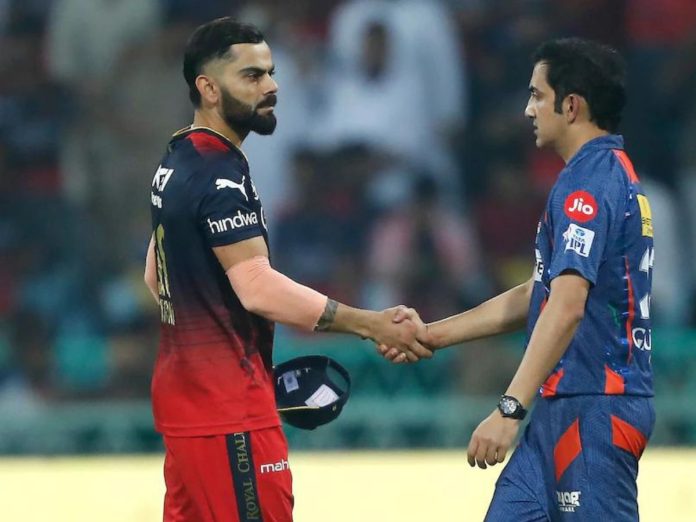 Whenever we ponder about rivalries in the Indian Premier League (IPL), the first thing that comes up to our minds is the spicy contests between Virat Kohli and Gautam Gambhir. The duo have shared a lot of enticing faceoffs with each other and are a much talked-about duo in the history of IPL.
Both Kohli and Gambhir hail from Delhi and have a fiery attitude and aggression engrained in their cells. Aggression is a part and parcel of your game style and right from their playing days to coaching days (Gautam Gambhir only), we have seen some sparks on and off the field.
As we witnessed an ugly war of words between the two greats of the game at Lucknow yesterday, in this article we take a look at the history of their rivalry:
Virat Kohli vs Gautam Gambhir face-off in 2013
One of the ugliest face-offs etched in the history books of IPL, Virat Kohli and Gautam Gambhir have had a tussle of words in IPL 2023 at the Chinnaswamy Stadium.
Lakshmipati Balaji of KKR had dismissed Virat Kohli, who was batting on 35. While heading back, the RCB skipper witnessed the KKR skipper Gambhir hurl out a few aggressive words.
As Kohli isn't one to back down, he came charging at Gambhir. Gambhir too charged towards him and the other players had to rush in and separate them. Rajat Bhatia then separated the two and made sure Kohli walks away from the heated situation.
LSG vs RCB face-off
After LSG pulled off a last-ball thriller on 10th April 2023, we saw Gautam Gambhir make an aggressive finger-on-lips signal to the enthusiastic Chinnaswamy crowd. Avesh Khan of LSG too threw his helmet down in aggression.
This naturally boiled a lot of RCB players and they took their revenge on 1st May 2023 at Lucknow. Virat Kohli was extremely animated throughout the 2nd innings and kept showing some aggressive moves after LSG wickets.
He was also involved in a verbal battle of words with LSG tail-enders Naveen-ul-Haq and Amit Mishra. The incident really riled up LSG mentor Gautam Gambhir and he had a go at Kohli in front of everyone, post the game.
Everything got really heated up and LSG players KL Rahul and Krishnappa Gowtham had to separate them so that things don't get too hot.
Later, both Virat Kohli and Gautam Gambhir were fined 100% of their match fee.
Impact of Gautam-Kohli rivalry on the IPL
Whenever the duo has a go at each other, it increases the competition levels in this power-packed league. Naturally, the stakes and the excitement levels heat and rise up. It has a huge impact on IPL as the incident then becomes the talking point of the entire game.
If the two teams later meet in the playoffs, then the temperature will soar up to higher levels, once again.
Also read: Watch: "National Crush Of India" Rashmika Mandhana Reveals Her Favourite Cricketer