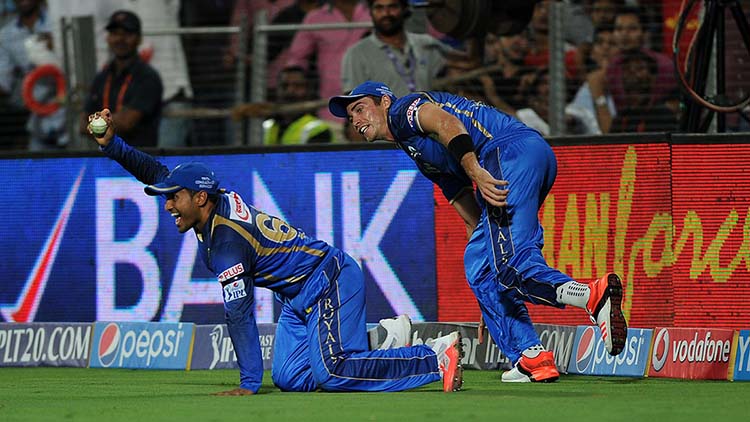 Do you watch and play Cricket? If yes, you must have heard commentators always saving 'Catches win matches'. Yes, there have been many instances when a dropped catch has cost a Team the game. Fours and sixers may excite you up and may make catchy headlines. But a good catch can also be entertaining, and its significance can't be ruled out overall in a game.  Here we discuss Best catches in IPL history.
But sometimes fielders stretch their muscles so much that they look like a Superman taking a catch out of nowhere. And it gives even the best 6s a run for their money.
Yes, whenever such catches are taken, they linger in the memory of fans for years while the greatest of the sixers may not be remembered for long.
Ever since its inception in 2008, the Indian Premier League (IPL) has emerged as a blockbuster source of entertainment. The advent of IPL has surely taken Cricket, and T20 format, in particular, to monumental heights of fame in India and across.
In the same context, we are going to create a list of 13 Best catches in IPL over the years in this article. But yes, we do agree that creating it is not a child's play and you may even see some deserving candidates missing.
Best catches in IPL that blew everyone's mind
1) AB de Villiers made it simple with one hand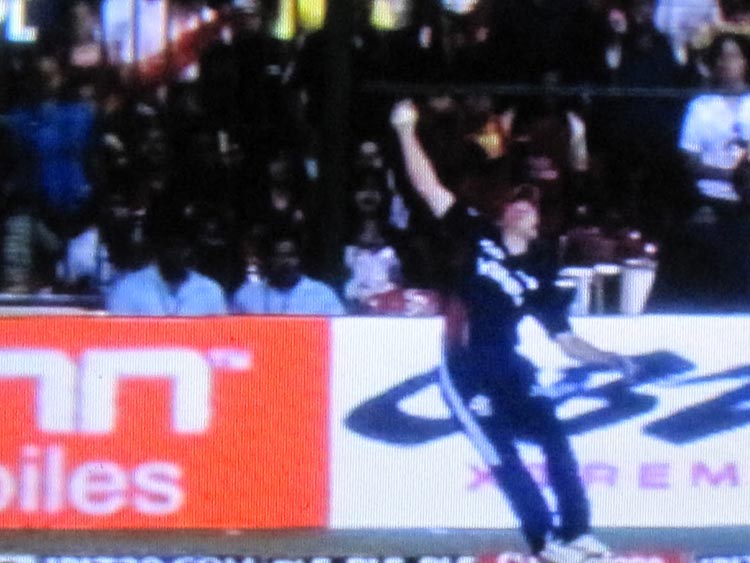 It was during the 3rd edition of the IPL in 2010, and back then, AB de Villiers used to play for Delhi Daredevils (Now, Delhi Capitals). Delhi had hit a huge 183 Vs the Royal Challengers Bangalore at the M Chinnaswamy Stadium, Bengaluru. Delhi was in the drivers' seat with RCB reeling at 137/7 in the 18th over. At that point, when the match was progressing smoothly, AB de Villiers produced a stunner out of nowhere. While facing Umesh Yadav, Praveen Kumar made room to bat it flat towards the long-on. In the beginning, it seemed ABD misjudged it as he had gone past a few paces forward. He came to know that the ball was about to go over him. And he jumped while outstretching and took it one-handed. The momentum of the action had taken him closer to the boundary, and he landed just close. It was among the Best catches in IPL considering how ABD improvised his misjudgment.    
2) Gurkeerat Singh Mann went mid-air to dismiss Ross Taylor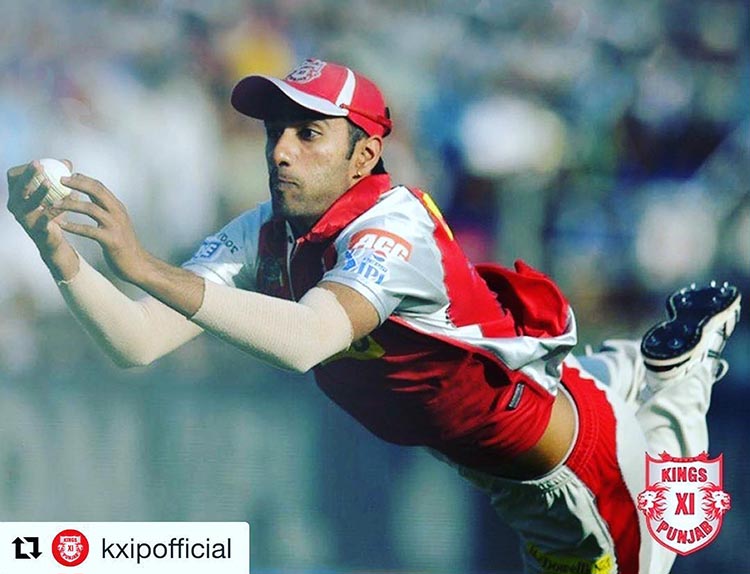 Ross Taylor has been a stylish batsman, and when he hits, it is bound to touch the ropes or sail over it. The match between Pune Warriors India (PWI, now defunct), and Kings XI Punjab at Pune in 2013 was a one-sided affair with Kings cruising. Taylor hit the ball to the fine leg while walking across the wicket. Gurkeerat was fielding in the deep, but he was a bit square. Singh sprinted towards his left while diving with his hands being outstretched. Gurkeerat was able to catch the ball that was sailing at a higher speed while being airborne. The moment he landed, his Team members started celebrating. The ball was supposed to go to the boundary, and that's how it was hit, but Gurkeerat Singh had some other plans, and he made the impossible simply possible!   
3) David Hussey palmed one back into play and dived to complete the catch
Delhi Daredevils' Paul Collingwood and David Warner had blasted the Kolkata Knight Riders. Collingwood, who had made a fifty decided to go all guns blazing. In his bid to smash a ball to long-on, he came dancing down the track. The ball was going over David Hussey, and he caught it just over the boundary. But in the process, he found himself crossing the ropes and palmed it back. After regaining his balance, he quickly dived onto the play area to take it just a few inches above the ground – spectacular!
4) Chris Lynn showcased a brilliant effort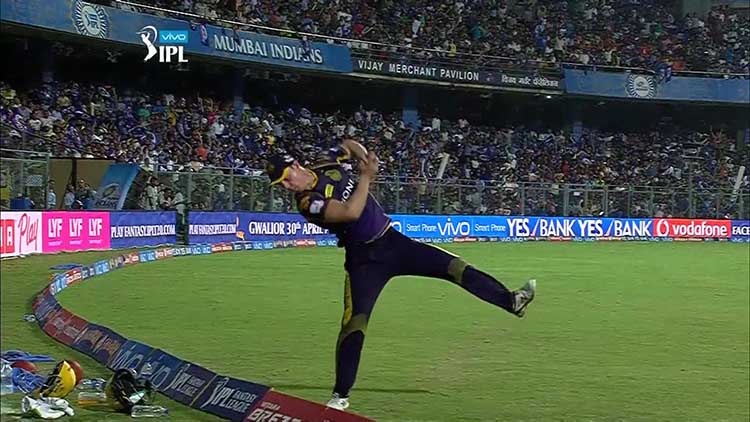 Nobody knew Chris Lynn when he became a part of the IPL in 2014. It was even after he belonged to Deccan Chargers and Sunrisers Hyderabad in earlier editions. He contributed with 45 to help KKR reach 150. While they were defending the total, Lynn changed the course of the game with a great catch. Needing 6 runs in 3 balls, AB de Villiers hit a Vinay Kumar delivery towards mid-wicket. While moving forward, Chris Lynn slipped and judged that the ball would go to the boundary. He took the catch while going in the air. He landed and made it a point that his body did not touch the ropes. In turn, Kolkata went on to win the match.
 5) Ajinkya Rahane and Johan Botha collaborated to produce brilliance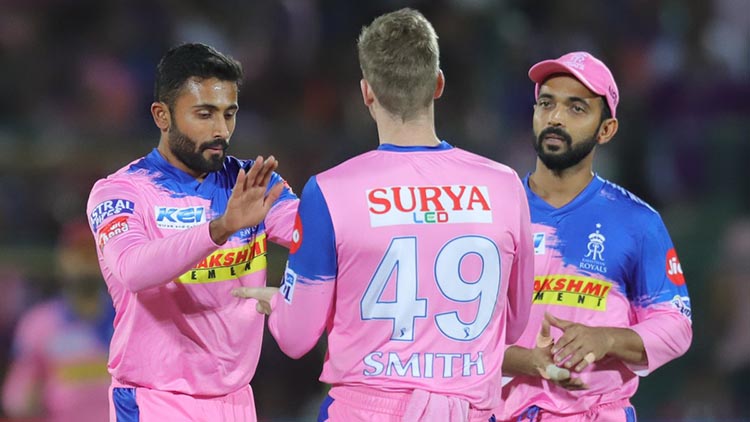 Rajasthan Royals and Pune Warriors India were engaged in an IPL 2012 game. And Ajinkya Rahane and Johan Botha worked in tandem to pull off a stunner. Rahul Sharma (Pune) hit a ball to long-off, and Botha ran towards it to catch. He grabbed the ball well but in the process, moved to the boundary at a higher speed. He passed the ball to Rahane after realizing that he would touch the ropes. Rahane was just behind him to complete a beautiful catch – a perfect display of Teamwork!
6) David Hussey added his brilliance to send Christ Gayle packing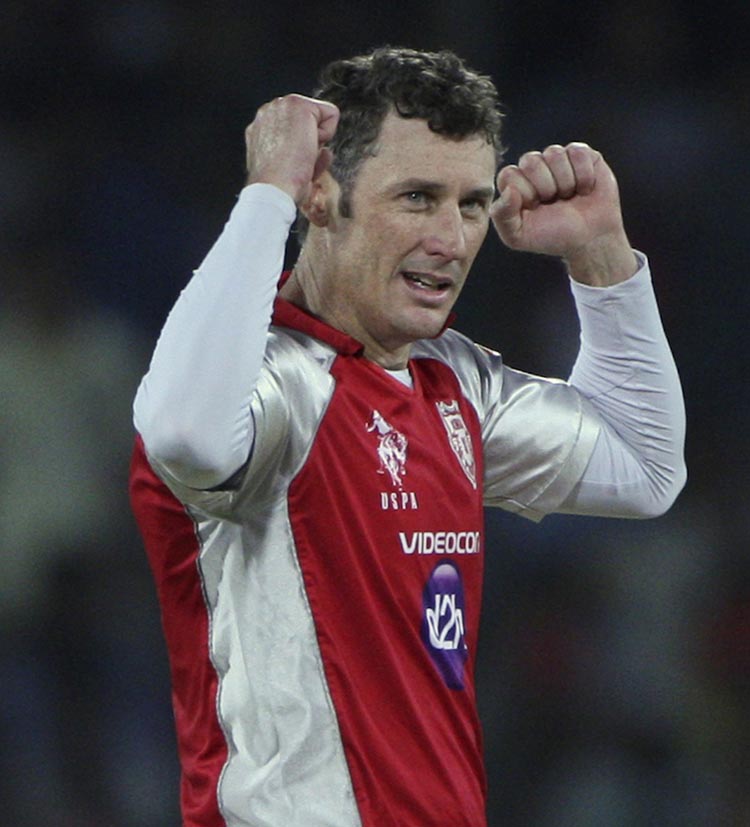 This IPL 2012 game in Mohali seemed already a goner! 87* by Chris Gayle had put RCB on the driver's seat, and they were cruising against Kings XI Punjab. But Punjab was destined for a small cheer! The 'Universe Boss' hit one via cover, but Hussey took a blinder with one hand while diving to his left. The catch was difficult to take as it was hit with some force and that's what made it special for David Hussey.
7) Abhimanyu Mithun's catch shocked Pollard
We have been treated to so many instances in IPL when Pollard had taken a blinder at the boundary while ensuring he did not touch the ropes. But Abhimanyu Mithun gave him a taste of his own medicine in an IPL encounter in 2011. While chasing 186, Mumbai were 5 down for 89 against Bangalore in the 13th over. The last hope for MI was Kieron Pollard, and in the process, he hit Vettori for a huge blow towards long-off. Abhimanyu Mithun, who was just short of the boundary, stayed calm and grabbed the ball with only one hand over the fence. He managed to clutch the skier without falling. The catch looked brilliant in replays and had Pollard shocked.
8) Ricky Ponting took a beauty in IPL 2013
Ricky Ponting made his way back into the IPL after 5 long years, but could not find a robust form with the bat. Nonetheless, there was one moment that is still etched in the memories of IPL fans. Harbhajan Singh, Ponting's old arch-rival, was bowling to Unmukt Chand. Chand got an outside edge as he was done by a ball that was on its line. The ball was fast moving away from Ponting who was at the cover. But he ran across to dive and took the catch while being mid-air. Ponting had hugged the 'Turbanator', and the scene would have surprised you other than the incredible catch. It was one the Best catches in IPL history
9) Harmeet Singh's catch assisted Deccan Chargers inch closer to IPL Trophy
Deccan Chargers were playing against Bangalore in the 2009 IPL Final at Johannesburg. Harmeet Singh was fielding at the fine-leg. In the 19th over, off Ryan Harris, Vinay Kumar moved across the wicket and played it to fine-leg off. Harmeet then came running in and took an awesome catch while diving forward. The catch was considered among the best catches in IPL as it was brilliant because the ball was hit with brute force.
10) Pollard took a fabulous catch to dismiss Shaun Marsh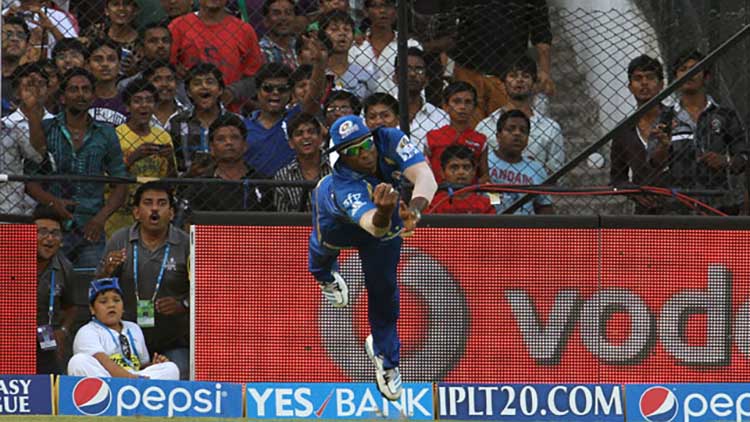 Kings XI Punjab was looking formidable at 128/2 in 15.2 overs, and Shaun Marsh was looking dangerous. But Kieron Pollard took a stunner of a catch to send Shaun Marsh packing. Marsh looked set to clear the ropes as he hit the ball to mid-wicket with all his power. Pollard ran and was literally mid-air as he completed the catch to his right. After taking the catch, the MI Star raised his arms towards the viewers in the Mohali stadium.
 11) Suresh Raina grabbed a gem at slips in IPL 2016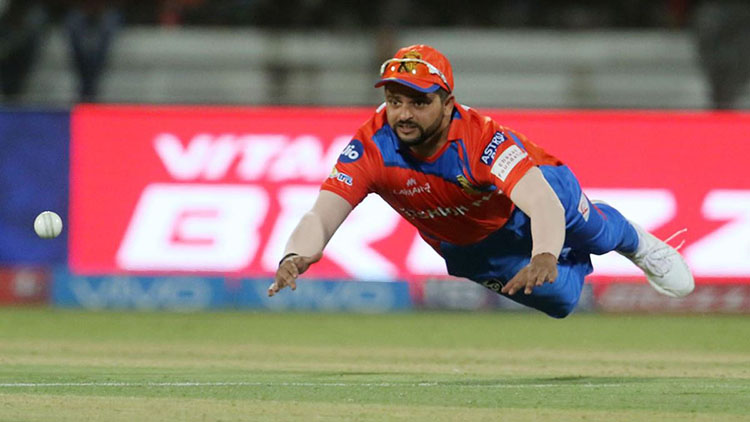 Suresh Raina played for Gujarat Lions (now, defunct) in 2016 when CSK was banned for playing in the IPL for two years. In a match Vs KKR, Suresh Raina showcased his fitness level as he put in an athletic effort to dismiss Suryakumar Yadav. Yadav was trying to be cheeky to a Dwayne Smith short ball. Raina dived to his left to take the catch.
 12) Faf du Plessis dismissed Corey Anderson in IPL 2015
Faf du Plessis is another Cricketer from South Africa who is brilliant on the field. During the CSK Vs MI match in IPL 2015, Faf was fielding at the mid-off. Corey Anderson, the New Zealand all-rounder, played a short ball from Ashish Nehra. He hit the ball straight and high down the ground. In a brilliant display of focus, Faf ran from mid-off to sideways. He then understood that he had misjudged the ball's flight. Du Plessis ran backward to adjust himself but realized that he would not make it to the ball. He again dived back to take an absolute beauty. The catch was so brilliant that fans could watch it all day.
13) Karun Nair and Tim Southee worked wonders in IPL 2015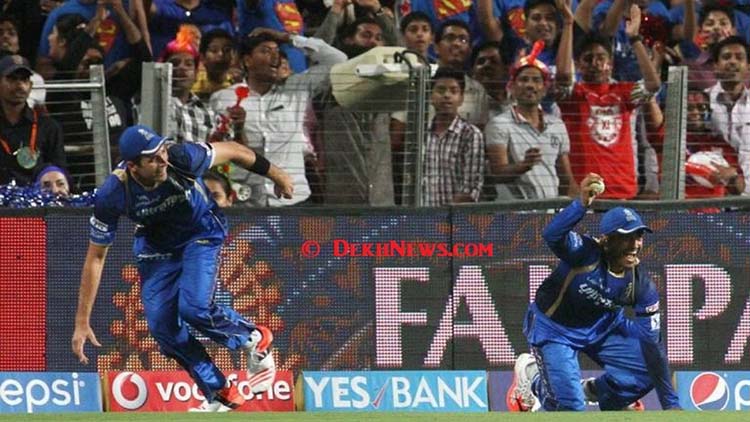 Catches that are taken in combination are the best examples of trust on each other and Team spirits. The 2015 edition of the IPL saw one such effort. In a game between Rajasthan Royals and Kings XI Punjab, George Belly was in sublime touch and on his way to completing the chase for Punjab. When he hit James Faulkner in the 19th over, it looked like a sixer, but the batsman found Tim Souther in the long-on. Southee took the catch and before going over the ropes, threw it back in the field. Karun Nair, who had followed him to the boundary hold on to Tim's offering and completed a beauty. This was among the Best catches in IPL till date.