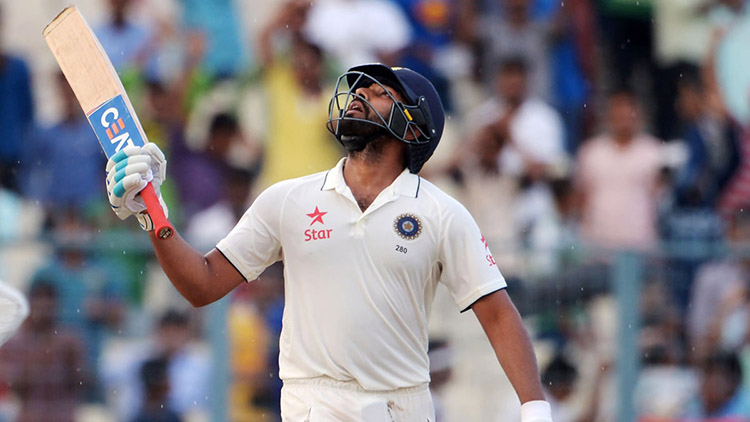 There have been several controversies regarding India's Rohit Sharma and his position in Tests. Mumbai's batsman has been on a rugged journey, without managing to accomplish anything great in long formats. He performed in a few Australian Tests; however, recently he was on the sidelines during the past two-match series versus West Indies. Find out the players that sidelined him.
The Indian vice-captain for white-ball cricket has scored well in short formats, but he has not yet proved his potential in Test cricket. Hanuma Vihari had been chosen instead of Rohit for Caribbean matches, sparking many debates across the fans worldwide.
KL Rahul is known to be inconsistent for the past few years. The opening combination has not yet been confirmed, creating hopes for Rohit's chance to ascend through the order. There are also some other players who have performed brilliantly; Rohit's shot is greatly eclipsed by their Test success. Three of these players are discussed below:
1. Hanuma Vihari
Prior to the Caribbean series, Rohit and Vihari were neck and neck for the sixth slot. India chose Andhra's Vihari, who lived up to the management's expectations.
He made 289 runs at a 96.33 average and rescued the Indian team from tough circumstances several times during the two-match series. Vihari scored 1 hundred and 2 fifties, kind of sealing his No. 6 slot in Tests.
Vihari also played two away tours during the past season too. He appeared first at the Oval for the fifth Test, facing off against the English team and scoring an outstanding half-century. 25-year-old Vihari also played three Tests in Australia. There was an initial difficulty on Perth's ground, but it was not insurmountable for Vihari. When asked to open during Boxing Day Test at MCG, he could have reached 8 but managed to blunt the new ball. He also scored 42 during the past SCG Test.
Vihari has been an impressive cricketer, batting well during unfavourable conditions. Therefore, he has to be a middle-order player in the future. He has also overshadowed Rohit in Tests.