Dinesh Karthik has revealed his wish of playing at least once in the upcoming two World Cups. The veteran Indian wicketkeeper last played in the national colors back in the 2019 World Cup. However, he was dropped from the team due to his poor performance at the highest level.
Undoubtedly, Dinesh Karthik arrived in World Cricket with a reputation as an athletic wicketkeeper and talented batsman. But, he was overshadowed by legendary player MS Dhoni. His star moment arrived when he steered Team India to a crucial win in the Nidahas Trophy final against Bangladesh back in 2018. He smashed 29 runs off 8 balls. And, soon he was picked for the World Cup that was hosted by England.
Dinesh Karthik Feels That He Can Atleast Play One World Cup For Team India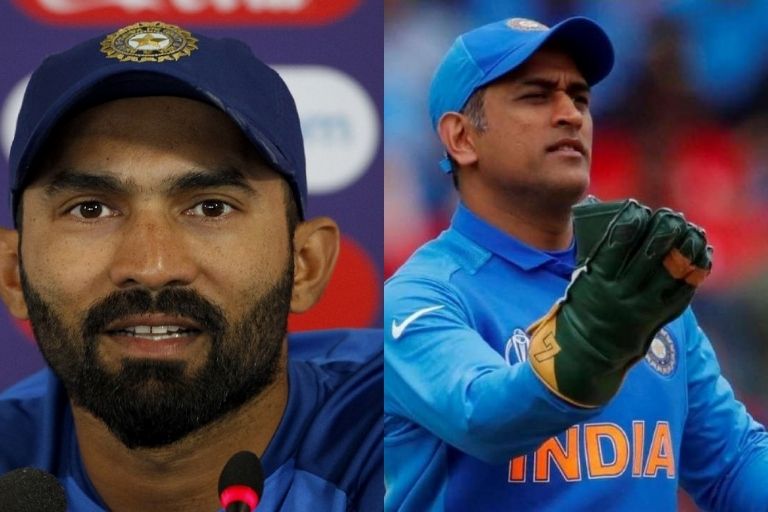 His performance was horrendous in the 50-over World Cup due to which he was dropped from the team. Post-mega-event, he has given scintillating performances in domestic tournaments. But, selectors have still ignored him and preferred youngsters over him.
In a recent interview, Dinesh Karthik said that Team India needs a mature middle-order batsman. As per him, they have a long list of top-order batsmen. To compensate management tries to slot them in the middle-order. And, he finds himself as one of the players to play in the middle-order.
"India does need a pure middle-order batsman," Karthik said. "They have a lot of top-order batsmen who they slot in the middle-order. Barring Hardik Pandya and Ravindra Jadeja there is no one who is a middle-order batsman. They all bat for their franchises from opening to No.3, with the only exception being Rishabh Pant who bats at No.4."
The veteran player feels that their still a lot of cricket left in him. Karthik looked optimistic and said that he can at least represent India in at least one of the events upcoming two.
"I want to play the sport as long as I am fit. I want to represent India in at least one World Cup of the next two, I think one is in Dubai and the next is in Australia. I had a fab time with the Indian T20 team till the time I was dropped due to an unsuccessful World Cup campaign," Karthik said on the 22 Yarns podcast by Gaurav Kapur