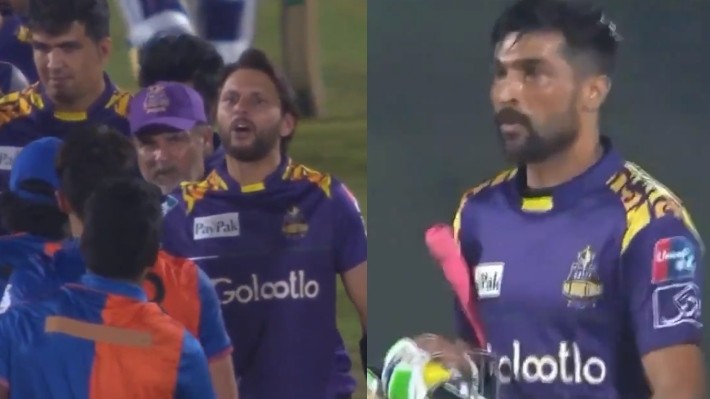 In the maiden edition of the Lanka Premier League, the fans have witnessed some quality cricket and close encounters. Meanwhile, the cricketers have also lost their control during the games. And, the verbal spat between Naveen-ul-Haq and Mohammad Amir hogged the spotlight recently. The Afghanistan pacer has kept his point clear in front of the fans. Now, Amir himself has come out saying that these things happen when a player is young and the same was the case with Naveen-ul-Haq.
Actually, during a game between Tuskers and Gladiators, Naveen-ul-Haq and Mohammad Amir were involved in a heated altercation. The controversial instance happened in the 18th over. And, it was carried forward till the players left the field after the conclusion of the game. Meanwhile, Shahid Afridi also got involved and tried to talk to the Afghanistan pacer. But, he was in no mood to listen.
Read More: India Need Players Like T Natarajan: Shardul Thakur Hails Left-Arm Pacer
Mohammad Amir Opined On Heated Altercation With Naveen-ul-Haq
Later on, Naveen-ul-Haq also hits back hard on Shahid Afridi saying 'Give Respect and Take Respect'. In an interview that we both were pretty much angry and aggressive. Shahid Afridi also tried to make pacer understand how a player should behave on the field.
"At the end of the innings, I was a little riled up also, and as you know the heart rate is already. Shahid Bhai was trying to make him understand that these aren't the type of ethics we should have, that he should not behave like that with his seniors, that he should be a gentleman; This is cricket and you get hit for 4s and 6s but you can also get wickets," Amir said while speaking to Pak Passion.
Amir also added that with time he has understood the power of concentration. He feels players should save their energy and let their game speak instead of using words.
"If you look at me nowadays, I am very friendly with everyone; I don't sledge batsmen; One should focus on their bowling and all aggression should be left for the time when you take a wicket;
"Expressing aggression without a reason is of no use as a bowler, it simply wastes your energy which is best used in getting the batsman out. That's what I said, it would have been better if he had been putting his energy to get me out," Amir opined on the matter.
Read More: Sunil Gavaskar Picks His Preferred Opening Pair For India Against Australia In The First T20I