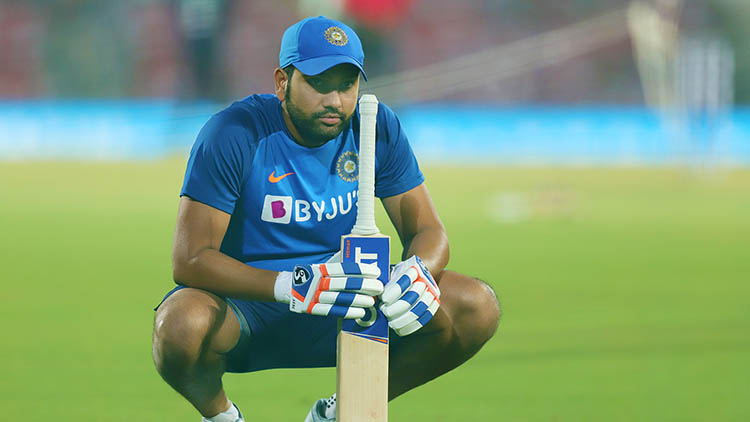 The Coronavirus (COVID-19) pandemic has turned out to be blessings in disguise for Indian Cricketers as they are cooling off from their neck-break schedule. They are now able to spend some quality time with their loved ones and families. They are also interacting with their fans on social media platforms. On Wednesday, Jasprit Bumrah and Rohit Sharma were Live on Instagram to interact with fans and enjoyed it too much.
During the Live session, the Cricketing duo talked about Teammates and the Indian Premier League (IPL) that has been postponed to April 15, 2020. Both Jasprit Bumrah and Rohit Sharma are Mumbai Indians Teammates in the lucrative IPL. They have also been one of the key forces of the franchise over the years.
Talking about the Live session of these two Cricketers on Instagram, Rohit Sharma got irritated after fans asked them to speak in English. The white-ball (ODI) Vice-Captain of Team India was not seemed to have liked the comments. He gave it back by stating that they are Indians and will be speaking in Hindi only.
"They are asking to speak in English, but No we are Indians, and we will continue speaking in Hindi only." The 32-year-old MI Captain was quipped as saying to Jasprit Bumrah.
Bumrah spoke on the same lines and went on to state that fans would have asked them to speak in Hindi if they had started conversing in English in the first instance.
Rohit and other Indian Cricketers are helping India fight against COVID-19
Rohit Sharma has recently donated an amount of Rs.80 lakhs to help the Nation fight against the menace of the Novel Coronavirus. He made a donation of Rs.45 lakhs to PM CARES and Rs.25 lakhs to Maharashtra CM Relief Fund. He also gave away Rs.5 lakh each towards the Feeding India Initiative of Zomato and Welfare of Stray Dogs.      
BCCI has also not been behind to donate for the same as it has recently made a donation of Rs.51 crores. Cricketers like Sachin Tendulkar, Sourav Ganguly, Virat Kohli and Suresh Raina and many more have also done their bit to help the needy.
Indian women Cricketers like Poonam Yadav and Richa Ghosh have come forward and donated Rs.1 lakh each, with Mithali Raj leading by giving away a total of Rs.10 lakhs.
The COVID-19 has stalled lives, businesses and sports, including Cricket. Owing to the outbreak, IPL 2020 has bleak chances to be held in India.