India will lock horns with New Zealand in the World Test Championship final on 18th June. The Indian side has a weakness playing against the Kiwi side in the ICC tournament and they will want to break this myth. In the quest to win the maiden WTC championship, Team India's opening pair will play a key role and Rohit Sharma's record in England is horrendous as he struggles against deliveries in both directions. However, Pakistan commentator Ramiz Raja feels if Rohit clicks he will score not a hundred but a double century.
Advertisement

Rohit Sharma has managed only 34 runs in one Test played in England. Although this will not give a clear picture to the fans over the Indian opener's struggle in England. But, it is very well known that the right-handed batsman always struggles in conditions when the ball moves in the air.
Rohit Sharma Will Smash Double Century In WTC Final If He Clicks: Ramiz Raja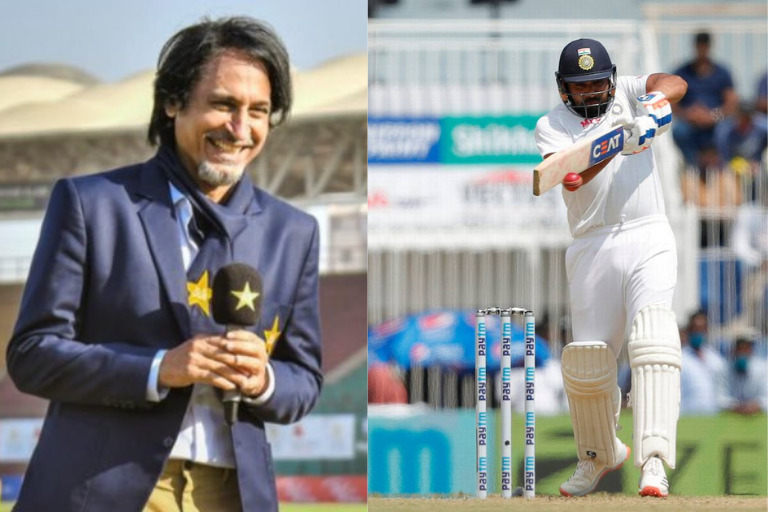 Rohit Sharma rescued his Test career by producing a sensation performance against South Africa back in 2019. Now, he is used as a regular opener in red-ball cricket by India. However, his performance in New Zealand and Australia was not that satisfactory where he was seen struggling against the swing.
This has given air to an unwanted debate if Rohit Sharma can pull off against New Zealand in the WTC final as well as in the England Test series or not. Talking about the same, Pakistan commentator said that India needs to back their openers and if Rohit Sharma got settled then he will surely click a double century.
"It is not risky. If you have an opening pair like that, you need to back them. Rohit Sharma will give you a double hundred if he fires," said Raja in a discussion with India News.
"You don't have to think much, you just have to go there and play your game. It is very important to be aggressive. The Indian batsmen base their attack on that because their thinking is aggressive," he added.
The former player stated that the technique of batting in overseas conditions is the same for the past 100 years. It depends on how quickly the batsman gets settled on the wicket.
"If it is a half-volley, you need to drive that whether you are playing in England or India. Yes, you have to play with soft hands for the first half an hour but after that, once you have settled, the basic principles of batting have not changed in the last 100 years," concluded Raja.