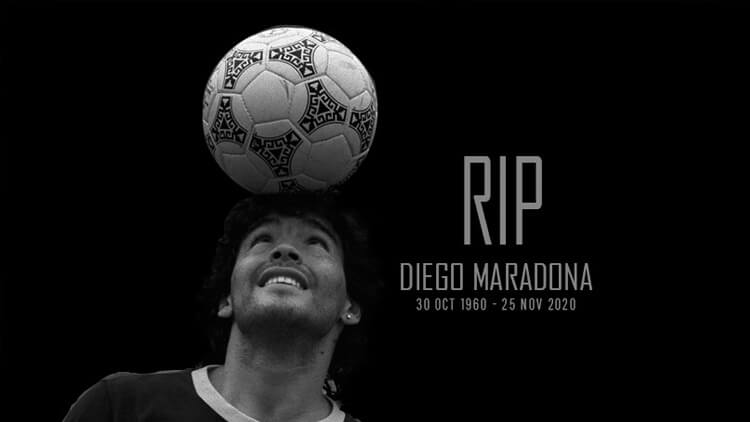 The sports world was sent with a shockwave when everyone came to know legendary Argentine footballer Diego Maradona's demise came into the media. It is a big loss not for only but for football as well. Diego Maradona is regarded as one of the greatest footballers ever played in football history. This is the reason why the cricketing fraternity showed their grief on such a sad occasion on social media.
Maradona was no less than a legend. He gave a totally different dimension to sports like football. He achieved a lot in his footballing career that is not easy for any big footballer in modern-day football as well. The Argentine always remained in the spotlight whether because of his football skills or controversy. The biggest of all came in the year 1986 when an Argentine footballer netted a goal with his hand against England.
Sourav Ganguly, Sachin Tendulkar, And Others Share Their Grief Over The Demise Of Diego Maradona
But in the same game, he scored a remarkable goal in order to help his side in getting an unassailable lead in the match. And, his second goal was nominated as "Goal of the Century". Meanwhile, he is also one of the rarest Barcelona players to receive a standing ovation from Real Madrid fans in Santiago Bernabeu back in 1983 for his exceptional on-field gameplay.
As soon as the news about Maradona's demise went viral, the cricketing fraternity came forward in order to show their grief. From Virat Kohli to Sourav Ganguly, everyone shared a heartfelt post on social media. The Prince of Kolkata played with the Argentine footballer in a charity match when the legendary player came to Kolkata in 2017. Sourav Ganguly took to his official Twitter handle and shared a post that read," "My hero no more ..my mad genius rest in peace ..I watched football for you."
Virat Kohli even referred to Maradona as a true genius of football in his tweet. He wrote, "RIP Diego Maradona. He changed the way the beautiful game of football is played. True genius."
Sachin Tendulkar, the legendary former Indian cricketer opined that not only football but other sports have lost one of the greatest player ever,"Football and the world of sports have lost one of its greatest players today. Rest in Peace Diego Maradona! You shall be missed."
Here Is How Other Cricketers reacted: