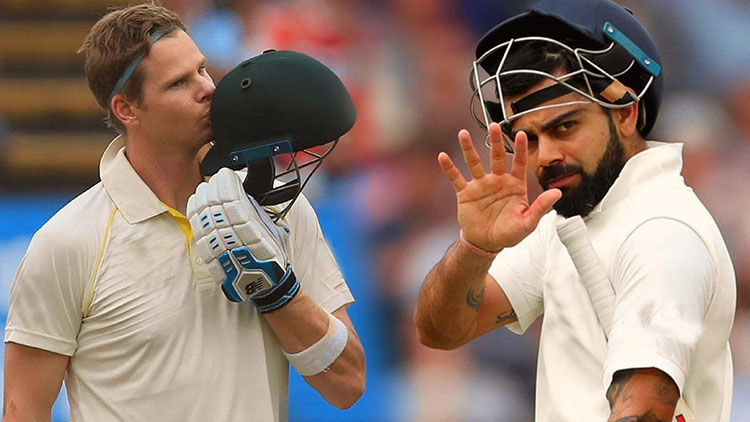 Back in the year 2010, when Steve Smith had joined his Australian international squad to play as the team's leg-spinner, Test cricket could never have imagined that this player from New South Wales would turn out to be today's Don Bradman. His unmatched batting has given a hard time to nearly all of the bowlers from around the world. But nowadays kohli vs smith comparison has started gaining some traction. As Steve Smith and Virat Kohli are among the greatest batsmen of this century, comparing both of them is quite understandable.
So following this Kohli vs Smith trend we have also compiled a comparison of their test career stats.
When Smith first entered the international circuit, young Virat Kohli had been trying to seal his position within India's team. Delhi's player did great for the limited-overs format but needed to wait till June 2011 before he could represent the team for Test cricket.
With eight years now down the road, Steve Smith and Virat Kohli are neck and neck to covet the No.1 batsman's place within ICC Test Rankings. Smith is currently leading Kohli with only one point. However, the Indian skipper is very likely to bypass his Australian counterpart sooner than later. Test rankings get decided based on the players' current form. Therefore, we will observe some important stats within the Test careers of both batsmen.
Most Test Runs and 100s
Firstly, we will see their overall Test aggregate, along with the batting average and total number of Test centuries.
Virat Kohli has finished 79 Test matches, batting in 135 innings with a total of 6,749 runs and a 53.14 average. He has made 25 hundreds during the course of his rising career. Smith, on the other hand, has played 67 Test games, making 6,870 runs at the batting average of 64.81. The Australian batsman reached 26 hundreds in only 122 innings.
So far, Smith outshines Kohli considerably.
Most 200s
Temperament is crucial to Test-match cricket and all batsmen require enough patience and perseverance to form a big inning and allow their team a massive head start. One century might be a huge ODI cricket milestone, but it is not a big enough achievement in Test cricket in which the best players have made double and even triple centuries.
A batsman's count of double centuries is reflective of his patience. India's skipper is known to have strengthened his game during the past three years with his six double centuries in Tests. All of his big knocks came after the year 2015. Steve Smith made three massive double centuries, with his highest score being 239.
Considering the double hundreds, Kohli is quite ahead of Smith.
Most Runs in Asia vs Most Runs outside Asia
Since Steve Smith is an Australian batter, he is more accustomed to pitches that facilitate pace and bounce. Virat Kohli is more experienced with pitches that favour the spinners. This is why it will be a fair comparison when both batsmen are evaluated for playing away from their usual comfort zones.
Australia's former captain has played for 13 subcontinental Test matches where he scored 1,200 runs with the average of 48. It is important to note how Smith's average collapses during his performance in Asia.
Virat Kohli has played for India in 38 Test matches held outside of Asia. The Delhiite succeeded to record 3,236 runs, averaging 47.24.
On comparison of stats for these two batsmen, it is clear that Smith's record within Asia is better than Kohli's outside of Asia, even though it is just a marginal difference.
 Kohli vs smith Comparison Conclusion
Both batsmen have similar Test cricket records. If we consider the format's top three parameters for comparison of their numbers, Steve Smith turns out to be the better player through and through. It is still a close competition for today's cricketing world's two best and most ambitious batsmen.