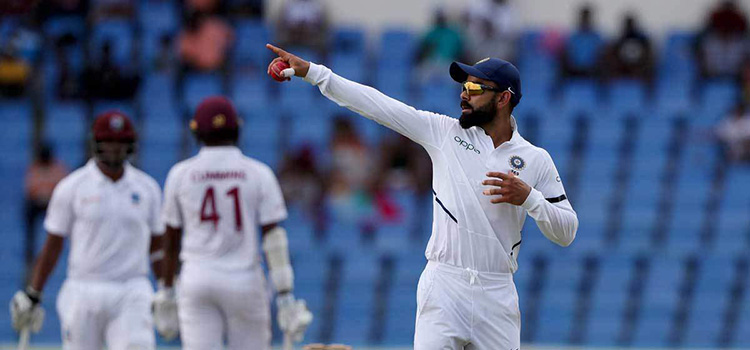 ICC World Cup 2019 has an interesting schedule format for its international Tests. All the competing teams are facing off in a global rivalry and have the series merged together based on the special point system that is set to be followed throughout the matches. This is due to the upcoming ICC Championship, which will carry on until June 2021. During this time, the final match will occur then in England in order to award the official champions of the longest game format, which is a first of its kind in the 100-year long history.
New Zealand, Australia, England, Sri Lanka and India have secured their championship spots and gathered immense points, armed and ready for the battle looming ahead. Virat Kohli's team leads the points' board with its impressive 2.338 ratio between runs for each wicket, courtesy of their prominent score of 318 runs against West Indies during their first series match in Antigua.
The team encountered some obstacles early on while batting in Ind vs WI test series. Ajinkya Rahane saved the day with his remarkable batting skills in both innings. His performance, combined with India's excellent pace bowling, ensured the team an easy victory despite the initial struggle. Mahendra Singh Dhoni is succeeded by Kohli now as the next best captain of the Indian team. With a competitive target of 419 runs to chase, the hosts were no match for the Indian team's bowling expertise and were quickly dismissed at 100. They really stood no chance against the opponent's superior game dynamics.
Simultaneously lined up with India's victory, in the Ashes series' third test match, England defeated Australia by 1 wicket. The difference was that India received 60 points and England received just 24 points, which left the fans suspicious because both teams did end up winning the Test. The reason was due to the format of the championship.
It is all determined by the number of games in one series
All of the Test championship series will have a total of 120 points that will be divided equally between the matches. Consequently, India scored 60 points as the team is a part of a two-match series against the Caribbean's, whereas the English and Australians are in a for a long combat of a five-game series. After the tied second Test match between the two, both teams were awarded 8 points. As a result, the England team stands at 32 points, the same as the Australian team that has secured 32 points with a winning game and a tied match. A draw for India will secure 20 instead of 8.
The New Zealand team received 60 points along with its Sri Lankan opponent after each team won the two-match series. The Lankans were victorious in the first match with 6 wickets. However, the Kiwis returned with stronger tactics in the second match and won the game by one innings and a score of 65 runs.