French defender Raphael Varane is regarded as one of the best defenders in the world currently. Born in Lille on the 25th of April 1993, the 28-year old defender has accomplished almost everything at the club and national level. Varane's biggest achievement arguably came in 2018 when he won the FIFA World Cup 2018 with the French national team. In the summer of 2021, he made his move to English Premier League giants Manchester United.
In this article, we will have an in-depth look at the french defender, his assets, and accomplishments.
Raphael Varane's Net Worth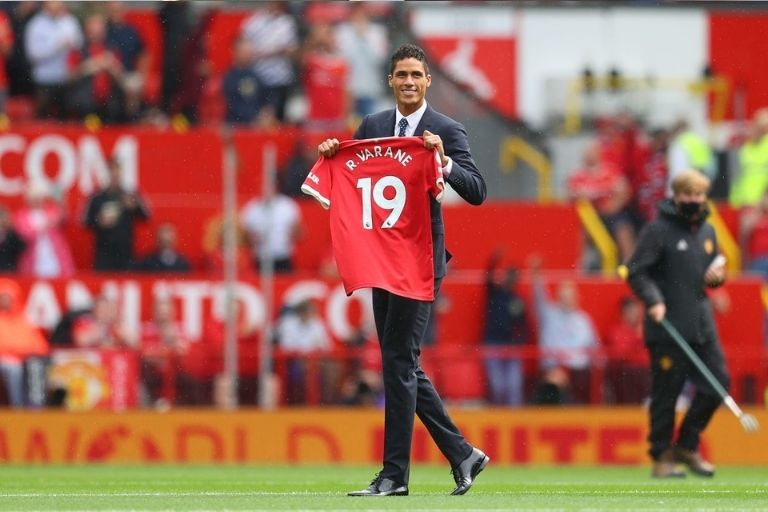 Raphael Varane's net worth in 2022 is approximately $20 million (USD) and it is expected to become even more now that he has completed his signing to Manchester United for a better salary. It is reported that Manchester United would be paying the player twice what he was earning at Real Madrid. Varane, who is one of the best Center-backs in the world, formed a crucial defensive partnership with Sergio Ramos at the Spanish Capital.
It has been reported that Manchester United will be paying Raphael Varane £12.5 million per year and the player has signed a 4-year contract with the Red Devils. Besides his professional earning, he has also accumulated his wealth from personal endorsement deals.
Let's have a look at Varane's Wages at his previous clubs:
| | | | |
| --- | --- | --- | --- |
| Club | Country of the Club | Weekly Salary | Yearly Salary |
| RC Lens | France | Undisclosed | Undisclosed |
| Real Madrid CF | Spain | €150,000 (Euros) | €7.2 million (Euros) |
| Manchester United | England | £197,000 (Pounds) | £12.5 million (Pounds) |
Raphael Varane's Endorsements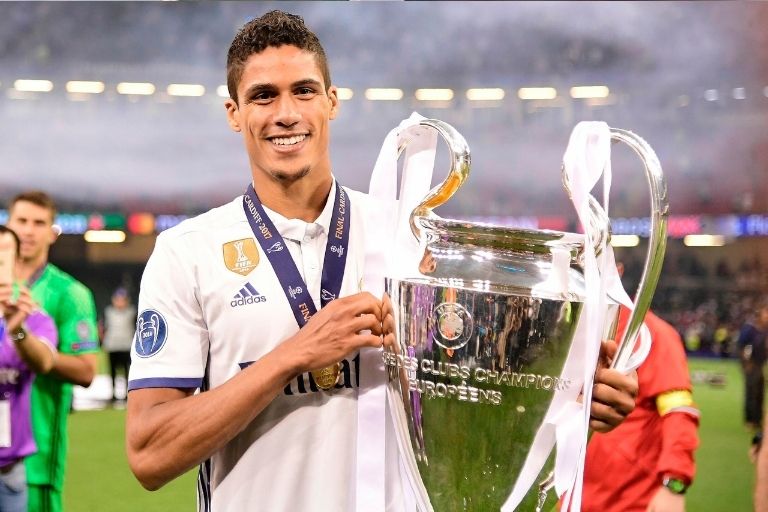 Apart from his earnings from playing football, Varane also endorses a few brands as well. It is reported that Varane earns between 8-10 million Euros from endorsing these brands. Some of the biggest brands that are endorsed by the French footballer are:
Puma (Sports Brand)
Boss (Clothing Brand)
Nike (Formerly Endorsed) (Sports Brand)
Amazon Prime also made a documentary on Varane named 'Varane: Destin de Champion'. How much the footballer earned from the documentary was not released to the media.
Raphael Varane's Football Career
Raphael Varane's Club Career
RC Lens:
The 28-year old central defender started his professional football career at French club RC Lens in 2010. He was first selected for the club's U-16 team in 2009 and then moved up to the 'B' squad and the main squad. He made his debut on 6th November 2010 for the Lens team against Montpellier. Varane played for the whole 90 minutes as Lens won the game 2-0. Varane even captained the Lens side for a game against Arles-Avignon.
Real Madrid CF
On 27th June 2011, Raphael Varane joined Real Madrid CF and made his debut against LA Galaxy in a preseason game in the 2011 World Football Challenge. The French defender was assigned jersey number 19 by the club in his debut season.
Varane made his competitive debut for Real Madrid on 21 September 2011 in the team's La Liga match against Racing de Santander. Varane did successfully keep a clean sheet but the match ended in a goalless draw. In his debut season, he won the La Liga title with Los Blancos.
Between 2012-17, Raphael Varane was the 3rd choice center-back in the Madrid setup, Behind Ramos and Pepe. Nevertheless, the young Frenchmen produced some big performances. In 2013, he scored a crucial goal against Barcelona in his Copa Del Rey debut as he became the second-youngest Foreign defender to score in the El-Clasico. In 2014, Varane would go on to win his first UEFA Champions League title for Real Madrid as the club beat local rivals Atletico de Madrid 4-1 in the finals. He would go on to lift three more Champions league with the club in the coming years
On Pepe's departure from the Club in 2017, Raphael Varane would be promoted to the main eleven, partnering Sergio Ramos as the club's Centre-back pair. Together the pair would form one of the most legendary defensive partnerships in footballing history. In 2021, Both Ramos and Varane left Real Madrid with the former moving to Paris Saint Germain and the latter to Manchester United.
Manchester United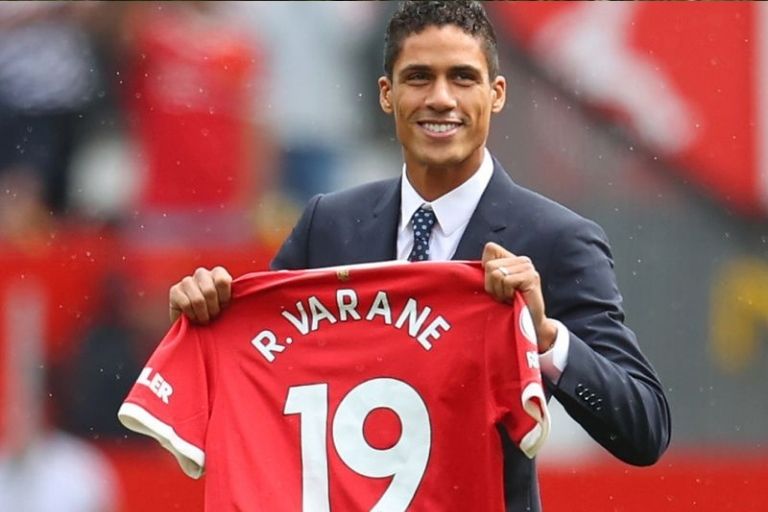 In the summer of 2021, Raphael Varane transferred to Manchester United from Real Madrid for a transfer fee of €40 million. Varane took the jersey number 19 at United and has played in 5 games for the club at the time of writing this article. Varane has formed a tough Centre Back partnership with England international Harry Maguire.
Raphael Varane's National Career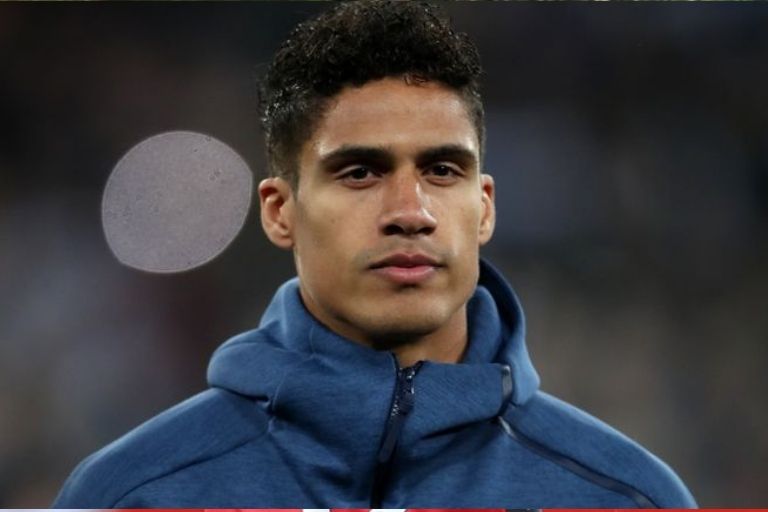 Varane had represented his French National team both in the U-18 and U-21 levels before his call-up to the main squad.
On 22nd March 2013, Varane made his debut for the French National team in a world cup qualifier victory against Georgia. He was included by Didier Deschamps for both the 2014 and 2018 World cup squad as well as the Euro 2016 and Euro 2020 squads.
Varane had a strong showing at the Euros leading the french team to the finals before losing out to Portugal 1-0 in the finals courtesy of a goal by Eder in Extra time. Varane would make amends eventually in 2018 as the French National team would be crowned the World Cup winners in Russia. Varane would also become the fourth player to win the World Cup and the Champions League titles in the same year.
It is safe to say that the French defender still has a lot to play with the french side given that he is only 28-years old. He has scored 3 goals in the 48 matches that he has played for the French National team.
| | | | |
| --- | --- | --- | --- |
| Club & Country | Years active | Matches played | Goals scored |
| RC Lens | 2010-2011 | 24 | 2 |
| Real Madrid | 2011-2021 | 360 | 17 |
| Manchester United | 2021- currently active | 5 | 0 |
| France National Team | 2012- currently active | 48 | 3 |
Trophies Won by Raphael Varane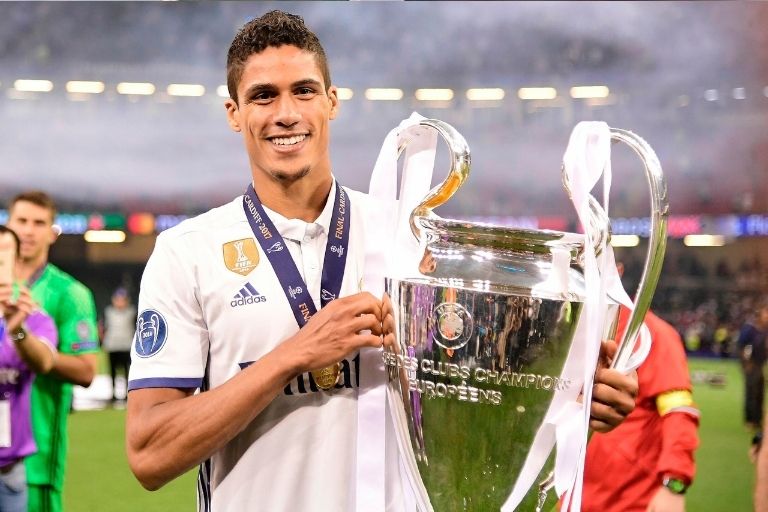 Raphael Varane has won a lot of Trophies at the young age of 28 and his transfer to Manchester United would have surely made the player even hungrier to win a whole new set of trophies. Let's have a look at the young Frenchman's trophy cabinet:
| | |
| --- | --- |
| Club/Country | Trophy (Year) |
| Real Madrid | 3 x La Liga Titles (2011/12,2016/17,2019/20) 4 x UEFA Champions League Titles (2013/14,2015/16,2016/17,2017/18) 3 x Super Copa De Espana (2012,2017,2020) 1 x Copa Del Rey (2013/14) 3x UEFA Super Cup (2014,2016,2017) 4x FIFA Club World Cup (2014,2016,2017,2018) |
| France | 2018 FIFA World Cup |
Individual Awards Won by Raphael Varane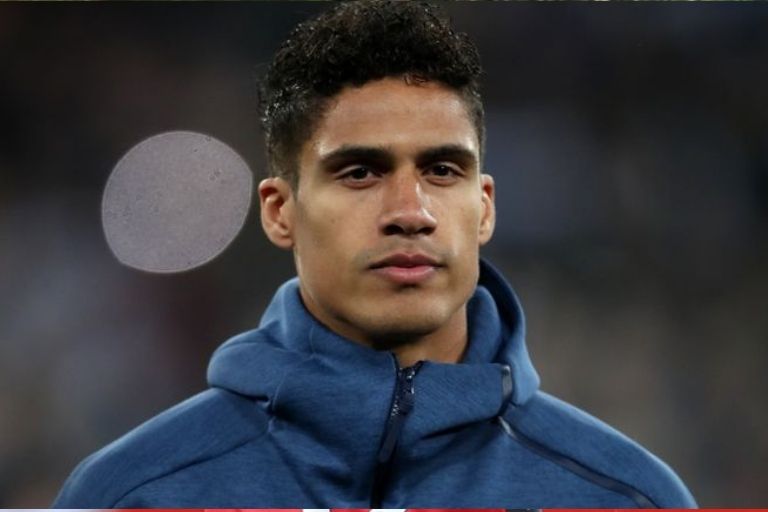 Raphael Varane is a great team player and his accomplishments have been recognized by FIFA, UEFA, and the other football governing bodies. Let's have a look at the individual awards won by Raphael Varane:
Knight of the Legion of Honour (2018) [Highest French Order of Merit]
FIFA FIFPRO World XI 2018
UEFA Team of the Year 2018
UEFA Champions League: Squad of the season 2017/18
FIFA World Cup Fantasy Team: 2018
FIFA World Cup Dream Team: 2018
IFFHS World Team (Men's): 2018
Raphael Varane's Wife & Personal Life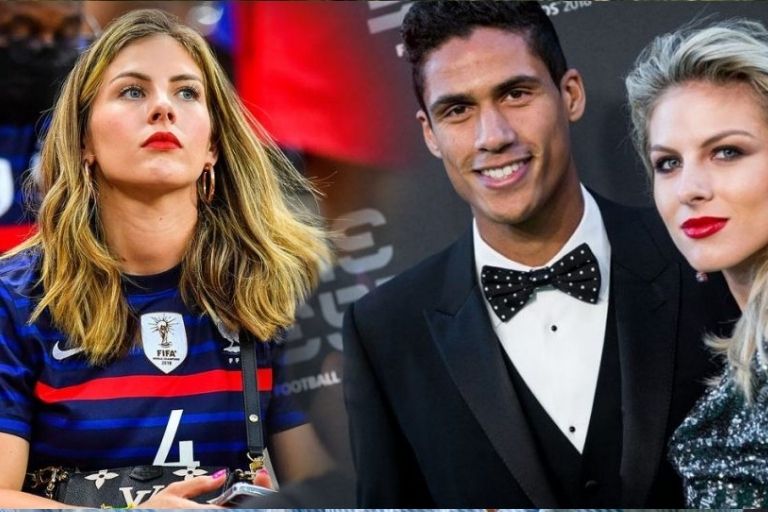 Varane has been married to the beautiful Camille Tytgat since 2015. Tygat who is also 28 years old was born in France and has kept her whereabouts very low-key. Tygat likes to stay out of the media's focus and not a lot is known about her profession and family. Tygat is reportedly a trained Lawyer.
It has been rumored that Raphael Varane had been dating Camille Tytgat since 2011. The couple reportedly got married on 20th June 2015. Together the couple has been blessed by a son named Ruben and a daughter named Anaïs.
Varane's Lifestyle, Luxurious things he owns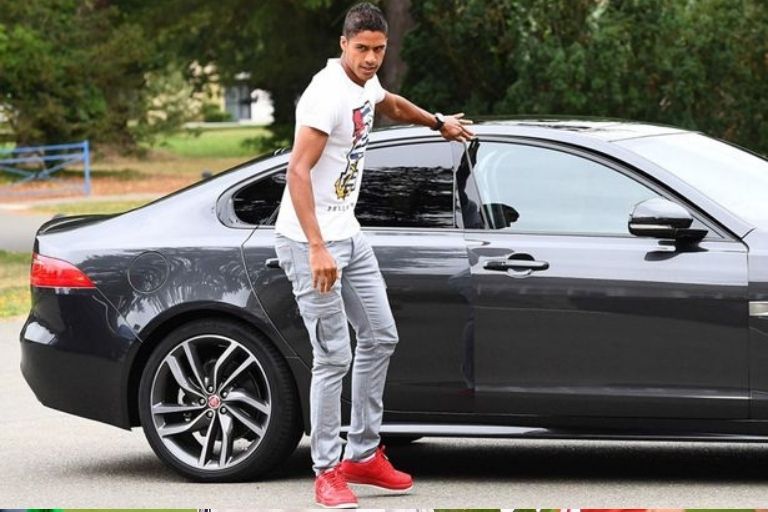 Raphael Varane is one of the classiest defenders in the world. And it seems his class also flows in the cars that he drives. Let's have a look at some of the cars the Frenchman has been spotted in.
| | |
| --- | --- |
| Name of the Car | Worth of the Car |
| Jaguar F-type R coupe | $103,200 |
| Jaguar F pace | $84,600 |
| Jaguar XE | $46,000 |
| Audi A7 | $114,900 |
During his time at Real Madrid, Varane's home was located in a luxurious area attached to La Moraleja in Madrid. Currently, it is not known where he is residing in Manchester.
Varane's Social Media Footprint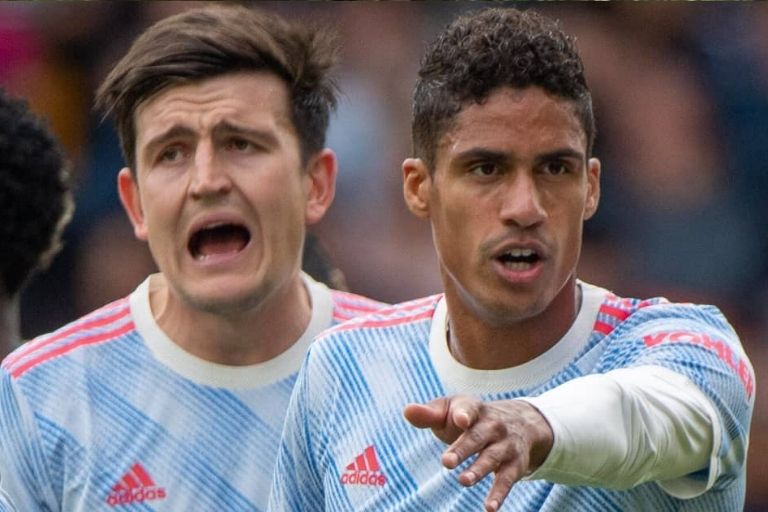 Raphael Varane is active on Social Media, especially on Instagram where he posts at least 4-5 times a month. Instagram incidentally is also the place where he has the most number of followers with more than 17 million people following the French superstar. He also posts about Puma and Boss regularly, the brands that he is endorsing. It is not known how much the footballer earns from Social Media (if any).
| | |
| --- | --- |
| Social Media | Followers (as of Jan. 2022) |
| Facebook | 15M+ |
| Twitter | 6.7M+ |
| Instagram | 17M+ |
Raphael Varane's Controversies
Varane and his fellow French teammates refused to take the knee before the matches started in Euro 2020. The French defender said "Taking the knee before matches have lost some of its meaning and can create a lot of tension" after the anti-racism gesture was at the center of controversy before the Euros got underway when England players were booed by some of its own fans in two friendlies, while Ireland was also jeered in Hungary.
The World champions France did not take a knee before their 1-0 win over Germany in its Euro 2020 campaign opener, with Varane saying it was a unanimous decision by the team.
Varane also said that the way to tackle racism is "to play together and be united. If there is a clear message with all the teams, obviously France will be the first to support a cause as powerful as the fight against racism."
FAQ's About Raphael Varane
1. Where is Raphael Varane Originally from?
Ans-  Lille, France
2. What is Raphael Varane 's height?
Ans (6 feet 3 inches)
3. What is Varane's nickname?
Ans- Paul Pogba has famously nicknamed the defender as 'Champions League Varane' as the defender has already won 4 UCL titles
4. Does Varane has kids?
Ans- Yes, Varane has 2 kids named Ruben and Anaïs with his wife Camille Tytgat
5. Wich team Raphael Varane supported when he was young?
Ans- It was reported that Varane was a Manchester United fan when he was a kid.
6. Varane's favorite player growing up?
Ans- The french defender has said that he idolized Rio Ferdinand as a kid, growing up.
7. Who are Raphael Varane's Parents?
Ans- Gaston Varane and Annie Varane
Read More:-