| | |
| --- | --- |
| Name | Saina Nehwal |
| Age | 31 Years |
| Net Worth | $6 Million approx |
| Profession | Indian Badminton Player |
| Last Updated | December 2021 |
Saina Nehwal is another daughter of India who has taken India's name to another level in the world of sports. The Badminton queen Saina is the only Indian woman Badminton player to be ranked number one in the world and only 2nd Indian after Prakash Padukone. She is still 31 years old but has been a little injury-prone in the last few years and will be hoping to make a comeback and reclaim her throne back.
Saina was born in Hisar, Haryana, and has Haryanvi aggression in her blood but she has spent most of her life in Hyderabad due to the transfer of her father from Hisar to Hyderabad when she was just 8 years old. Interestingly she comes from a Badminton freak family as her mother was a State Level Badminton player and Nehwal initially took Badminton to fulfill her mother's dream of becoming National Level Player.
Saina Nehwal not only fulfilled her mother's dream but took it to another level. She has won 24 titles in her illustrious career which is the highest among every current Indian Badminton player. And her best moment came in the 2012 London Olympics where she won the Bronze Medal despite playing through injury which made her National figure.
We all know about Saina Nehwal's life inside the Badminton court but in this article, we will look at this Badminton Queen's lifestyle outside Badminton and her likings and dislikings.
Saina Nehwal Net Worth
Saina Nehwal is one of the biggest Badminton players of India and was World's highest-paid Badminton player in 2015 after claiming World Number 1 spot. Her current net worth is estimated to be around $6 Million which is around 42 Crores in Indian rupees. Her major source of earning is through endorsements and her businesses even though she is now part of Politics with Bharatiya Janata Party.
Also Check: Mary Kom Net Worth 2021
Saina Nehwal Career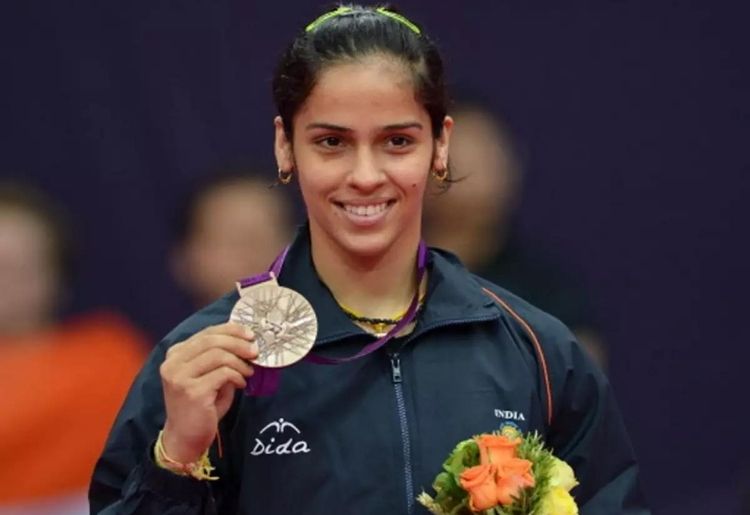 When Saina started playing Badminton at age of 8, it was mainly to socialize with kids as she was coming from Haryana to an unknown culture of Hyderabad. She has come a long way now and it all started in 2006 when she became under-19 national champion. Everyone knew that she was going to be the next superstar when she stunned world number 2 Xu Huaiwen in the Philippines open at age of 16.
She has achieved everything on the Badminton court but her best moment was not a gold medal or championship but it was her Bronze Medal at the 2012 London Olympics. She was going through injury and lost the Semi-Finals and when it looked like it would end for Saina, she stunned everyone and played through injury to claim the Bronze medal and became the first woman Indian to do so.
Her second biggest moment came in 2015 when she claimed the Number one spot in World Rankings and became the second Indian to do so after great Prakash Padukone. It was more special for her as one year back, she was involved in a controversy after she left her childhood coach Gopichand and shifted to Bangalore to train at Prakash Padukone Badminton Academy.
Saina is still going strong but injury has been her biggest villain in the last few years after her triumph at the 2018 Commonwealth Games where she defeated PV Sindhu in the finals. She hopes to regain her best form and revive her career.
Olympic Game
| | | |
| --- | --- | --- |
| Women's Single | 2012 London Olympics | Bronze Medal |
Saina Nehwal Brand Sponsorships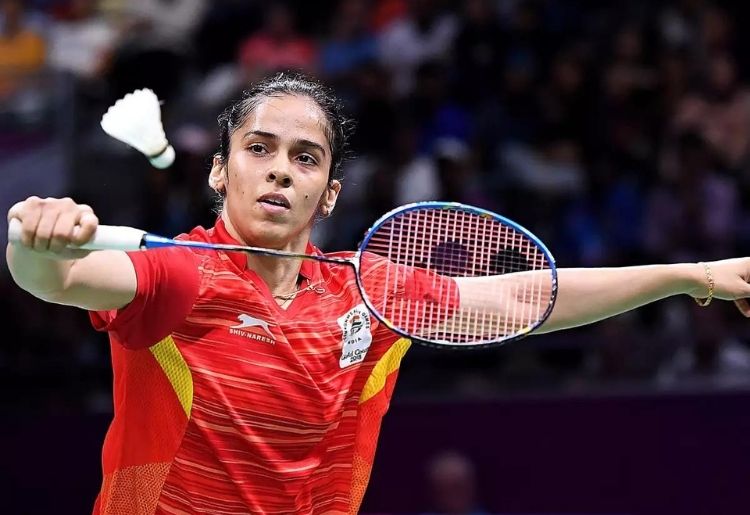 Saina Nehwal is the icon of Badminton in India and she was the one who popularized Badminton among Women. She has always been on the hit list of Brands even before her rise to glory. She was signed by Yonex in 2002 only without even making an appearance on the World stage. Her stakes rose as her career progressed in 2012, she signed a mammoth INR 400 Million worth deal with Rhiti Sports. Some of her current associations are
Kwan Entertainment 
Yonex
Bharat Petroleum 
Vaseline
Herbalife
Top-Ramen
Savlon
Emami Group 
Rasna
Fortune Cooking Oil 
Godrej
Kellogg's Corn Flakes
Also Check: Valtteri Bottas Net Worth 2021
Saina Nehwal Cash Prizes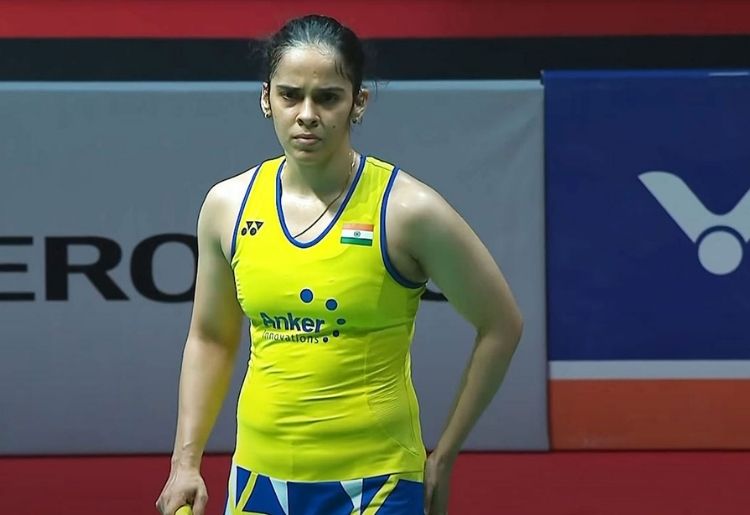 She became the first Indian woman to win a bronze medal at the 2012 Olympics in Badminton which was a historic moment in Indian sporting history. People appreciated her work at the Badminton court and showered their love on her with some rewards.
Haryana Government gave her reward of 1 Crores
Rajasthan Government also rewarded her with Cash prize of 50 Lakhs
Andhra Pradesh also showered love at her hometown girl with 50 Lakhs cash prize.
Badminton Association of India gave her cash prize of 10 Lakhs
She received Honorary doctorate degrees from Mangalayatan University and SRM Institute of Science and Technology.
Saina Nehwal Cars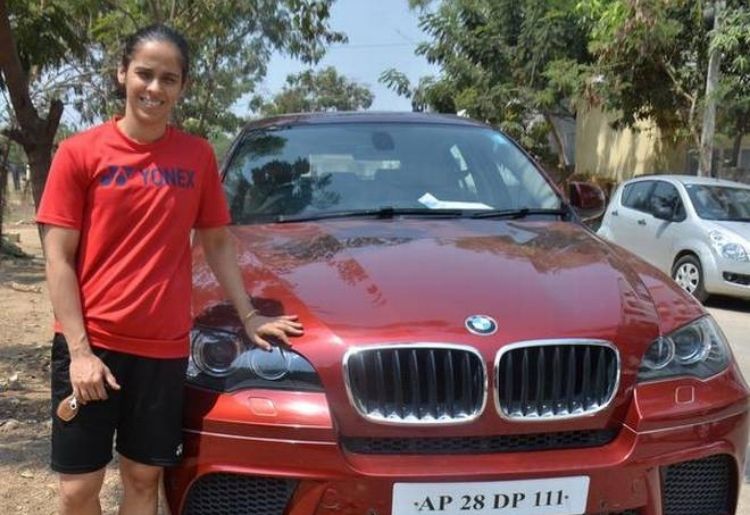 Saina Nehwal received a BMW car from Legend Sachin Tendulkar after her heroics at 2012 London Olympics which she labels as a special gift from a special person. Nehwal also owns many cars and her car collection is estimated to be worth around INR 3 crores includes cars from brands like
Mini Cooper
Mercedes-Benz
BMW
Hyundai
Saina Nehwal House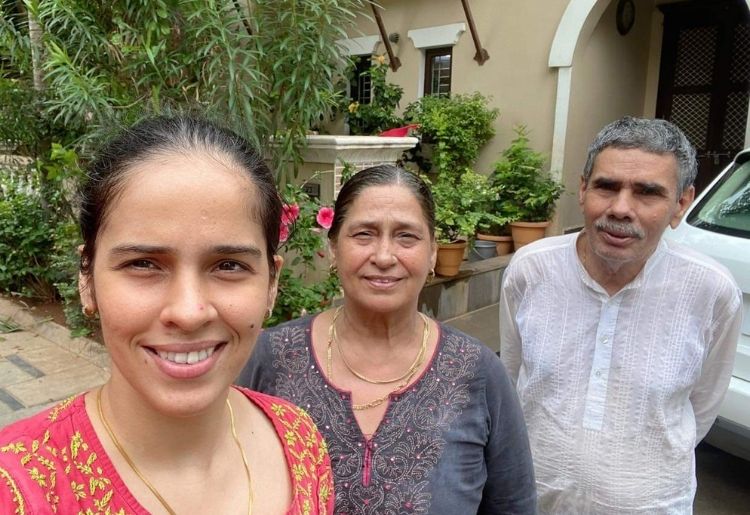 Saina Nehwal is an incredible mixture of North India and South India. Her family shifted to Hyderabad from Hisar when she was just 8 years old. Nehwal has properties at both places but recently she built a luxurious mansion for her family in Hyderabad which is worth INR 5 crores. She also has an ancestral house in Hisar and several properties across India.
Also Check: PV Sindhu Net Worth 2021
Saina Nehwal Affairs and Marriage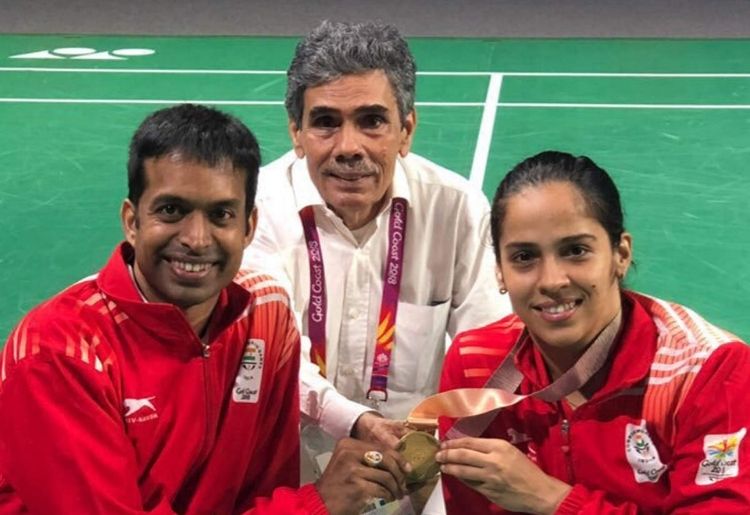 Saina Nehwal married her Childhood love Parupalli Kashyap who is also a renowned Indian international Badminton player in 2018. She and Kashyap dated for almost a decade before tying the final knot. It all started in 1997 when she met him in a camp and was left awestruck by him. They both joined Gopichand's academy in 2004 and from there the love story started. They started dating in 2004 and finally got married in 2018.
Social Media Followers
| | |
| --- | --- |
| Instagram | 1.6 Million Followers |
| Twitter | 8.5 Million Followers |
| Facebook | 8.2 Million Followers |
Family and Personal Infos
| | |
| --- | --- |
| Full Name | Saina Nehwal |
| Birth Date | 17 March 1990 |
| Nickname | Steffi Saina |
| Birth Place | Hisar, Haryana |
| Father | Harvir Singh Nehwal |
| Mother | Usha Rani |
| Profession | Professional Badminton player |
| Age | 31 Years |
| Nationality | Indian |
| Gender | Female |
| Hobbies | Watching Movies |
| Marital Status | Married to P Kashyap |
| Favorite Actor | Shahrukh Khan and Mahesh Babu |
| Favorite Food | Aloo Paratha |
| Eye and Hair Color | Black |
| Favorite Show | The Kapil Sharma Show |
| Zodiac Sign | Pisces |
| School | Campus School, CCS HAU |
| College | St Ann's College |
| Height and Weight | Height: 5'5″ Weight: 65 kg |
| Net Worth | $6 Million (42 Crore) |
Saina Nehwal's Achievements
She was honored with Padma Bhusan in 2010
Saina won Major Dhyan Chand Khel Ratna in 2009
She won Arjun Award in 2009
She was Most Promising Player of the year in 2008
She was NDTV Indian of the year in 2014
Saina is the only women Indian Badminton Player to be ranked number one in rankings.
She is a two time Commonwealth Games Gold Medalist.
She won World Junior Championships in 2008
She was Runner-up at the 2015 World Championships.
Saina Nehwal's Unknown Facts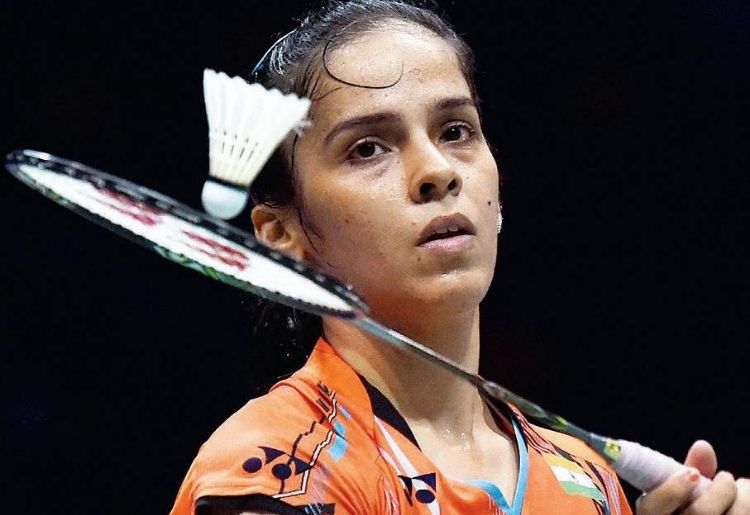 Saina Nehwal's both parents have a Badminton Background
She joined BJP in 2020
Biopic Based on her was released in 2021 starting Parineeti Chopra
She has a branch named after her at Chaudhary Charan Singh Haryana Agricultural University
She loves watching movies
She loves Aloo Paratha
She started Badminton at age of 8
She is big fan of Pullela Gopichand
FAQs about Saina Nehwal
Q. Is Saina Nehwal married?
Yes
Q. Who is the coach of Saina Nehwal?
P Gopichand 
Q. What is Saina Nehwal's age?
31
Q. What is Saina's current ranking of Sindhu?
#19
Q. Is Sindhu a right-handed player?
Yes
Q. Who is the best between Sindhu and Nehwal?
Sindhu and Nehwal have come up 4 times and Nehwal has won 3 times.
Q. Who is Saina Nehwal's husband?
Parupalli Kashyap