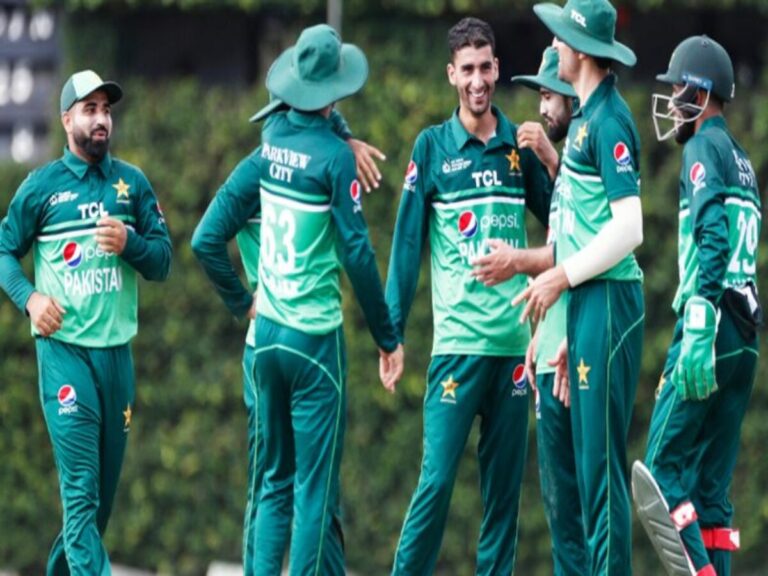 Match: Pakistan (PAK) vs Hong Kong (HK)
Date- 3 October 2023
Match Format- T20
Venue- Pingfeng Campus Cricket Field, Hangzhou
Time- 11:30 AM (IST)
Weather Forecast- Clear Sunny, 30℃
PAK vs HK Match Prediction Preview:
Welcome to the PAK vs HK Today Prediction curated by Kheltalk cricket experts.
Pakistan will be locking horns with Hong Kong in the Quarter Final 2 of the Asian Games Men T20I .
Pakistan's batting department will rely on players like Rohail Nazir, Haider Ali, Khushdil Shah, Aamer Jamal, Asif Ali, and Arafat Minhas to score the most runs. In the bowling department, they will look to players such as Arshad Iqbal, Shahnawaz Dahani, Usman Qadir, and Mohammad Hasnain for crucial breakthroughs.
On the other hand, Hong Kong, who have secured a spot in the quarterfinals, will aim to put up a strong fight against Pakistan. In their batting lineup, they will depend on Babar Hayat, Nizakat Khan, Nasrulla Rana, and Shiv Mathur to contribute significantly to the runs on the board.
Top Batters PAK vs HK
Babar Hayat (HK)- 70 runs in this tournament
Nizakat Khan (HK)- 52 runs in this tournament
Nasrulla Rana (HK)- 36 runs in this tournament
Top Bowlers for PAK vs HK
Nasrulla Khan (HK)- 5 wickets in this tournament
Anas Khan (HK)- 4 wickets in this tournament
Ayush Shukla (HK) – 3 wickets in this tournament
PAK vs HK Today Match Prediction Scenarios
Scenario 1- If PAK bats first
First Innings score prediction- PK is expected to score 210-230 runs
Result prediction- PK will win the match by 90-110 Runs
Scenario 2- If HK bats first
First Innings score prediction- HK is expected to score 110-130 runs
Result prediction- PK will win the match by 8 Wickets
PAK vs HK Today Match Prediction, Quarter Final 2, Who Will Win the Match?
Pakistan to win
Pakistan will be clear favorites to win their game against Hong Kong. With established T20I superstars like Haider Ali, Asif Ali, Khushdil Shah and Shahnawaz Dahani in their team.
Team Update/Players Availability/Injury News
There are no injury news as of now. We will update if there are any updates.
Probable Playing 11
Pakistan Playing XI
Qasim Akram (captain), Rohail Nazir (wk), Haider Ali, Khushdil Shah, Aamer Jamal, Asif Ali, Arshad Iqbal, Usman Qadir, Mohammad Hasnain, Shahnawaz Dahani and Arafat Minhas
Hong Kong Playing XI
Nizakat Khan (c), Muhammad Khan (wk), Babar Hayat, Akbar Khan, Anas Khan, Ehsan Khan, Shiv Mathur, Mohammad Ghazanfar, Niaz Ali, Nasrulla Rana, Ayush Shukla
Pakistan Squad
Qasim Akram (c), Omair Bin Yousuf, Haider Ali, Asif Ali, Arafat Minhas, Tahir Baig, Khushdil Shah, Sufyan Moqim, Aamer Jamal (wk), Rohail Nazir (wk), Muhammad Akhlaq (wk), Shahnawaz Dahani, Usman Qadir, Arshad Iqbal, Mohammad Hasnain
Hong Kong Squad
Babar Hayat, Muhammad Khan, Hamed Khan, Shiv Mathur, Nizakat Khan, Akbar Khan, Anas Khan, Niaz Ali, Ehsan Khan (wk), Shahid Wasif (wk), Nasrulla Rana, Mohammad Ghazanfar, Ayush Shukla, Mohammad Hassan Khan, Adil Mehmood
Also read: IND vs NEP Today Match Prediction, Quarter Final 1, India vs Nepal, Asian Games Men's T20I, 3 October 2023