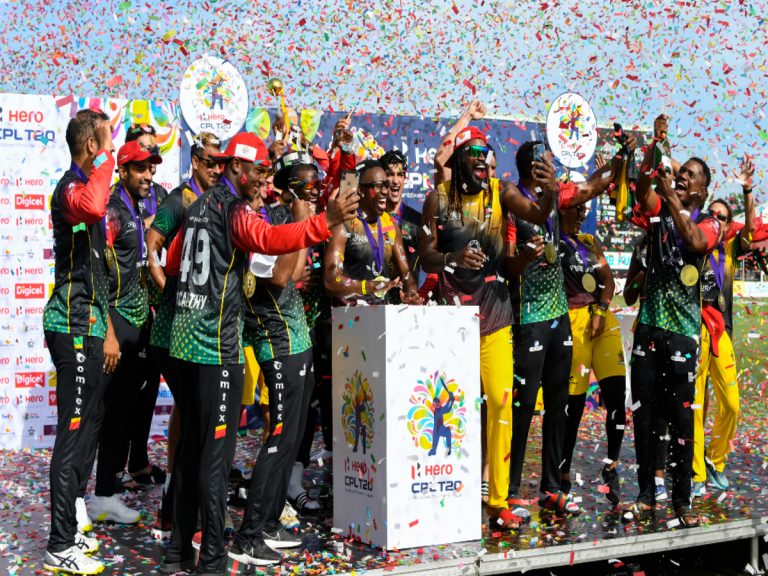 The Caribbean Premier League (CPL) is gearing up for another exhilarating season of T20 cricket, and within this tapestry of fierce competition and electrifying performances, St Kitts & Nevis Patriots stand as a formidable contender for the championship crown in CPL 2023. 
As the cricketing fraternity braces itself for an action-packed tournament from August 16th to September 24th, there are some major reasons to believe that the Patriots could emerge as CPL 2023 winner. Here are three factors that could propel St Kitts & Nevis Patriots to glory.
1. The Unleash of a Power-Packed Batting Arsenal:
When it comes to T20 cricket, the art of setting mammoth totals or chasing daunting targets often hinges on a team's batting prowess. In this realm, the St Kitts & Nevis Patriots boast a batting lineup that brims with explosive potential.
At the forefront is Evin Lewis, an opener renowned for his ability to transform matches with his aggressive strokeplay and boundary-clearing capabilities. Lewis' aptitude for launching a relentless assault on opposition bowlers can set the tone for substantial totals.
Supporting him is the seasoned Andre Fletcher, a consistent performer who brings a blend of experience and finesse to the batting order. The promising Dewald Brevis & Ambati Rayudu further add to the firepower, presenting a multi-dimensional threat. 
This trio has the potential to dismantle any bowling attack and provide the Patriots with commanding starts. The surge of power from this batting arsenal could well be the bedrock of their championship aspirations.
2. All-Round Brilliance and Strategic Flexibility:
The Patriots are well-endowed in all-round aspects, with players who can contribute effectively with both bat and ball. 
Sherfane Rutherford, a standout name in this category, has showcased his ability to alter matches with crucial contributions in all facets of the game. His dynamic approach and versatility can provide the Patriots with the much-needed impetus during key moments.
Joining him is the proficient George Linde & Corbin Bosch, whose skills with both bat and ball add an extra layer of strategic flexibility. These all-round talents enable the team to adapt to change CPL 2023 match situations, transforming the course of games in their favour.
3. Depth in Bowling Resources:
The old adage that "bowlers win matches" is particularly resonant in T20 cricket, where precision, variations, and adaptability hold the key to success.
The St Kitts & Nevis Patriots have meticulously crafted a diverse bowling attack that spans the spectrum of pace, spin. The pace duo of Sheldon Cottrell and Oshane Thomas can unleash thunderous deliveries that rattle the best of batsmen.
Equally impressive is the spin department, with the likes of Ashmead Nedd bringing a spin web that can confound even the most seasoned campaigners.
The inclusion of bowlers like Corbin Bosch, Yannick Cariah, and Jyd Goolie further bolsters the team's options, allowing them to tailor their approach to match conditions and opponent strengths.
Also Read: CPL 2023 Squad: St Kitts & Nevis Patriots Full Players List, Match Schedule & Venues