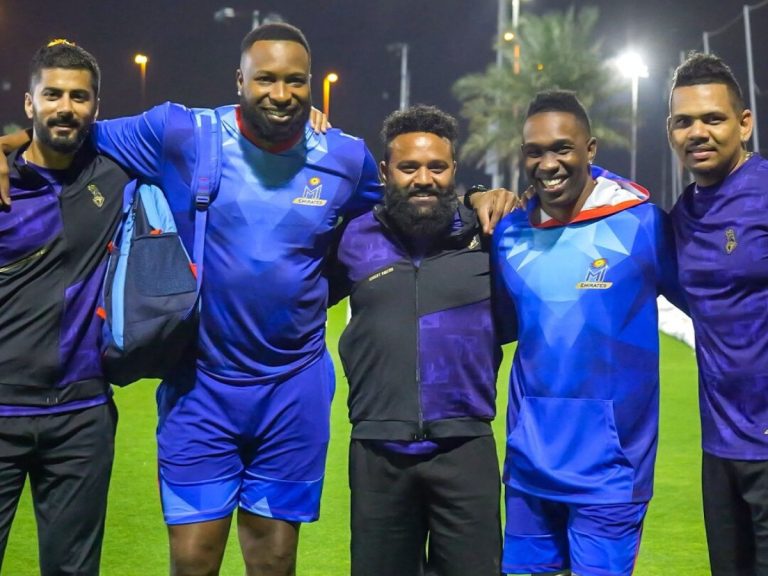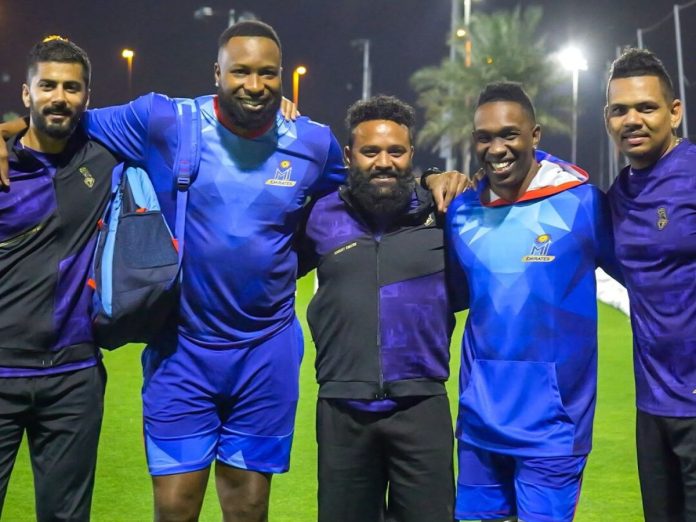 The Abu Dhabi Knight Riders team is owned by the Kolkata Knight Riders. They are eagerly anticipating the ILT20 tournament's debut, which will begin on January 13, 2023. Sunil Narine will serve as the team's captain.
During the ILT20, the Abu Dhabi Knight Riders will rely on West Indian all-rounders Sunil Narine and Andre Russell, much like the Kolkata Knight Riders did in the IPL.
Additionally offering the Abu Dhabi Knight Riders with batting order firepower are Jonny Bairstow and Paul Stirling. Lahiru Kumara and Charith Asalanka of Sri Lanka are important players with the ball and the bat, respectively. Know complete details on Abu Dhabi Knight Riders Full Squad, Schedule, and Coaching Staff.
Abu Dhabi Knight Riders: Captain, Coach, Owner
| | |
| --- | --- |
| Captain | Sunil Narine |
| Coach | Simon Helmet |
| Owner | Knight Riders Group |
Abu Dhabi Knight Riders: Complete Squad
| | | |
| --- | --- | --- |
| Player Name | Player Role | Country |
| Sunil Narine | Bowling All-rounder | West Indies |
| Andre Russell | Batting All-rounder | West Indies |
| Akeal Hosein | Bowling All-rounder | West Indies |
| Raymon Reifer | Batsmen | West Indies |
| Kennar Lewis | Wicket-keeper | West Indies |
| Ravi Rampaul | Bowler | West Indies |
| Jonny Bairstow | Batsmen | England |
| Paul Stirling | Batsmen | (Ireland |
| Lahiru Kumara | Bowler | Sri Lanka |
| Charith Asalanka | Batsmen | Sri Lanka |
| Colin Ingram | Batsmen | South Africa |
| Ali Khan | Bowler | USA |
| Brandon Glover | Bowler | Netherland |
| Matiullah Khan | Batsmen | UAE |
| Sabir Ali | Bowler | UAE |
| Fahad Nawaz | Batsmen | UAE |
| Zawar Farid | Bowler | UAE |
| Marchant De Lange | Bowler | South Africa |
| Dhananjaya De Silva | Batsmen | Sri Lanka |
| Connor Esterhuizen | Wicket-keeper | South Africa |
| Traveen Mathew | Bowler | Sri Lanka |
ILT20: ADKR Probable starting XI
Paul Stirling, Kennar Lewis, Colin Ingram, Charith Asalanka, Jonny Bairstow, Andre Russell, Sunil Narine, Akeal Hosein, Brandon Glover, Sabir Ali, Lahiru Kumara
ILT20: Abu Dhabi Knight Riders (ADKR) Complete Schedule
| | |
| --- | --- |
| Date and Time | Match Details |
| Fri, Jan 13, 03:30 PM GMT | 07:30 PM LOCAL | Dubai Capitals vs Abu Dhabi Knight Riders, 1st MatchInternational League T20 2023Dubai International Cricket Stadium, Dubai |
| Sun, Jan 15, 10:00 AM GMT / 03:30 PM LOCAL | Abu Dhabi Knight Riders vs Gulf Giants, 3rd MatchInternational League T20 2023Sheikh Zayed Stadium, Abu Dhabi |
| Wed, Jan 18, 03:30 PM GMT | 07:30 PM LOCAL | Abu Dhabi Knight Riders vs Desert Vipers, 7th MatchInternational League T20 2023Dubai International Cricket Stadium, Dubai |
| Fri, Jan 20, 03:30 PM GMT | 07:30 PM LOCAL | Abu Dhabi Knight Riders vs Desert Vipers, 9th MatchInternational League T20 2023Sheikh Zayed Stadium, Abu Dhabi |
| Sat, Jan 21, 03:30 PM GMT | 07:30 PM LOCAL | Abu Dhabi Knight Riders vs MI Emirates, 11th MatchInternational League T20 2023Sheikh Zayed Stadium, Abu Dhabi |
| Wed, Jan 25, 03:30 PM GMT | 07:30 PM LOCAL | Abu Dhabi Knight Riders vs Gulf Giants, 16th MatchInternational League T20 2023Dubai International Cricket Stadium, Dubai |
| Sat, Jan 28, 10:00 AM GMT | 03:30 PM LOCAL | Sharjah Warriors vs Abu Dhabi Knight Riders, 19th MatchInternational League T20 2023Sharjah Cricket Stadium, Sharjah |
| Mon, Jan 30, 03:30 PM GMT | 07:30 PM LOCAL | Abu Dhabi Knight Riders vs Dubai Capitals, 22nd MatchInternational League T20 2023Sheikh Zayed Stadium, Abu Dhabi |
| Fri, Feb 03, 03:30 PM GMT | 07:30 PM LOCAL | Abu Dhabi Knight Riders vs MI Emirates, 26th MatchInternational League T20 2023Sheikh Zayed Stadium, Abu Dhabi |
| Sat, Feb 04, 03:30 PM GMT | 07:30 PM LOCAL | Abu Dhabi Knight Riders vs Sharjah Warriors, 28th MatchInternational League T20 2023Sheikh Zayed Stadium, Abu Dhabi |
Also Read: IPL 2023 Live Streaming In Bhojpuri: How To Watch In India