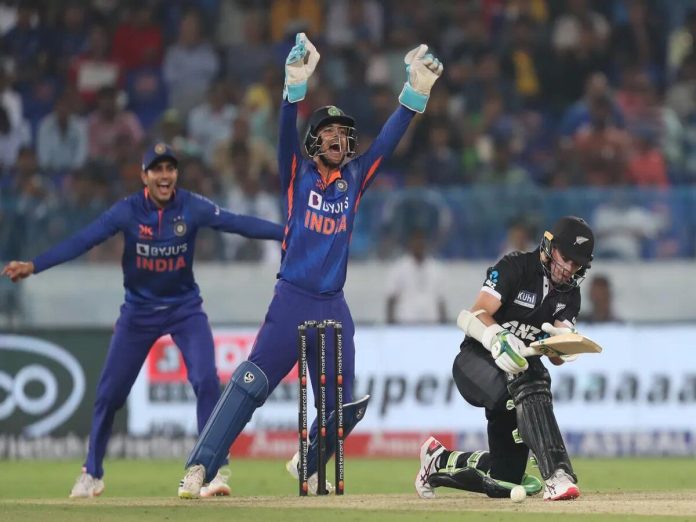 Ishan Kishan, an Indian wicketkeeper-batsman, is eager to take advantage of the opportunity in the middle order as it became extremely difficult to secure an opening spot in the ODI team.
In KL Rahul's absence, Kishan, who has established himself as one of the game's youngest, fastest, and most exciting openers in recent years, has been added back to the playing 11.
Ishan Kishan is an exciting young batsman from India who has shown great promise in his short career so far. He has a wide range of shots and is capable of playing big innings. He has the potential to be a great asset to any team.
Given his skill set, it would be wise for Ishan Kishan to bat in the middle order. He can provide stability and build the innings in the middle order. Additionally, he can be used as a finisher to provide the team with the late burst of runs needed to win the match.
In the Indian team, there is a fierce battle for openers because Rohit Sharma, Shubhman Gill, and Rahul are all excellent in their respective capacities. Recently, against Bangladesh, Kishan hit the quickest double century in ODI history, and on Wednesday, Gill followed suit with his own double century in the first ODI against New Zealand.
Ishan Kishan got the chance in playing XI against New Zealand in the middle order which can be best for him. While batting in the middle order will give Ishan Kishan the opportunity to learn from experienced players. He can learn from their experience and improve his game. 
Watch the video –
Good opportunity to prove myself
Before having another chance to showcase his talents in the ODI series against New Zealand, Kishan spoke exclusively with Star Sports on how he is adjusting to his new position as a middle-order batsman.
"I think overall it's a good opportunity for me also, to prove myself in the middle order. I know most of them to think that I am good as an opener, to go there and show some aggressive batting. But at the same time, I want to prove myself," Kishan said when speaking exclusively on Star Sports show 'Follow the Blues'.
"Here also, when I am batting at no. 4 or 5, where I can take the team out of tough situations or if we are in a good situation maybe I can go and play my shots. So it's a good opportunity for me overall."
Can't just go and ask for my spot
Kishan also discussed how he handled not being selected for the series against Sri Lanka and how competition among the team is improving everyone's performance.
"I think yes, I did score 200, and that was important too in the series as it was the last match and we lost the series against Bangladesh and then not getting a chance here, obviously it hurts a bit," Kishan added.
"But at the same time, you can't ignore the fact what Shubman Gill and Rohit bhai has done for India over the years or for Shubman over the series he has played. He has done very well for the team.
"So, I can't just go there and ask for my spot, that I want to open, because we know how many players are there, how much competition is going on.
"Everyone is doing well for the team, so at the same time now, me getting this opportunity to bat in the middle order, I'll try and give my best shot, play my best game, take the team out of any situation and maybe I can make my team win from that situation."
Focussing on how to take the singles
Kishan also discussed his preparation for the series against New Zealand and his ongoing efforts to raise his level of play in the nets.
"Obviously, looking at their bowling attack I feel that they are a very planned team. Whenever we play against New Zealand, they keep a certain kind of field set for every player and they bowl according to that," Kishan said.
"So, now when we were practicing in the nets I had a chat with few players of how to focus on keeping a single rotation together and at the same time I have to play those good grounded shots also.
"When you know that we are two down or three down, how do I keep the team on a positive note. Because we can't go in a shell in any situation, if we lose wickets too early, we can't let the other team dominate us.
"So it depends a lot on practice too, according to how we practice. So, my intent today was to focus on how I take the singles and at the same time I am getting those good boundaries in the grounded shots too."
Also Read: Watch: Why Despite Scoring 200 Ishan Sat Out For 3 Games, Rohit Sharma Asks Ishan Kishan