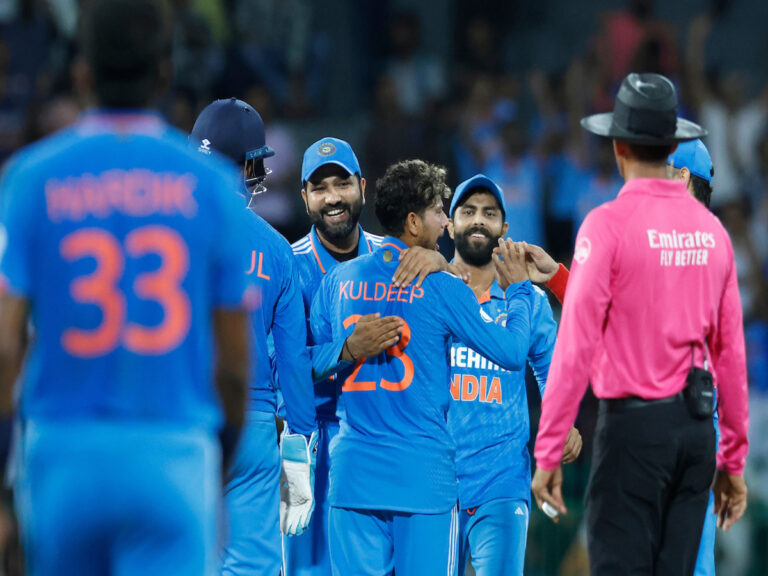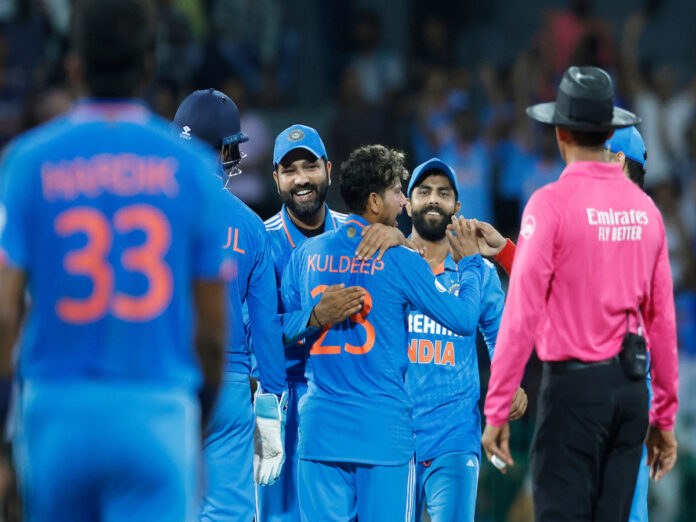 In a cricketing spectacle that will be remembered for years to come, India emerged victorious against their arch-rivals Pakistan by a staggering margin of 228 runs, etching their name in history as they achieved their most significant triumph over their counterparts.
The clash, which unfolded in the grandeur of the Asia Cup 2023, will forever be etched in the record of cricket history book.
The foundation for India's triumph was laid by the dynamic duo of Virat Kohli and KL Rahul. These two powerhouses combined to propel Team India to a colossal total of 356 runs, establishing a daunting target for Pakistan to chase.
Virat Kohli's masterful knock of 122 and KL Rahul's brilliant century (111) ruthlessly punished the Pakistani bowlers, creating a record-breaking partnership that etched their names in the record books as the highest run-scorers against Pakistan in an ODI match.
The contest took an unexpected twist as rain played a persistent game of hide and seek, interrupting the momentum and frustrating both teams. Despite numerous pitch inspections and the gallant efforts of the ground staff, the match had to be called off for the day, promising an intriguing showdown on the reserve day.
As the match resumed on the reserve day, Virat Kohli and KL Rahul found their rhythm after a cautious start. KL Rahul, in particular, launched a ferocious assault on the Pakistani bowlers, propelling India's scorecard at a rapid pace.
Their partnership knew no bounds, as both batsmen achieved their respective half-centuries and then went on to complete remarkable centuries.
Kohli's 13,000 ODI runs milestone was the cherry on top, and he concluded his innings in style with a resounding six. Together, they propelled India to their highest-ever ODI total against Pakistan.
India's bowlers then took center stage, with Jasprit Bumrah making a grand return to international cricket. Bumrah, who had been absent for 10 months, immediately asserted his dominance by dismissing Imam-ul-Haq for a mere 9 runs. Mohammed Siraj, operating from the other end, complemented Bumrah's brilliance.
However, the turning point of the match came courtesy of Hardik Pandya, who dismantled Pakistan's hopes by dismissing their captain, Babar Azam, for just 10 runs.
Shardul Thakur continued the onslaught, sending Mohammad Rizwan packing with only 2 runs to his name. But the star of the show was Kuldeep Yadav, who single-handedly decimated Pakistan's batting lineup, securing a stunning five-wicket haul.
His performance was instrumental in India's emphatic 228-run victory.
This epic encounter showcased the sheer prowess of Indian cricket and their ability to overcome the formidable challenge presented by Pakistan. It was a match filled with memorable moments, brilliant performances, and a tantalizing display of cricketing prowess. 
India's resounding triumph will be etched in the hearts of cricket fans for generations to come, as they celebrate their biggest victory against their arch-rivals on the grand stage of the Asia Cup 2023.
Also Read: Top 5 Players With The Longest International Cricket Careers