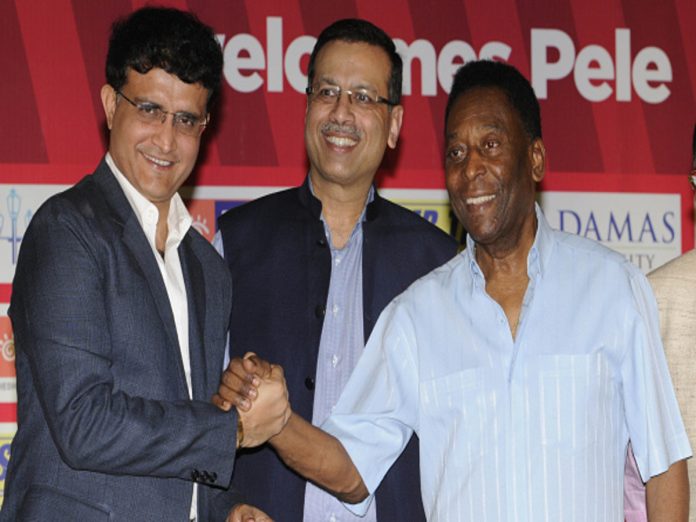 On January 12, a Thursday, India and Sri Lanka will play their second one-day international. The game will take place at Kolkata's Eden Gardens stadium.
The great late Brazilian footballer Pele, who passed away last month, will be honoured by the Cricket Association of Bengal (CAB). At the historic Eden Gardens Stadium in Kolkata on Thursday during the second One-Day International (ODI) between India and Sri Lanka, footage of his creativity will be shown on enormous screens.
Pele arrived at the venue on September 24, 1977, to play for the New York Cosmos Club against the legendary Mohun Bagan of India (now ATK Mohun Bagan).
CAB to pay tribute to Pele
For the ODI, the other Mohun Bagan surviving players have also been invited. Kumar Sangakkara, a former captain of Sri Lanka, will ring the bell to start the game. During the innings break, a laser show has also been planned, according to CAB joint secretary Debabrata Das.
After former Indian captain and top-order batter Virat Kohli's competent hundred in the inaugural ODI on Tuesday in Guwahati, the ticket demand, which had been modest, increased.
The mayor of the city has already investigated the security procedures at Eden. Other dignitaries as well as Chief Minister Mamata Banerjee has been invited. Pele will be honoured during the India-Sri Lanka game, and the test runs were performed on the big screen.
Pele passes away last month
Brazilian football star Pele passed away on December 29 at the age of 82. The three-time World Cup champion had been ill for more than a month and was being treated at the hospital. Since 2021, Pele had been receiving therapy for colon cancer. He was the most prolific scorer in football for nearly two decades while playing for the Brazilian club Santos and the Brazil national team. He is widely recognised as one of the game's best players.
On January 2, Pele's coffin arrived in Santos, where thousands of visitors paid their respects at the site of his former club, some of whom stood in line all night. On January 3, Torcida Jovem, a fan club, gathered in front of the Urbano Caldeira stadium before the coffin left. The Santos Football Club's colours, large black and white banners, were hoisted by supporters. Many others wore the No. 10 t-shirt that Pele made so well-known.
Also Read: Suryakumar Yadav T20I Current Ranking: Becomes First Indian Player To Achieve 900 Rating Points