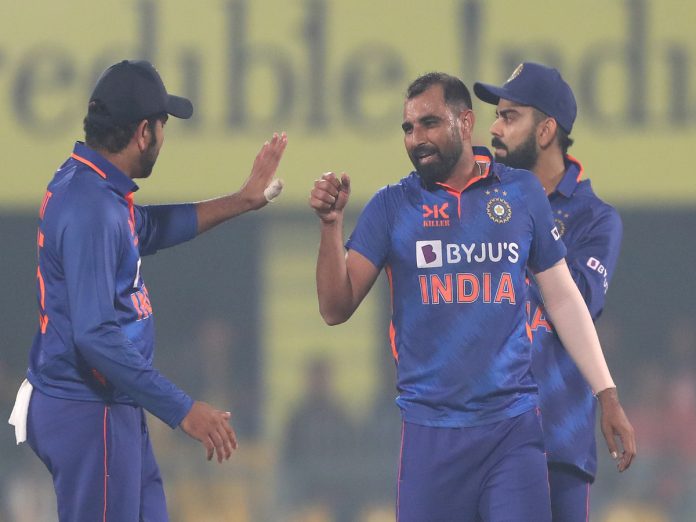 Team India was unable to advance further in the T20 World Cup in Australia, thus their chase of the coveted ICC crown continues. The Men in Blue had great expectations this year, just like they do every year. They had some brilliant moments, but they dropped as always they loose the crucial matches.
By a margin of 10 wickets, England crushed a helpless India in the semi-final in Adelaide. A lot went wrong for India in the World Cup Down Under, from the performance of captain Rohit Sharma to strange selection practises, ultimately resulting in the dismissal of the selection committee.
But there is no time for rest for the Men in Blue. They have already begun putting together the ODI World Cup in 2023, which will take place in India.
The 2023 ODI World Cup is fast approaching and the Indian cricket team is determined to make a strong impression on the world stage. While there are many positives and potential for success, there are also some major concerns that the team should try to solve ahead of the big event. 
These include a lack of depth in the batting lineup, the need to find a stable opening combination, and the need to ensure that the bowlers remain fit and in form. Additionally, India needs to ensure that they have a proper game plan in place and that they are able to adjust to any changes in the game as the tournament progresses.
By addressing these concerns and preparing adequately, India can put itself in a strong position to challenge for the title. Here are three major concerns that India needs to try and solve ahead of the ODI World Cup 2023:
Who will open with Rohit Sharma?
Shikhar Dhawan, a seasoned opener, has done a fantastic job for Indian cricket. He has scored 6793 runs in 167 games at an average of 44.1 and a strike rate of 91.4, with 17 centuries and 39 half-centuries.
Who will partner Rohit in the upcoming World Cup must be decided given Ishan Kishan's rise as an explosive opening batter. The southpaw is the front-runner for the position thanks to his recent exploits against Bangladesh in Mirpur. The quickest double hundred in the format was achieved by Kishan. In 126 balls, the left-handed batter scored a double century, becoming the fourth Indian player to do so in ODIs.
Shubman Gill, who may serve as the team's third opener, is another option that comes to mind. Whenever given a chance in the ODI format, Shubman has performed admirably. In 15 ODI matches, Gill has an outstanding strike rate of 99.1, averaging 57.3.
First-choice Wicket-keeper
Rishabh Pant appears to have the management's trust despite his repeated failures, which has sparked a heated controversy in Indian cricket. However, owing to his current injuries, Pant's participation in the 2023 World Cup is still uncertain.
Samson has been far more effective than Pant. He has scored well in each of his last six ODI matches. The right-handed keeper-batter from Kerala has also played with far more authority than Pant.
Given his current performance, he should get the chance to start in place of Pant. However, because of his X-factor, the latter frequently receives the nod. He is explosive, as the entire cricket community has seen.
Frontline spinners in limited overs
In white-ball cricket, India has been asking for a wicket-taking wrist-spinner for some time. The starting XI must include at least three spinners for the 2023 World Cup, which will be held in the host nation. Despite the fact that two of them are almost certainly finger-spinning all-rounders, the team's makeup ensures that a specialised leggie will be able to pass muster.
Both Chahal and Kuldeep are still up for grabs in Team India's preferred ODI roster. On the other hand, if Ravindra Jadeja, Washington Sundar, and Axar Patel are able to perform well, it is still unclear who the ideal spinners for the ODI World Cup will be.
Should Team India continue with their aggressive approach?
After last year's disastrous T20 World Cup, Indian skipper Rohit Sharma made it clear that the team had chosen an aggressive stance. The same formula guided their batting strategy. The courageous strategy succeeded but might failed in the big events, specially in ODIs. India needs to think about their options for the ODI World Cup 2023.
Fitness concern of big players
The Indian cricket team should prioritize fitness as they prepare for the ODI World Cup 2023. With the tournament just two years away, the team must take all necessary steps to ensure that their players are in the best physical shape possible. To prevent injuries, the Indian team must ensure that their players have adequate rest and recovery time between matches.
Also Read: Suryakumar Yadav T20I Current Ranking: Becomes First Indian Player To Achieve 900 Rating Points