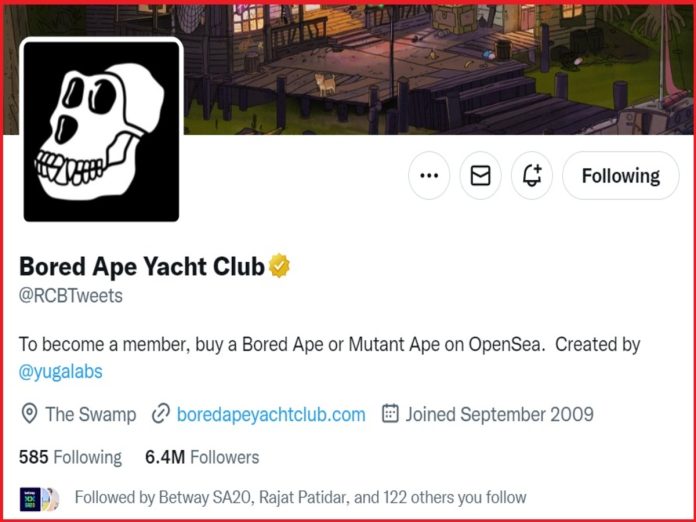 On Saturday, RCB's IPL team's Twitter account was hacked. The hacker soon resumed using the handle after tweeting about NFT on the timeline. The hacker updated the profile photo, altered the name to "Bored Ape Yacht Club," and posted tweets about NFT. It also retweeted some individuals who were discussing NFT.
The club's name had been modified to "Bored Ape Yacht Club" by the hackers, who also added their links to the Twitter bio.
"To become a member, buy a Bored Ape or Mutant Ape on OpenSea. Created by @yugalabs," read the RCB Twitter bio.
The hacker also tweeted about NFT in addition to changing the profile picture and name to "Bored Ape Yacht Club." Additionally, it retweeted a few people who were talking about NFT. Soon after noticing the unusual tweets on RCB's Twitter handle, fans had also started reacting on the same. 
Check the fans reaction –
Is RCB Twitter account hacked?
Rcb Twitter account hacked
Coincidence? I think not.
Rcb Twitter account hacked or what?????
RCB official statement on an account hacked 
In a statement, RCB confirmed that the account had been hacked and claimed that they had no control over the situation.
"RCB's Twitter handle was compromised around 4 am on 21st January 2023 and we have lost the access to the account for the time being. This unfortunate incident happened beyond our control despite taking all security measures recommended by Twitter. We do not endorse or support any of the tweets/retweets that happened from our handle today and we regret the inconvenience caused. We are working with the Twitter support team to resolve this at the earliest. We'll be back soon," read the statement.
RCB account was hacked earlier also
6.4 million people follow the Royal Challengers Bangalore (RCB) Twitter account, which was started in 2009. Unfortunately, the franchise's account has been compromised before. It was hacked back in September 2021, but the franchise was able to recover the account. 
"Dear 12th Man Army, our Twitter account was compromised a few hours ago and we have now managed to get the access back. We condemn the tweet that the hackers put out and we do not endorse any content from that tweet, which we have now deleted. We regret the inconvenience caused," RCB had tweeted back then.
Also Read: Women's IPL 2023: Start Date, Prize Money, Overseas Players, Venue, Auction Purse, All You Need To Know