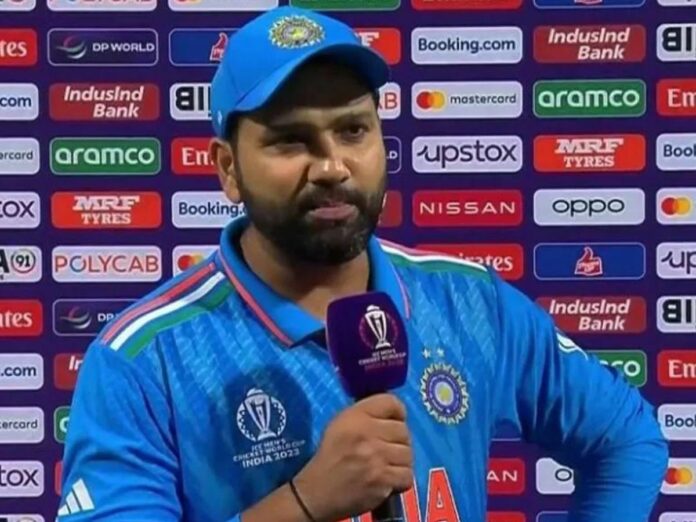 Rohit Sharma and co. have performed exceedingly well in the ICC ODI World Cup 2023 so far. They have notched up 10 victories in 10 games and have sent out a very strong statement- India is here for the coveted trophy and will settle for nothing else.
The likes of Virat Kohli, Shreyas Iyer, Mohammad Shami and Jasprit Bumrah have all performed well and this has made India, a well-oiled unit. After their 70-run victory over New Zealand in the semi-finals, India have booked their ticket for the big game on 19th November 2023 at the Narendra Modi Stadium in Ahmedabad.
After the match, Rohit Sharma got candid on the host broadcast during the post-match presentation. He labelled the fielding of India as 'sloppy' and also highlighted that Team India was 'calm' despite the 181-run partnership between Daryll Mitchell and Kane Williamson.
"I have played a lot of cricket here, any score on this ground, you cannot relax. Got to get the job done quickly and stay at it. We knew there would be pressure on us. We were very calm, even though we were a bit sloppy on the field. These things are bound to happen (the partnership between Mitchell and Kane) but glad we could get the job done," said Rohit in the post-match presentation.
"It is hard to say if we would have been in trouble [had India scored 30-40 less]. They would not have taken those risks. Williamson and Mitchell batted brilliantly. Was important for us to stay calm. The crowd went silent, but we knew we needed a catch or run out. Shami was brilliant. The form all the guys are in, top five-six batters, whenever they have gotten an opportunity, they have made it count. Very pleased to see what Iyer has done for us this tournament. Gill, the way he has batted for us has been brilliant. Unfortunately, he had to go off with cramps," he added.
Shubman Gill missed out on his century because of cramps
As highlighted by the skipper, Shubman Gill had to walk off the pitch because of the cramps he was facing in the severe heat and sultry weather of Mumbai. He walked off when was on 79* and then again back in the last few overs when Surya Kumar Yadav was dismissed for 1.
Gill scored 80* runs and remained not-out in this high-octane game at the Wankhede Stadium in Mumbai.
India will now be facing the winners of the 2nd semi-final, between South Africa and Australia on 19th November 2023. The match will be taking place at the largest cricket stadium in the world, the Narendra Modi Stadium in Ahmedabad.
Also read: "Hold My Vada Pav": Harsha Bhogle's On-Air Comment About Rohit Sharma Goes Viral