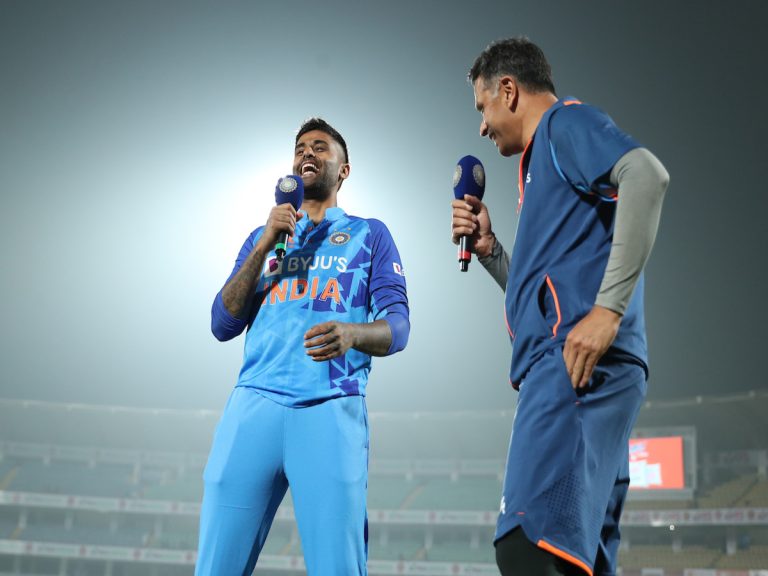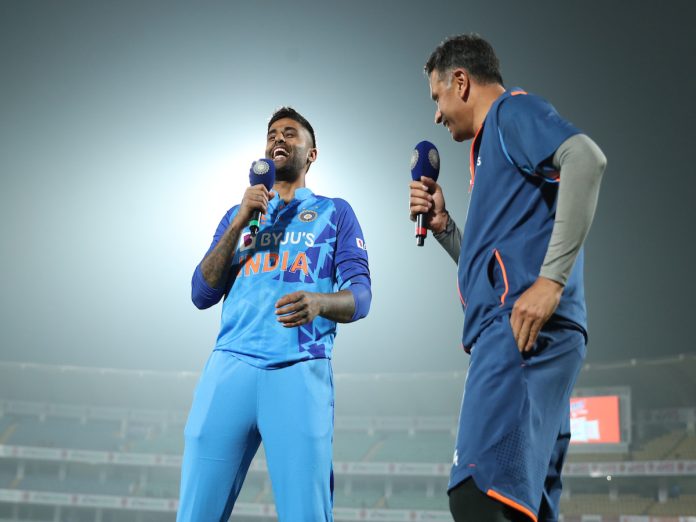 Suryakumar and his 360-degree runs. Whatever the ground, the moment Suryakumar steps into the crease, the bowling squad of the other team is filled with fear. This is how Suryakumar has been batting over the past 12 months.
Surya continued his stellar performance from the previous season in the third T20I matchup against Sri Lanka, smashing an undefeated 112 off 51 balls. His inning helped India win the game by 91 runs.
Based on this quick century, Team India was able to win the series. Surya's batting during this time earned Rahul Dravid's admiration. After winning the T20I series, Indian team coach Rahul Dravid was spotted speaking with star batter Suryakumar. Dravid made a joke to get the conversation going.
I haven't seen a better T20 innings
Dravid, the head coach of India, interviewed Yadav for the BCCI website after the match and expressed his appreciation for the 32-year-old. He praised Yadav's excellent form and made a joke about Yadav not having seen him play when he was younger.
"I have someone here with me, who I am sure, as a young kid, didn't watch me bat. And I hope you didn't. Surya, exceptional. Just the form you have been in. Every time, I think I haven't seen a better T20 inning, you show us something even better," said Dravid.
Favourite knock from his 3 T20I hundreds
Yadav was asked to choose his favourite T20I century from among his three by Dravid. The 32-year-old claimed that because he preferred to bat in challenging circumstances, it was challenging for him to rate his centuries.
When the teams try to pull off the match, Yadav added that he tries to take the game on and to enjoy and express himself as much as possible.
"Actually, I enjoyed batting in all the difficult situations where I went into bat. I actually can't pick any one innings. It is actually difficult for me to pick any one innings. I just enjoyed myself, whatever I did in the last one year. I have been doing the same thing again. As I said before as well, I just try and enjoy and express myself as much as possible. In those difficult situations, teams try to pull the game off. I try to take the game on. If it works well for me and the team, I'm happy, said Yadav.
Also Read: WIPL 2023: Women's IPL Will Have Player Auction; Registration Date, Reserve Price, All You Need To Know