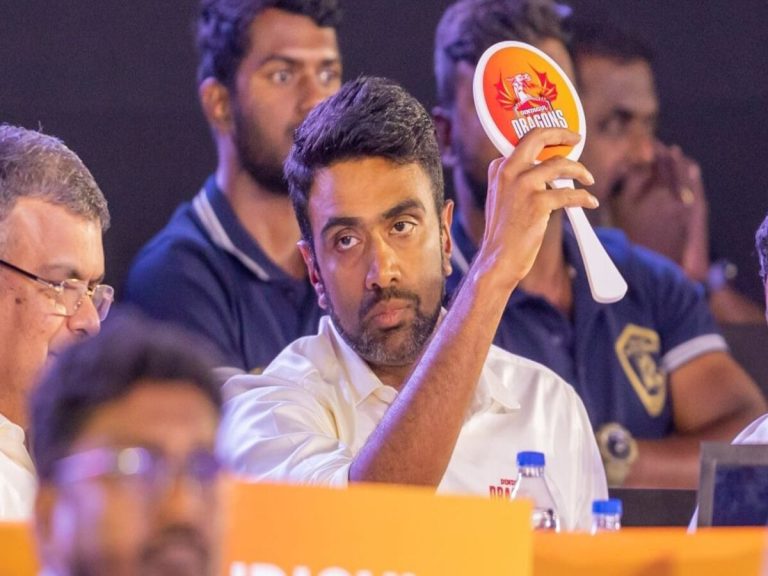 The seventh season of the Tamil Nadu Premier League (TNPL) player auction has concluded after a two-day marquee event. On February 23rd, the TNPL 2023 auction began, and it concluded on February 24th. The main event was held at the Plush hotel in Mahabalipuram. A draft system was used to select players in the previous six editions, but it has now been replaced by the TNPL auction.
On Day 2, the rapid bidding procedure made Kiran Aakash the highest-priced player. He signed a deal of 6.5 lakhs with Lyca Kovai Kings. Sai Sudharsan, a batter for the Tamil Nadu and Gujarat Titans, scooped the jackpot on the first day of the first-ever TNPL 2023 auction, becoming the most expensive player. Sanjay and Sonu Yadav, brothers, also received a sizable compensation check.
Chepauk Super Gillies, four-time winners, paid 17.6 lakhs to get Sanjay Yadav. All-around player Sonu Yadav cost 15.2 lakhs to be acquired by Nellai Royal Kings. Sai Kishore, an IPL player for the Gujarat Giants, has signed a 13 lakh rupee deal with the Tirupur Tamizhans. The team also paid 10.25 lakhs for Vijay Shankar.
India Washington Sundar, an all-arounder, and Varun Chakravarthy, a mystery spinner, each received 6.75 lakhs. Varun Chakravarthy was purchased by Dindigul Dragons, while Madurai Panthers chose Sundar.
The eight-team league's seventh season is anticipated to take place between June and July. Each franchise's total bid is set at Rs. 70 Lakh. Know complete details on TNPL 2023 auction, price division, and complete squad. 
TNPL 2023 Auction: Price division
942 players registered for the auction in total, and according to their importance in professional cricket, they were split into four categories (A, B, C, and D). A maximum of two players could be kept by each team. 
Category A – Rs. 10 lakhs for Category A (players who have represented International matches)
Category B – Rs. 6 lakhs for Category B (players who have represented senior BCCI domestic matches)
Category C – Rs. 3 Lakhs for Category C (players who are not in Category A or B but who have played more than 30 TNPL matches)
Category D – Rs. 1.50 Lakhs for Category D player (other players)
Teams could only keep a maximum of two players (one in category A or B, other in Category C or D). The minimum and maximum squad sizes for each of the eight teams were 16 and 20, respectively.
TNPL 2023 Complete Squad
Ballsy Trichy: Natarajan – 6.25 Lakhs, Anthony Das – 6 Lakhs, Ganga Sridhar Raju – 6 Lakhs, Silambarasan – 6 Lakhs, R Rajkumar – 5.8 Lakhs, Athisayaraj Davidson – 5.2 Lakhs, Daryl Ferrario – 4.4 Lakhs, Akshay Srinivasan – 4.3 Lakhs, Shajahan – 3 Lakhs, Monish Satish – 2.4 Lakhs, R Alexander – 2.4 Lakhs, Jafar Jamal – 2 Lakhs, Mani Bharathi – 1.2 Lakhs, K Easwaran – 1 Lakhs, Francis Rokins – 1 Lakh, G Godson – 50k, Karthick Shanmugam – 50k, SP Vinod – 50k
Chepauk Super Gillies: Sanjay Yadav – 17.6 Lakhs, Harish Kumar – 12.8 Lakhs, Baba Aparajith – 10 Lakhs, N Jagadeesan – 6 Lakhs, Pradosh Ranjan Paul – 5 Lakhs, R Satish – 4.2 Lakhs, U Sasidev – 3 Lakhs, R Rohit – 3 Lakhs, M Silambarasan – 2.7 Lakhs, Rahil Shah – 2 Lakhs, R Sibi – 50k, S Kumar – 50k, Santosh Shiv S – 50k, TD Lokesh Raj – 50k, B Rocky – 50k, Ayyappan – 50k
Dindigul Dragons: Shivam Singh – 15.95 Lakhs, Subodh Bhati – 10.4 Lakhs, Ravichandran Ashwin – 10 Lakhs, Varun Chakravarthy – 6.75 Lakhs, Saravana Kumar – 6.6 Lakhs, Baba Indrajith – 6 Lakhs, Adithya Ganesh – 2 Lakhs, Boopathi Vaishna Kumar – 1.7 Lakhs, R Vimal Kumar – 1.5 Lakhs, Mathivanan – 1.4 Lakhs, G Hemant Kumar – 60k, G Kishoor – 50k, VP Diran – 50k, Tamil Dhilleepan – 50k, Advaith Sharma – 50k, Rohan Ravi Bhutra – 50k, C Sarath Kumar – 50k, S Arun – 50k, P Vignesh – 50k, Affan Khader – 50k
IDream Tirupur Tamizhans – Sai Kishore – 13 Lakhs, Vijay Shankar – 10.25 Lakhs , NS Chaturved – 8 Lakhs, R Vivek – 7.8 Lakhs, Vishal Vaidhya – 5.9 Lakhs, G Periyasamy – 5.8 Lakhs, Anirudh Sitaram – 4.8 Lakhs, Ajith Ram – 4.2 Lakhs, Trilok Nag – 2 Lakhs, Tushar Raheja – 1.5 Lakhs, Radhakrishnan – 65k, S Ganesh – 60k, Mohamad Ali – 60k, G Parthasarathy – 50k, Rahul Ayyappan – 50k, S Manigandan – 50k, A Karuppaswamy – 50k, I Vetrivel – 50k, P Bhuvaneshwaran – 50k, M Ragavan – 50k
Lyca Kovai Kings: Sai Sudharsan – 21.6 Lakhs, M Mohammed – 10.6 Lakhs, Kiran Akash – 6.5 Lakhs, Shah Rukh Khan – 6 Lakhs, M Siddharth – 6 Lakhs, U Mukilesh – 6 Lakhs, Ram Arvindh – 3.05 Lakhs, Atheeq ur Rahman – 1.95 Lakhs, Suresh Kumar – 1.5 Lakhs, Gowtham Thamarai Kannan – 1.45 Lakhs, R Divakar – 1 L, P Vidyuth – 75k, J Subramaniam – 75k, B Sachin – 50k, Yudheeswaran – 50k, Hemcharan – 50k, S Sujay – 50k, KM Om Prakash – 50k
Nellai Royal Kings: Sonu Yadav – 15.2 Lakhs, Arun Karthik – 12 Lakhs, Sandeep Warrier – 8.25 Lakhs, Ajitesh – 6 Lakhs, Rithik Easwaran – 5.55 Lakhs, Mohan Prasath – 3.4 Lakhs, Nidhish Rajagopal – 2.15 Lakhs, Aswin Crist – 2 Lakhs, L Suryaprakash – 2 Lakhs, M Poiyamozhi – 1.7 Lakhs, Sri Neranjan – 1.10 Lakhs, Karthik Manikandan – 1.05 Lakhs, R Mithun – 1.05 Lakhs, NS Harish – 70k, N Kabilan – 60k, Emmanuel Cherian – 55k, P Sugendhiran – 50k, SJ Arun Kumar – 50k, A Adithya – 50k
Salem Spartans: Abhishek Tanwar – 13.2 Lakhs, Sunny Sandhu – 10 Lakhs, Kaushik Gandhi – 8.4 Lakhs, Maan K Bafna – 5.9 Lakhs, Mokit Hariharan – 5.4 Lakhs, Ganesh Murthi – 3 Lakhs, Jagannath Sinivas – 2.8 Lakhs, Sachin Rathi – 2.7 Lakhs, Amith Sathvik – 2.4 Lakhs, R Kavin – 2 Lakhs, Muhammad Adnan Khan – 1.3 Lakhs, Akash Sumra – 1 Lakh, S Aravind – 70k, S Abhishek – 50k, Gowri Shankar – 50k, Guru Sayee – 50k, Selvakumar – 50k, Yuvaraj V – 50k, Karthikeyan – 50k, R Prasanth – 50k
SiechemMadurai Panthers: Hari Nishaanth – 12.2 Lakhs, Swapnil Singh – 12 Lakhs, J Koushik – 7.4 Lakhs, Washington Sundar – 6.75 Lakhs, Murugan Ashwin – 6.4 Lakhs, B Surya – 4.4 Lakhs, Shijit Chandran – 2.6 Lakhs, Gurjapneet Singh – 2.05 Lakhs, Deeban Lingesh – 2 Lakhs, S Karthik – 2 Lakhs, Ajay Krishnan – 1.90 Lakhs, Gautham – 1.5 Lakhs, P Saravana – 70k, Sri Abishek – 50k, Aaditya V – 50k, Anton Andrew – 50k, Krish Jain – 50k, D Rahul – 50k D Sudhan – 50k, M Ayush – 50k
Also Read: IPL 2023: 3 Reasons Why Aiden Markram Can Change Sunrisers Hyderabad's (SRH) Fortune