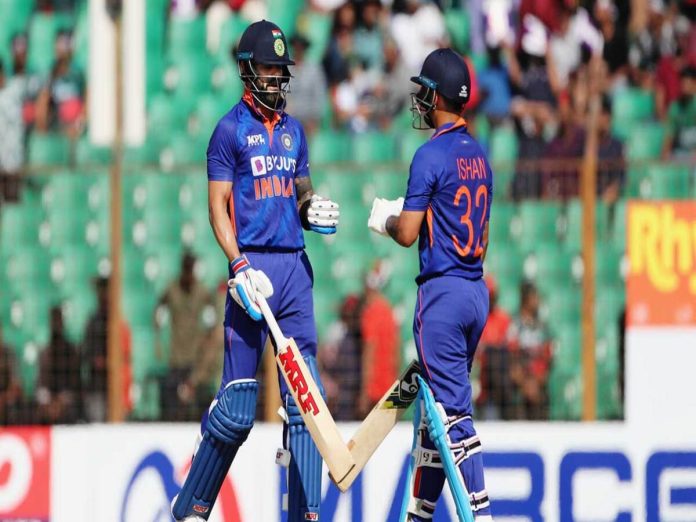 On Thursday, January 12, the second ODI of the series was played at Eden Gardens in Kolkata, and the Indian team won by a margin of four wickets. Despite the fact that Virat Kohli was unable to provide anything particularly noteworthy with his bat in this game, his moves added value to the team's win.
Virat Kohli and Ishan Kishan grabbed the spotlight with their dance routines near the BC Roy clubhouse on Thursday at the Eden Gardens in Kolkata, just moments after India defeated Sri Lanka by four wickets to take an unassailable 2-0 lead.
Fans applauded Kohli and Kishan as they showed off their abilities, making it appear as though a party had started. After the game, Virat and Ishaan Kishan were seen dancing, and a video of it is currently going popular on social media. This is not the first time Kohli is seen dancing on a cricket field, he was spotted earlier also.
Watch the Kohli, Ishan dance video –
Virat Kohli was dismissed on just 4 runs
KL Rahul led the way for the India team, scoring an undefeated 64 runs off 103 balls. For the second One-Day International between India and Sri Lanka, the famous Eden Gardens venue in Kolkata was crowded with spectators who were eager to witness another Virat Kohli batting masterclass. However, it never materialized, as the star batter was struck out after only four runs on nine balls.
The right-handed batter had just scored two consecutive ODI centuries as this game began, but at Eden, he was unable to impress the cricket-crazy crowd with his brilliant strokeplay.
Ishan Kishan, a promising left-arm bowler, just achieved the fastest double century in the ODI format, on the other hand. Ishaan batted in this inning against Bangladesh, however, despite this, he has not yet been added to the starting XI for the ODI series against Sri Lanka. Fans are hoping he will get a shot in the series' last game.
Also Read: Women's IPL 2023: Franchises To Be Announced, 10 Cities Shortlisted, Base Price