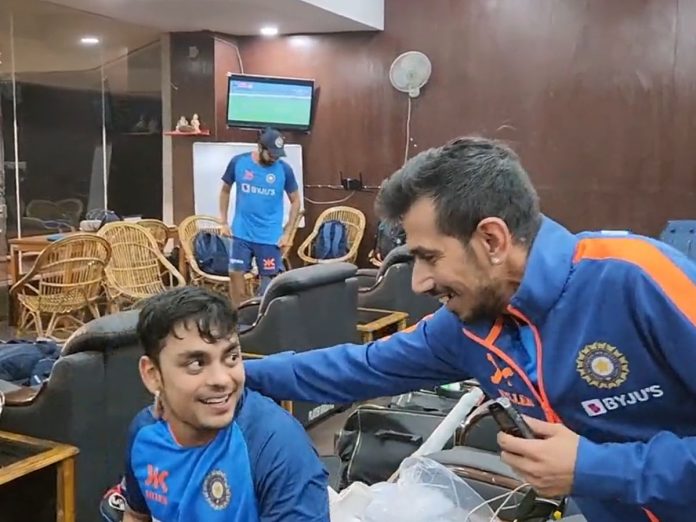 Apart from his exceptional leg-spin bowling, Yuzvendra Chahal is also known for sharing several light-hearted moments with the Indian cricket team. Chahal is an extremely funny guy and keeps playing pranks on his teammates.
Chahal runs an unofficial chat show in the social media handles of the Indian cricket team, called "Chahal TV". He often calls cricketers post the game to discuss about theirs and the team's performances.
But in this special edition of "Chahal TV", Yuzvendra Chahal donned the hat of a presenter and gave a tour of the dressing room of the 50th Indian stadium to host an international ODI in Raipur. The Shaheed Veer Narayan Singh International Stadium in Raipur will play host to the 2nd ODI between India and New Zealand and it is the first international match over there.
The stadium in Raipur is huge with long boundaries and the dressing room is equally good. Chahal took the cameraperson along with him and gave all the fans a proper tour. In the video we could first see skipper Rohit Sharma and Virat Kohli engaging in a conversation with each other, followed by the kit bags of Sharma, Kohli and Indian team vice-captain Hardik Pandya.
Ishan Kishan too gave a cameo and jokingly spoke about how Yuzvendra Chahal motivated and inspired him to score his double century. In the In the 3rd ODI between Bangladesh and India in 2022, Kishan smashed the fastest double century in ODI, when he reached the landmark in just 126 balls.
While Chahal was speaking in front of the camera a while later, captain Rohit Sharma made a small cameo and said, "Future acha hai tera". (Your future is good). Chahal burst into a laughter and it was another funny incident in the video
Yuzvendra Chahal then gave an entire tour of the food items which were there in the dining area and spoke about all the food items which the Indian players. He later ordered a veg pasta for himself, at the end of the video.
In the 2nd ODI between India and New Zealand, skipper Rohit Sharma won the toss and elected to field first. This probably was done, keeping in mind the dew factor. Winters in India witness a lot of dew and teams bowling second face a lot of difficulties. Spinners need to usually take the brunt of the dew factor and gripping the ball becomes a tough process.
Also read: Rishabh Pant Likely To Be Released From Hospital In 2 Weeks; Rehab To Follow