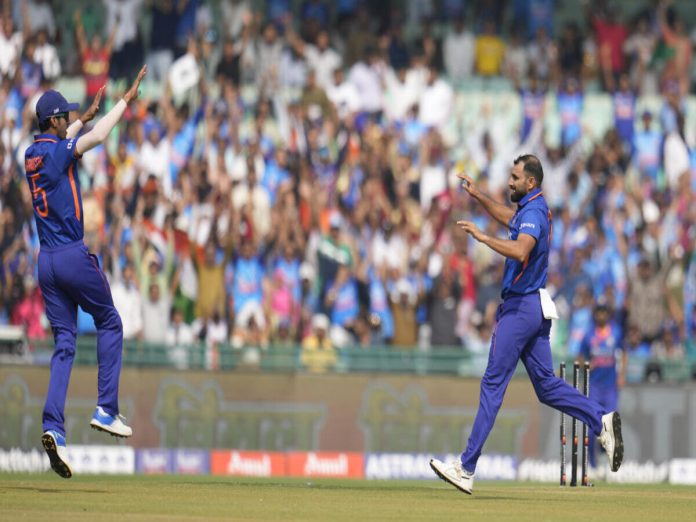 India easily defeated New Zealand in the second one-day international to grab a 2-0 series lead. India won by an impressive eight wickets. Mohammed Shami bowled brilliantly and was successful in taking 3 wickets as India won.
Mohammed Shami was the star of India's triumph on Saturday in Raipur. Shami continued to lead the Indian bowling attack, proving his superiority. In the second ODI, played on Saturday in Hyderabad against New Zealand, Shami was brilliant for Team India. In his six-over quota, he was responsible for the dismissal of three New Zealand batters while only allowing 18 runs to be scored.
Shami was also awarded the title of Player of the Match. Umran Malik, the fast bowler for India, spoke with Mohammed Shami after the game at the same time. Shami also provided Umran with a specific piece of advise throughout the interview.
Watch the interview –
Shami's advice for Umran Malik
Umran's speed has attracted attention time and time again. He also talked with Mohammed Shami, his "favourite bowler," on Saturday after India defeated New Zealand in an ODI for the second time in a row.
Umran said during the interview, "Shami you are my favorite, I want to know from you how you remain so happy during the match."
The legendary Indian pacer expressed praise for his bowling speed and best wishes for the future, but he also offered some wise advice.
Shami says that although Umran moves at a rate that can be challenging for anyone, if he gains mastery of his line and length, he will be able to conquer the entire globe.
"Apke liye best wishes hai ki aap ache kare. Bass ek he cheej hai, advice dena chahunga ki jitni apke paas pace hai, mujhe lagta nahi hai ki easy hai us pace ko khelna. Bass thoda sa hume work ki jarurat hai line aur length pr. Agar hum usko control m kar lenge to hum duniya par raaj karenge (Best wishes for you, hope you do well. There's only one piece of advice I want to give: I don't think it's easy to play against the pace that you have. Just that we need to work a little on line and length. If we can get a command over it, we can rule the world)."
The rise of speedster Umran Malik
In his brief international career so far for Team India, young Indian pacer Umran Malik has made a name for himself. The 23-year-old bowler earned his India debut during a five-match home series against South Africa in June 2022. He was not handed a match in that series, but his T20I debut against Ireland came in the next assignment.
He has now participated in six T20 Internationals and seven ODIs for India. Even though Umran has only been a member of the Indian cricket team for eight months, within that time he has attracted enough attention and broken numerous records, including the fastest bowl ever thrown by an Indian bowler in a match against a foreign team.
He accomplished the feat on January 3 at Mumbai's Wankhede Stadium against Sri Lanka in the first T20I of a three-match series. Umran achieved the 155 kph milestone during that clash.
Also Read: "It's Difficult To Beat India In India," Ramiz Raja Said, Urging Pakistan And Other Subcontinent Teams To Learn