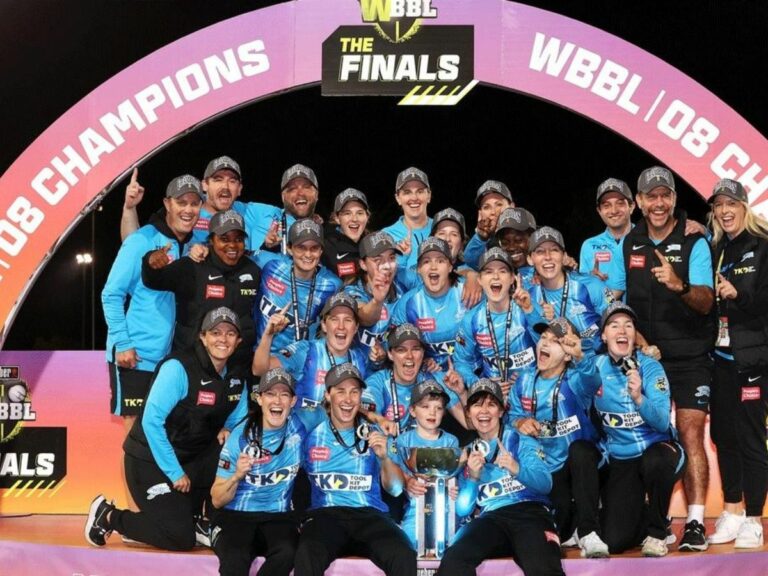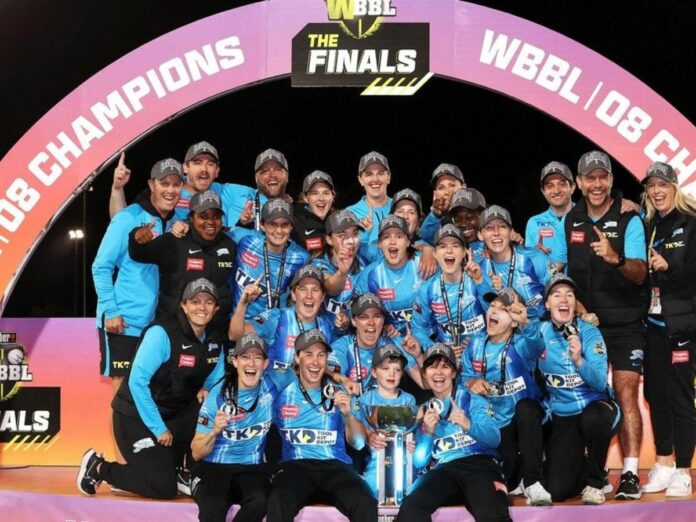 One of the main reasons why the Australian women's cricket team is such a successful side in international cricket is the presence of a vibrant T20 franchise league in the form of the Women's Big Bash league.
Started way back in 2015, the Women's Big Bash League has played a pivotal role in identifying the best talents for the Australians as they rub shoulders with the best cricketers across the globe.
The Women's Big Bash League 2023 is all slated to kick-start from 19th October 2023 and the first game will be played between Sydney Sixers and Melbourne Stars. It will be played at the North Sydney Oval Stadium and is slated to begin from 2:10 PM (IST).
Adelaide Strikers are the defending champions of this competition and would be looking to successfully defend their title. They had defeated Sydney Sixers by 10 wickets in the finals on 26th November 2023.
Sydney Sixers, Adelaide Strikers and Sydney Thunder have won the Women's Big Bash League on 2 occasions. All of them would be itching to win their 3rd title and thereby become, the most successful side in the history of this competition.
Several superstars of women's cricket across the globe will be involved in this cricketing spectacle and the tournament promises to ooze action and entertainment.
In this article, we take a look at the complete schedule, squads of teams and venues of the upcoming Women's Big Bash League 2023:
Complete Schedule of Women's Big Bash League 2023
| | | |
| --- | --- | --- |
| Date | Match | Time |
| October 19, Thursday | Sydney Sixers vs Melbourne Stars | 2:10 PM |
| October 20, Friday | Melbourne Renegades vs Brisbane Heat | 9:30 PM |
| October 20, Friday | Hobart Hurricanes vs Perth Scorchers | 1:40 PM |
| October 21, Saturday | Adelaide Strikers vs Melbourne Stars | 1:40 PM |
| October 22, Sunday | Perth Scorchers vs Melbourne Stars | 8:10 AM |
| October 22, Sunday | Sydney Thunder vs Sydney Sixers | 11:15 AM |
| October 23, Monday | Melbourne Renegades vs Adelaide Strikers | 9:30 PM |
| October 24, Tuesday | Melbourne Stars vs Adelaide Strikers | 9:00 AM |
| October 24, Tuesday | Sydney Sixers vs Brisbane Heat | 12:40 PM |
| October 25, Wednesday | Perth Scorchers vs Hobart Hurricanes | 1:40 PM |
| October 26, Thursday | Sydney Thunder vs Melbourne Renegades | 9:30 AM |
| October 27, Friday | Adelaide Strikers vs Hobart Hurricanes | 11:10 AM |
| October 27, Friday | Brisbane Heat vs Melbourne Stars | 3:00 PM |
| October 28, Saturday | Melbourne Renegades vs Sydney Sixers | 6:30 AM |
| October 29, Sunday | Melbourne Stars vs Perth Scorchers | 9:30 AM |
| October 29, Sunday | Adelaide Strikers vs Brisbane Heat | 1:40 PM |
| October 30, Monday | Hobart Hurricanes vs Sydney Thunder | 12:40 PM |
| October 31, Tuesday | Perth Scorchers vs Sydney Sixers | 2:40 PM |
| November 1, Wednesday | Melbourne Renegades vs Sydney Thunder | 9:30 AM |
| November 2, Thursday | Hobart Hurricanes vs Melbourne Stars | 1:40 PM |
| November 3, Friday | Adelaide Strikers vs Sydney Sixers | 11:40 AM |
| November 3, Friday | Perth Scorchers vs Melbourne Renegades | 3:10 PM |
| November 4, Saturday | Melbourne Stars vs Sydney Thunder | 9:30 AM |
| November 4, Saturday | Hobart Hurricanes vs Brisbane Heat | 1:00 PM |
| November 5, Sunday | Sydney Sixers vs Melbourne Renegades | 8:10 AM |
| November 5, Sunday | Perth Scorchers vs Adelaide Strikers | 11:55 AM |
| November 6, Monday | Sydney Thunder vs Brisbane Heat | 12:40 PM |
| November 8, Wednesday | Melbourne Stars vs Sydney Sixers | 9:30 AM |
| November 8, Wednesday | Adelaide Strikers vs Melbourne Renegades | 1:40 PM |
| November 9, Thursday | Sydney Thunder vs Hobart Hurricanes | 9:30 AM |
| November 9, Thursday | Brisbane Heat vs Perth Scorchers | 1:40 PM |
| November 10, Friday | Sydney Thunder vs Melbourne Stars | 9:50 AM |
| November 10, Friday | Sydney Sixers vs Hobart Hurricanes | 1:40 PM |
| November 11, Saturday | Melbourne Renegades vs Perth Scorchers | 8:30 AM |
| November 11, Saturday | Brisbane Heat vs Adelaide Strikers | 1:40 PM |
| November 12, Sunday | Perth Scorchers vs Sydney Thunder | 4:40 AM |
| November 12, Sunday | Melbourne Renegades vs Melbourne Stars | 8:10 AM |
| November 13, Monday | Hobart Hurricanes vs Sydney Sixers | 12:40 PM |
| November 15, Wednesday | Brisbane Heat vs Hobart Hurricanes | 6:30 AM |
| November 15, Wednesday | Adelaide Strikers vs Sydney Thunder | 10:00 AM |
| November 16, Thursday | Sydney Sixers vs Perth Scorchers | 10:00 AM |
| November 17, Friday | Melbourne Stars vs Hobart Hurricanes | 10:40 AM |
| November 17, Friday | Brisbane Heat vs Melbourne Renegades | 2: 10 PM |
| November 18, Saturday | Sydney Thunder vs Perth Scorchers | 9:30 AM |
| November 18, Saturday | Sydney Sixers vs Adelaide Strikers | 1:40 PM |
| November 19, Sunday | Melbourne Renegades vs Hobart Hurricanes | 4:40 AM |
| November 19, Sunday | Melbourne Stars vs Brisbane Heat | 8:10 AM |
| November 21, Tuesday | Sydney Thunder vs Adelaide Strikers | 9:30 AM |
| November 21, Tuesday | Brisbane Heat vs Sydney Sixers | 1:40 PM |
| November 22, Wednesday | Perth Scorchers vs Melbourne Stars | 2:40 PM |
| November 23, Thursday | Hobart Hurricanes vs Melbourne Renegades | 1:40 PM |
| November 24, Friday | Brisbane Heat vs Sydney Thunder | 10:10 AM |
| November 24, Friday | Adelaide Strikers vs Perth Scorchers | 1:40 PM |
| November 25, Saturday | Melbourne Stars vs Melbourne Renegades | 12:40 PM |
| November 26, Sunday | Hobart Hurricanes vs Adelaide Strikers | 4:40 AM |
| November 26, Sunday | Sydney Sixers vs Sydney Thunder | 8:10 AM |
| TBD | Eliminator | TBD |
| TBD | Challenger | TBD |
| December 2, Saturday | Final | 1:40 PM |
Squads of Women's Big Bash League 2023
Adelaide Strikers 
Jemma Barsby, Darcie Brown, Katie Mack, Tahlia McGrath, Annie O'Neil, Bridget Patterson, Madeline Penna, Megan Schutt, Amanda Jade-Wellington, Ella Wilson, Laura Wolvaardt, Dani Gibson, Georgia Adams, Anesu Mushangwe, Courtney Neale

Brisbane Heat
Nicola Hancock, Grace Harris, Laura Harris, Mikayla Hinkley, Ellie Johnston, Jess Jonassen, Charli Knott, Grace Parsons, Georgia Redmayne, Courtney Sippel, Georgia Voll, Amelia Kerr, Bess Heath, Mignon du Preez, Sarah Glenn (partial replacement for Amelia Kerr), Lucy Hamilton

Hobart Hurricanes
Nicola Carey, Maisy Gibson, Heather Graham, Ruth Johnston, Hayley Silver-Holmes, Amy Smith, Molly Strano, Rachel Trenaman, Elyse Villani, Shabnim Ismail, Bryony Smith, Emma Manix-Geeves, Lizelle Lee, Naomi Stalenberg

Melbourne Renegades
Tammy Beaumont, Sarah Coyte, Josie Dooley, Jess Duffin, Ellie Falconer, Ella Hayward, Sophie Molineux, Tayla Vlaeminck, Georgia Wareham, Hayley Matthews, Harmanpreet Kaur, Georgia Prestwidge, Courtney Webb

Melbourne Stars
Sophie Day, Nicole Faltum, Tess Flintoff, Kim Garth, Olivia Henry, Milly Illingworth, Meg Lanning, Sasha Moloney, Rhys McKenna, Sophie Reid, Annabel Sutherland, Alice Capsey, Maia Bouchier, Sophia Dunkley, Jas Nevins

Perth Scorchers
Charis Bekker, Piepa Cleary, Amy Edgar, Alana King, Lilly Mills, Beth Mooney, Taneale Pechel, Sophie Devine, Amy Jones, Stella Campbell, Maddy Darke, Chloe Piparo, Chloe Ainsworth, Lisa Griffith

Sydney Sixers
Jade Allen, Suzie Bates, Maitlan Brown, Erin Burns, Mathilda Carmichael, Lauren Cheatle, Ashleigh Gardner, Alyssa Healy, Emma Hughes, Kate Peterson, Ellyse Perry, Chloe Tryon, Jess Kerr

Sydney Thunder
Hannah Darlington, Ebony Hoskin, Sammy-Jo Johnson, Anika Learoyd, Phoebe Litchfield, Claire Moore, Olivia Porter, Lauren Smith, Marizanne Kapp, Heather Knight, Lauren Bell, Tahlia Wilson, Saskia Horley, Paris Bowdler, Chamari Athapaththu
Venues
North Sydney Oval, Sydney
Junction Oval, Melbourne
Karen Rolton Oval, Adelaide
University of Tasmania Stadium, Launceston
WACA Ground, Perth
Allan Border Field, Brisbane
Cricket Central, Sydney Olympic Park
Bellerive Oval, Hobart
Casey Fields No. 4, Melbourne
Jubilee Park, Melbourne
Great Barrier Reef Arena, Mackay
Sydney Cricket Ground, Sydney
Melbourne Cricket Ground, Melbourne
Also read: Syed Mushtaq Ali Trophy 2023: Punjab Script History As They Post Highest Ever Total Versus Andhra Pradesh