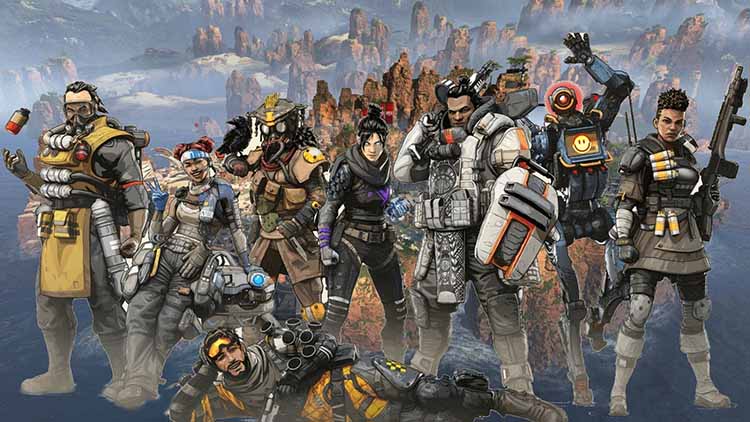 EA (Electronic Arts) has been one of the best video game publishers over the years. You must have played many games by the Group earlier, and must have enjoyed your heart out! EA now has come forward to bring a revolutionary video game named Apex Legends! Apex Legends is a free-to-play, character-driven, and Team-based game. It is a Battle Royale game that has taken the market by the storm. The Title of Respawn has been receiving accolades from its fans, and we don't see it slowing down anytime soon.
This game has a vast & increasing collection of very cool & awesome Characters A.K.A Legends. But there is a catch in the game, i.e a particular squad cannot have 2 same characters, every squad member has to select a different Character. So there must be a question in everyone's mind, which is how long do you have to pick your character before the timer passes onto the next player?
That is why we are here! We will tell you exactly how much time do you have to select a particular character & we will also help you select the best character in Apex Legends.
How Much Time Do You Have To Pick Your Character in Apex Legends?
Before every match in the Apex Legends, the players of a squad are presented with a character selection screen in a consequent manner. Meaning the game will select the order in which the players will pick their character. And every player gets 30 seconds to make a selection before the timer passes onto the next player. This might seem a little bit unfair but this procedure is there to improve the adapting ability.
Still, confused? No Worries we'll explain with an example. Suppose you wanted to select Lifeline (Combat Medic) or Bangalore (Professional Soldier), but you are 3rd in the queue. The Players before you selected both Lifeline (Combat Medic) & Bangalore (Professional Soldier), both of your players are gone. Now you have an option to try out a new Character, there are chances that you'll like this character more. Plus this will improve your adaptability in-game, along with that it'll make the game more interesting for you!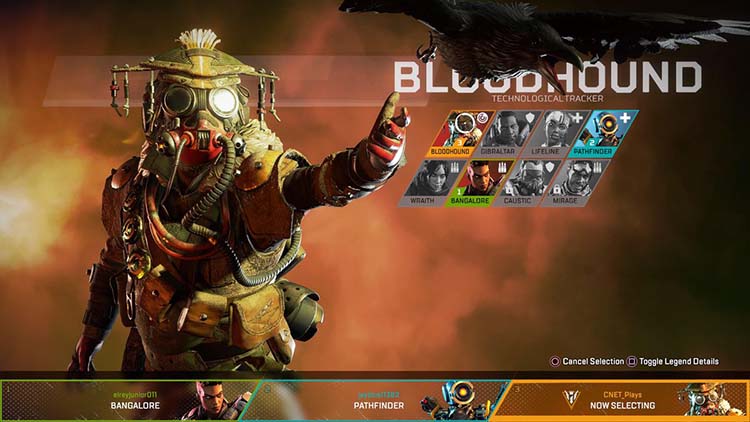 Do you love to play a video game? But is it your first instance of engaging with a free-to-play game? If yes, then you will come to the forefront of finding so many characters in it.
Can you choose which character you want to play as in Apex Legends?
Yes, Apex Legends lets you select your Favorite Character. In this game currently, there are 8 main Legends ( characters ) to choose from. 6 Legends are available from the start but have to unlock 2 Legends through the game. New Characters are constantly added in the game.
Top 8 Characters available in Apex Legends
– Bangalore (Professional Soldier)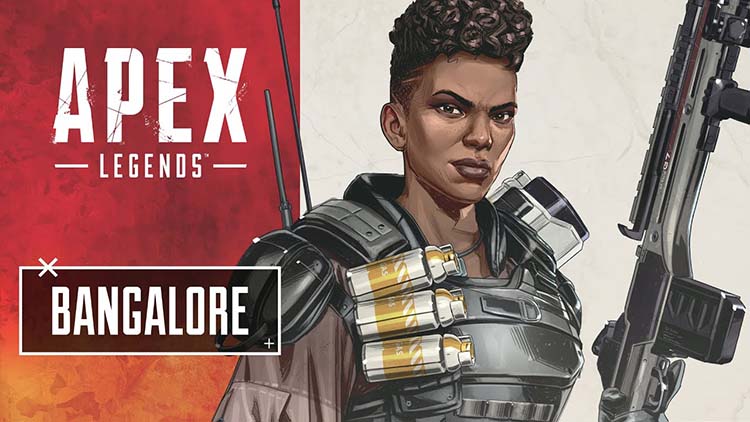 Ever since her young days, Bangalore has been an extraordinary soldier. She hails from a Military Family. Her parents and four elder brothers have all served at Bangalore's IMC Armed Forces. Bangalore has been at a topper at the IMC Military Academy Class. She happens to be the only military student who can work as a Peacekeeper. She is also loaded with Choke hop-up and knows how to put it back blindfold under 20 seconds. You can count on her heroics if you are a new Battle Royale player. Interested in picking her in your squad? Here's what you can expect from her:
Passive ability – Double Time – She can take fire while being on the move – it can make you run faster for a short period.
Tactical ability – Smoke Launcher – It's dead easy for her to fire a high- intensity smoke can. It can go 'boom' on impact into a smoke wall.
Ultimate ability – Rolling Thunder – She can arrange for an artillery strike with her power of moving slowly across the scenery.
– Caustic (Toxic Trapper)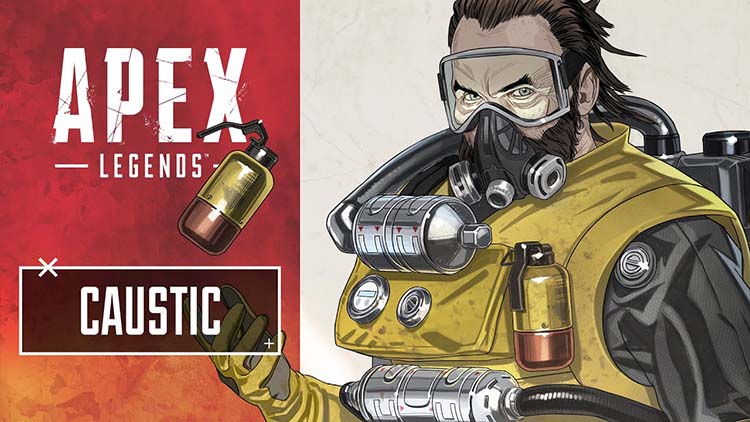 Are you done and dusted with conventional run and gun shooter? Caustic, the Toxic Trapper should be in the scheme of your things. You can leave him on the battlefield and see him uncover his brute force as he is a True Blue Poison Master. Alexander Nox, a Scientist, used to work at Humbert Labs before Caustic. Humbert Labs happens to be the frontline manufacturer of pesticide gases of Frontier. The lab has always been on the radar for grabbing stronger and improved formulas. It is because an excess of pesticides is in demand to keep growing cops of Frontier Colonies safe. Nox used to work at the lab brilliantly to come up with new gases. But for testing purposes of gases, Nox wanted a living thing to know if they worked or not. And it is where Caustic came to his rescue! Let's take a quick look into the traits of Caustic:
Tactical ability – Nox Gas Trap – He can place six containers that can quickly release Nox gas if provoked by enemies.
Passive ability – Nox Vision – It can help you get a unique 'Threat Vision' when enemies move via the gas.
Ultimate ability – Nox Gas Grenade – It provides you with the ability to cover a big region in Nox gas.
– Bloodhound (Technological Tracker)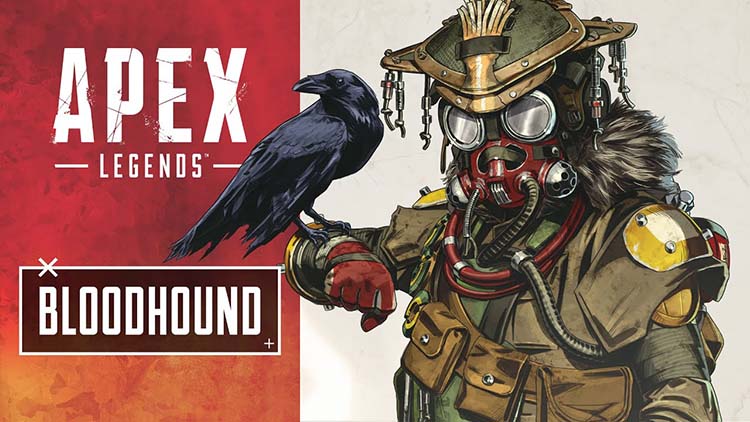 How about including a mysterious character in your squad? If yes, you can count on Bloodhound as he is helpful in ways that you can imagine! They are classified as one of the prolific game hunters in Outlands. They are the best that Frontier has seen, and it is what is known about them! Talking about their character, there are many rumors. Some say that they are rich, while some know them as cold-blooded murderers, a slave who is also half-bat, and many more. Here's what you will get them to do for you:
Tactical ability – Eye of the Allfather – He can go around revealing enemies one by one, including traces and traps across all buildings for you.
Passive ability – Tracker – He can leave behind some hints for you to begin searching.
Ultimate ability – Beast of the Hunt – In no time, he can become an ultimate hunter. In turn, it can boost your senses so that you can see cold tracks and get going faster.
– Lifeline (Combat Medic)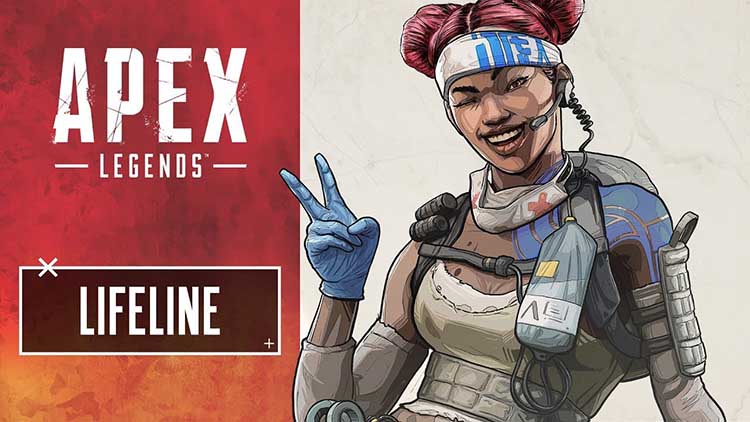 When you are playing a match, you may have to hear Medic/Healer many times, and that's Lifeline for you! She was once a child of rich abusers of war. She abandoned her home when she came to know about the harm that her family had caused her. She went on to join a Humanitarian Organization named as Frontier Cops. She is in the service of others and became a part of Apex Games to finance Frontier Corps with her prize money! Let's take a look at what Lifeline can do for you:
Tactical ability – D.O.C. Heal Drone – Over a period of time, the Drone of Compassion (D.O.C.) heals everyone automatically in its proximity.
Passive ability – Combat Medic – She can replenish Team members who have been hunted. She does by using a shied wall – with 25% faster healing items.
Ultimate ability – Care Package – She can provide you with high-quality defensive gear.
– Pathfinder (Forward Scout)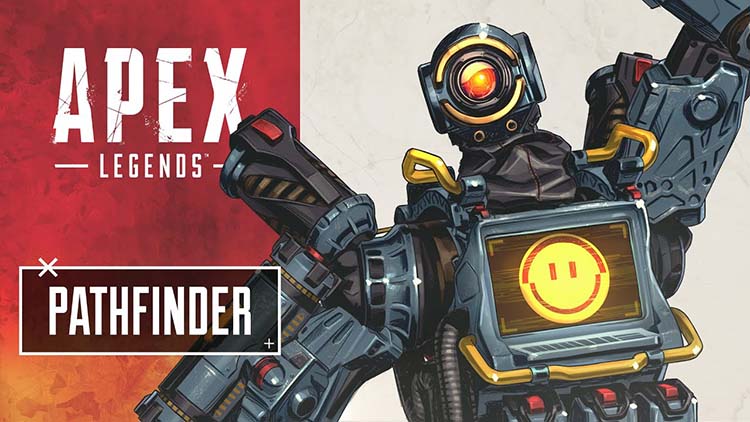 Pathfinder happens to be a robot, which you can include in your squad. He is someone who is known as the 'Feel Good Man.' He oozes optimism despite the situations that he has seen! Pathfinder is an MRVN (Mobile Robotic Versatile eNtity). He was altered to become an expert to survey and do location scouting. Long ago, despite not knowing who created him and why he booted in a deserted lab. His specialty is only MRVN, and he is searching who created him.
Tactical ability – Grappling Hook – He finds it easier to wrestle through unknown places and land there fast.
Passive ability – Voices from the Void – He has the power to scan a bonfire. And it can help you know the next location of the ring.
Ultimate ability – Zipline Gun – He knows to create Zipline Gun for everyone to start using.
– Gibraltar (Shielded Fortress)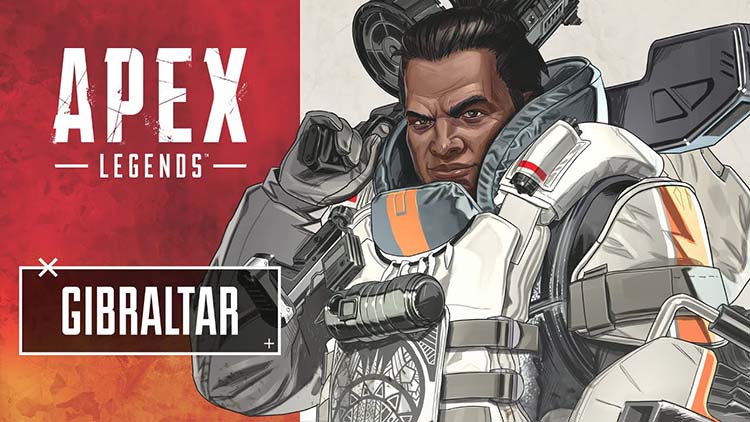 If you don't mind enjoying out there in a battle, then you can count on this dude. Gibraltar has a wild side, but at the same time, he is also a calm giant. He happens to be the son of 2 SARAS (Search and Rescue Association of Solace), helpers. He is a Pro in evacuating others from volatile situations – a common thing on Outlands! He started to understand the importance of shielding others. It happened when once he and his boyfriend went off to a ride on the bike of his father. But they were trapped by lethal mudslide! He was saved by his parents, but his father had to lose an arm. The giant has not been able to forget the sacrifice. And that made him dedicate his life to saving others! Here's what Gibraltar can do for you:
Tactical ability – Dome of Protection – He can throw a dome shield that can withstand combats for 15 seconds.
Passive ability – Gun Shield – He can organize a gun shield while aiming down sights. He also has the power to keep off the incoming fire.
Ultimate ability – Defensive Bombardment – He can bring upon an intense mortar strike on a point that you mark using smoke.
– Mirage (Holographic Trickster)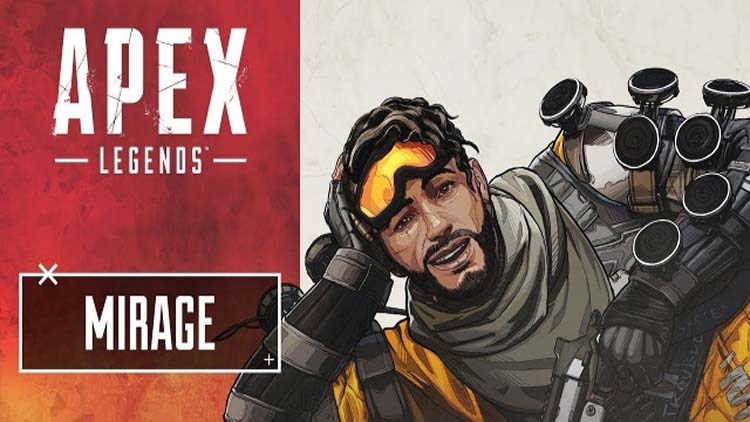 There are some characters in the game that you will need to unlock and won't be available instantly. And Mirage is one of them! Mirage is a funny character, and that makes him one of the most picked game characters. If you love to battle it out using strategies in place, then you ought to have Mirage in your Team. He is the youngest among his 4 brothers and has mastered the art of playing around to be noticed. He knows Holo Pilot Technology. He learned from his Engineer mother as the Illusion of Creating Tech. He worked in tandem with his mother to develop Holo devices. They continued even when his brothers went MIA during the Frontier War. Here's what is expected out of Mirage:
Tactical ability – Psyche Out – You can confuse the army as Mirage can set a holographic trap for them.
Passive ability – Encore – He has the power to put in place a trap automatically and provide cover for 5 seconds when you are hit.
Ultimate ability – Vanishing Act – He can provide covers while setting traps for enemies to keep them unfocused.
– Wraith (Interdimensional Skirmisher)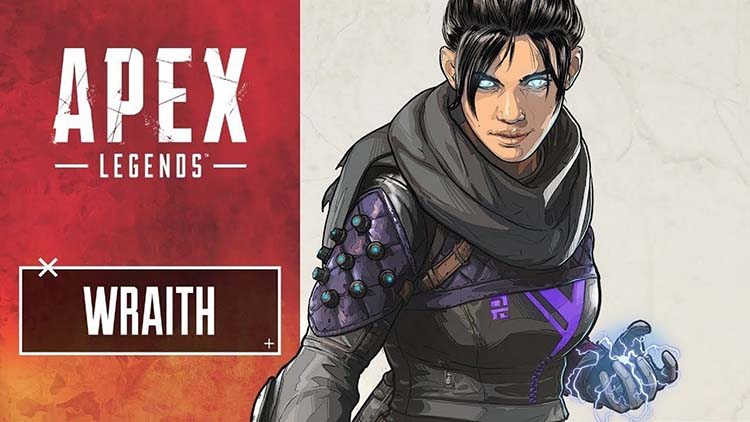 What if someone warns you about the movement of enemies while you are in the battlefield? Won't it help you stay one step ahead of them? That's what Wraith does for you! She is a whirlwind combatant, who can carry on with quick and lethal attacks. Wraith also knows how to manipulate the spacetime. He does that by uncovering rifts in Reality's Fabric. Years ago, when she woke up, Wraith found herself in an IMC owned detention camp for the mentally ill. An unknown voice for days in her ear made her realize her true power of manipulation. In turn, it helped her get out of the facility. You can use her different abilities in the game as under:
Tactical ability – Into the Void – She can help you regroup super quick via void space and keep off all damages.
Passive ability – Voices from the Void – When you are approaching a danger, you can hear a voice. It will be on your side if you are able to tell her.
Ultimate ability – Dimensional Rift – It will be possible for you to link two portals for about 80 seconds.