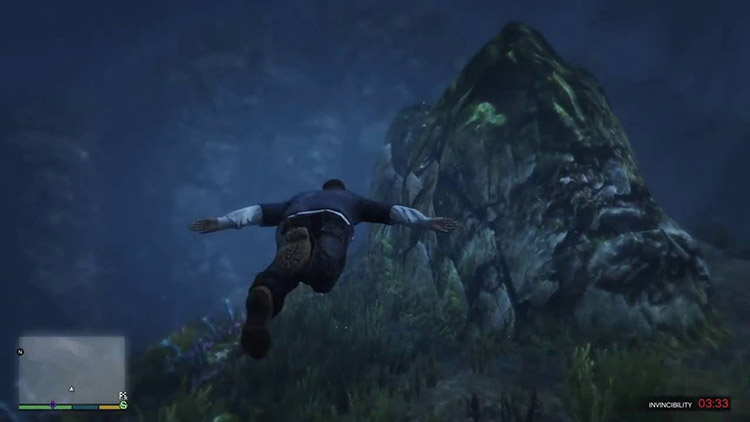 In this GTA 5 Guide, we'll share tips on how to swim in GTA 5. We hope you'll find them useful!
GTA 5 stands for Grand Theft Auto 5. And it is an action-adventure game. Rockstar North developed this game, and Rockstar Games published it.  The first version of GTA saw its release in September 2013.
When the 3rd version of the GTA was released, many young gamers did not have any idea that it featured water bodies like oceans. And diving into the water meant death. But, diving in GTA 5 is among one of the key mechanisms of the game.
Swimming in GTA was not that regular. Yes, it was not before San Andreas made 3rd person open-world games (GTA) popular. It was done by enabling the characters to dive in the game.
Players can now swim in GTA 5 instead of losing control over the health slowly and drowning finally. They can now swim to a safe shore closely or steal a ship from unwary NPC.
If you also play GTA 5 and wish to know easy steps to swim in the game, then it is possible. Let us show you how in this post!
Easy steps that you can follow to swim in GTA 5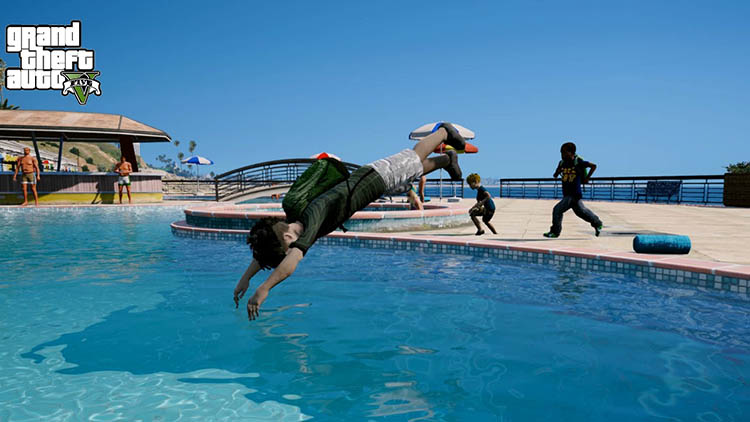 1. Search for a water body
GTA 5 is positioned in a California inspired like region, and hence; it may not be tough to find a water body. Playing as Michael and practicing swimming in your backyard is possible. If you wish to dive in some open area, then take a look at some open lakes feeding on rivers:
Tataviam mountain range – it comes with a significant water body in the center.
North of Los Santos positioned in Vinewood's mid – a large lake.
Alamo Sea supported by small rivers.
Water surrounds the GTA 5 world from all sides – you can find sea if you walk enough in any of the directions.
2. Go and enter the water
Walking inside the water will make you go inside it. Once the depth has passed the head of your character, they will start stepping on the water quickly.
Get set to start swimming
If you wish to swim forward in the water, you can use the joystick (Xbox 360 and PS3) or the PC-based directional keys. You can continue to tap the X button in PS3, Shift key in PC and A button in Xbox 360 if you want to increase the speed of your character.
Once the water is above the head of your character in GTA 5, then you can go ahead and try to dive below the surface. To do that, you will need to press the R1 button in PS3, RB button in Xbox 360 and Q key in PC. That will lead your character to dive below the surface. Once your character is underwater, you can swim with the help of the same controls used on the surface.
Go attacking while you swim
When you are under the water, Knife is the only weapon that you can use. If you want to deal with Sharks, you can enable the Knife. It is possible by pressing the L1 button on PS3, LB button on Xbox 30 and Tab key on your PC. Once your Knife is active, you can attack Sharks. You can do that by pressing the circular button in PS3. They are also B button on Xbox 360 and R key on your PC. It will be possible for you to attack while being submerged and standing on surface water.
It may not be possible for your character to remain submerged in the water forever as it is human. Next to the health of your character, there is a light blue meter in the screen's lower-left corner. It can display how long they can stay submerged in the water. Your character will start losing health after the light meter runs out. You will die if you don't come out of the water before the health of your character goes out.
Know when to surface quickly
If the health meter of your character is running low, then it is the time to surface quickly. If you wish to reach the surface yet again, then you will need to press the directional/joystick arrow up. And it should be toward the water's surface. You may also hit the X button in PS3, A button in Xbox 360 and Shift key in PC. It will help you reach the surface swiftly.
A few more steps to help you swim in GTA 5
Take a look at more steps that can assist you to swim in GTA 5:
You can begin by sprinting and diving in the water.
You should tap the Sprint key (L Shift, mostly) to swim fast after you are in the water.
You can use the directional keys to navigate the direction you are looking for your character to swim in.
To drive underwater, pressing of the Crouch key is vital (Mostly C/LCtrl)
Keep track of Blue 'breath' meter to know how much breath you have before you drown and lose your health.
Another vital point to note is the 'Stamina Meter'. It will run out if your Sprint button is continually pressed. It signifies that you can't swim faster for long intervals.
Here's why you should frequently swim in GTA 5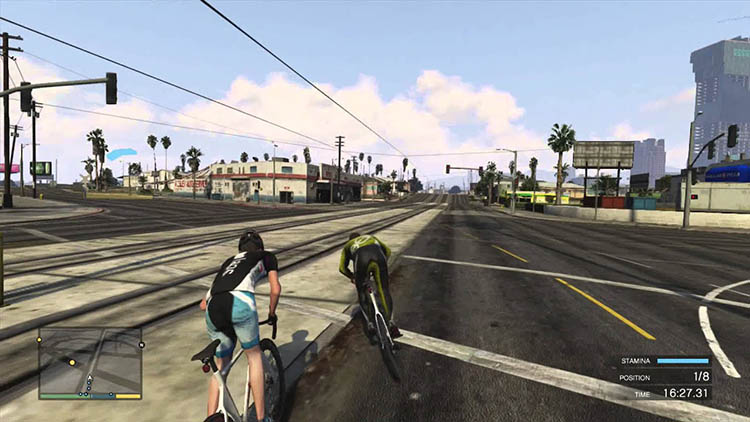 Other than being a cool mechanic that can keep you off from dying, many reasons make swimming in GTA 5 a great thing. Take a look:
Swimming in GTA 5 will propel the statistics of your character such as Breath Capacity, Stamina and Strength.
If your figures are higher, you can help yourself and indulge in GTA 5's Triathlons. It is among the best activities that are worth participating in in Los Santos.
In races like Triathlons, you are needed to ride a bike, swim, and then sprint to finish.
Swimming in GTA 5 can open up many things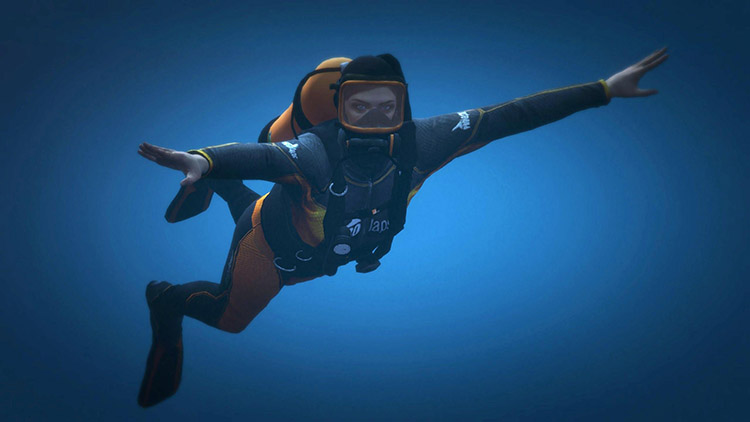 More than swimming, staying underwater can help you stay long durations. And that can provide you with increased speed.
You can train hard and take part in many competitions to become the best swimmer in Los Santos.
Pressing the 'W' key, which is same as running, will be needed for swimming. The 'Shift' key can speed up things. On the other hand, you will need to press the 'Space' button for diving.
Swimming provides you with many advantages in GTA 5, such as:
Helps you explore the underwater world.
You can enjoy the deep sea's landscapes.
Lets you participate in the swimming race.
Keeps you away from areas that are patrolled when you are underwater.
If you consider the discussed aspects, then you may find swimming in GTA 5 a child's play!