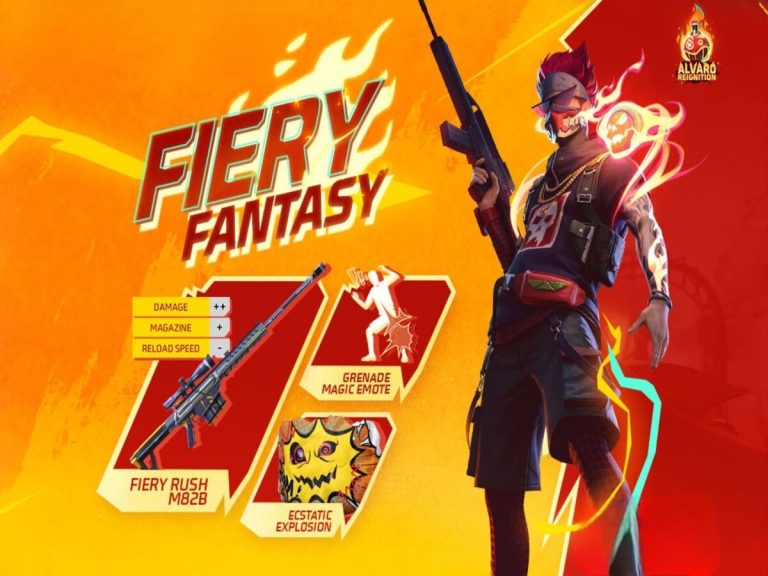 The latest Free Fire MAX OB39 update has brought with it the Alvaro: Reignition event campaign. The creators have included the event to mark the entry of the most recent character, Alvaro "Rageblast," into the game.
Players may load their profiles with a variety of themed cosmetics by using diamonds to purchase Alvaro Ring, the new Luck Royale in Free Fire MAX. Alvaro Ring has similarities to earlier themed occasions like M.O. Ring, Densho Ring, and others. 
Diamonds may be used by players to purchase themed items and also to get the exclusive Alvaro Token. A pack of 10+1 spins costs 200 diamonds, while a single spin costs 20 diamonds.
Free Fire MAX Alvaro Ring rewards
On March 24, 2023, Luck Royale launched in Free Fire MAX. Over the next 14 days, players can earn rewards from the following prize pool:
M82B – Fiery Rush
Grenade Magic
Gloo Wall – Ecstatic Explorer
Fiery Fantasy Bundle
Burning Lily Parachute
Magma Bolter
1x Alvaro Token
2x Alvaro Tokens
3x Alvaro Tokens
5x Alvaro Tokens
10x Alvaro Tokens
200x Alvaro Tokens
The following items are also present in the exchange section:
Fiery Fantasy Bundle – 200x Alvaro Tokens
M82B – Fiery Rush – 150x Alvaro Tokens
Grenade Magic – 60x Alvaro Tokens
Gloo Wall – Ecstatic Explosion – 50x Alvaro Tokens
Diamond Royale Voucher – 8x Alvaro Tokens
Weapon Royale Voucher – 8x Alvaro Tokens
Flaming Skull Weapon Loot Crate – 6x Alvaro Tokens
Demolitionist Weapon Loot Crate – 4x Alvaro Tokens
Armor Crate – 1x Alvaro Tokens
How to obtain rewards in the Alvaro Ring event
To obtain rewards from the recently introduced Alvaro Ring in Free Fire MAX, just follow these steps:
Log into your account and go to the Alvaro Ring. It has been introduced as a part of Alvaro: Reignition. You can open this by loading the Luck Royale section.
Make as many spins as you'd like.
Until you have earned enough tokens or acquired the desired object, you can keep spinning the wheel.
On the Luck Royale interface, select the trade tab in the upper right corner.
To receive the desired item, select it and press the claim exchange button.
Also Read: League Of Legends Patch 13.6 Exclusive Loot In Mythic Shop Rotation: All Details